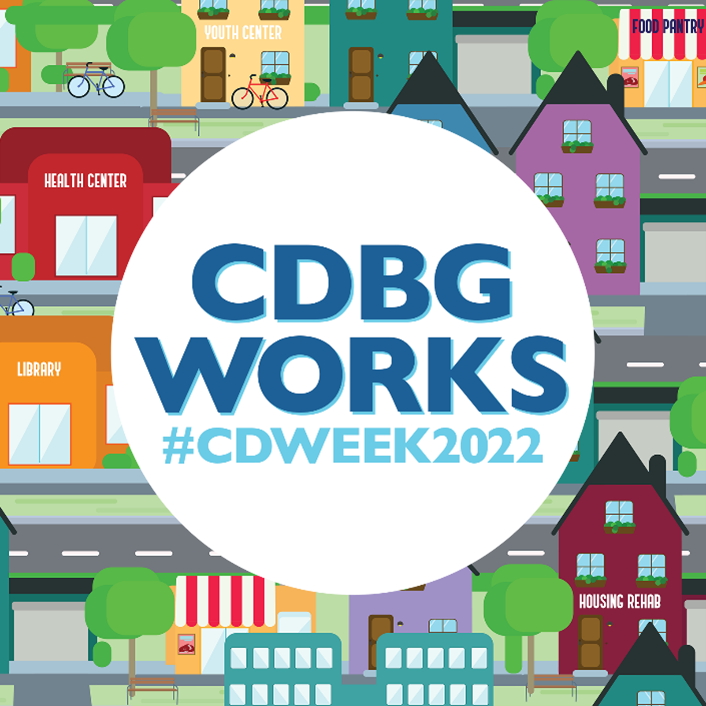 This week, the National League of Cities (NLC) is proud to celebrate National Community Development Week promoted by the Community Development Block Grant (CDBG) Coalition! The CDBG Coalition is made up of approximately 30 members, including NLC, and represents local elected officials, housing and community development professionals, and a wide array of non-profit organizations. This coalition is dedicated to strengthening the CDBG program by advocating together for sufficient funding and working together to improve program outcomes. The purpose of National Community Development (CD) Week is to educate Members of Congress and the public on the positive community impacts made possible by CDBG funding.
Mayor-President Sharon Weston Broome from Baton Rouge, Louisiana and Community and Economic Development Chair for NLC is leading Baton Rouge's commitment to celebrating April as Community Development Month and recognizing the impact of the CDBG program in the Baton Rouge community.
"In partnership with our local community partners and national partners, like the National League of Cities, I have declared April as Community Development Month in East Baton Rouge Parish. Throughout the month, we will highlight the work we are undertaking to revitalize neighborhoods and empower citizens by leveraging dollars granted to us through the Community Development Block Grant Program. I believe in the power of collaboration, local government and resident leaders working together to make transformative change in our community."

Mayor-President Sharon Weston Broome, Baton Rouge, LA
To help local governments advocate for CDBG by promoting National CD Week, the CDBG Coalition has provided a toolkit that highlights the importance of the CDBG program. Check out the toolkit link to gain ideas for how your municipality might participate in promoting National CD Week and the importance of the CDBG program or see below for some of the toolkit methods for engaging!
Ways to Engage in National Community Development Week
Meet With Your Congressional Delegation
Meeting with your congressional members or their staff is one of the most effective ways of supporting the CDBG program since it affords congressional members the opportunity to hear first-hand how the funds are being used. Highlighting the work that occurs with CDBG dollars in your community creates a tangible connection for lawmakers between the funding they appropriate for the program and improvements to their states and districts. Come prepared with a fact sheet that outlines program accomplishments: recent projects/programs funded with CDBG, the number of LMI beneficiaries served, jobs created/retained (if any), and information that relays the impact of the program.
Check out page 9 of the Toolkit for information on how to set up a meeting with your congressional members.
Bring Together Community Beneficiaries
Subrecipients and program beneficiaries are on the front lines of providing and receiving CDBG assistance. They are essential to telling the CDBG story! Because of their connection to the program, consider involving them in your National CD Week events.
One way to feature community beneficiaries is to gather quotes from them or feature their program uses and projects in a press release or on social media.
Organize a Community Tour Showcasing CDBG Projects
Invite congressional offices to tour local CDBG projects and ensure they meet with the beneficiaries of the program. Select projects that positively showcase the CDBG program and develop a written project description to hand out during the tour.
Page 4 of the toolkit features an example of a project description for a tour from the City of St. Louis, MO.