Over the course of the pandemic, state preemption of local governmental authority has taken hold in legislatures across the U.S. These limitations have been particularly salient as local governments navigate their response and recovery to the COVID-19 pandemic.
To better understand preemption changes and their impacts on local policies, NLC, in partnership with the Policy Surveillance Program (PSP) of Temple University's Center for Public Health Law Research, tracked and analyzed proposed preemption bills and passed laws. These bills and laws fall into 12 policy areas that impact the social determinants of health, including firearms, rent control, paid leave, municipal broadband, inclusionary zoning, Ban the Box and six common tax and expenditure limits (TELs).
Expansions and Limitations of Local Authority
While preemption has been a defining feature of the local-state relationship throughout the pandemic, this analysis reveals that many states are also enacting "anti-preemption" legislation that remove preemptive barriers in favor of public health. This anti-preemption legislation expands local government authority to enact legislation at the local level. Comparatively, preemption legislation limits local government authority. The data also tracked whether this legislation was introduced as a bill (or an amendment to a previous law) and if it passed into law between July 2, 2020 to November 1, 2021.
These movements vary by state and by policy areas within states. Overall, 144 actions were recorded, with 109 bills introduced and 35 passed into law across six of the domains (firearms, rent control, paid leave, municipal broadband, inclusionary zoning and Ban the Box). Of the 144 actions, 61 percent sought to limit local authority, while 39 percent sought to expand it.
Movement Across Domains
Across the six domains of interest, states took 88 actions that limited local authority. Of those actions, nearly one third were passed into law. The greatest movement was seen in the firearm domain, where 22 states introduced preemptive legislation and 30 percent of those states passed the preemptive firearm legislation into law.
This increase in firearm actions can be attributed to a mass shooting that occurred in Boulder, Colorado in March 2021. After the shooting, President Biden urged Congress to take action on gun control, with many states acting in advance to limit municipal authority from implementing local firearm policies.

In terms of expansions of local authority, 49 bills were introduced and seven passed into law (a far lower share than limitations on local authority). The most successful movement was in municipal broadband, with two states (Arkansas and Washington) passing legislation that expanded local authority (Figure 2). Overall, Colorado was the only state to pass laws that expanded local authority in the firearms and housing domains. Colorado's success in passing housing legislation may be due to the overwhelming residential support of the bill—with 61 percent of Coloradans in support, along with nearly 20 advocacy organizations.

How States Stack Up
The top five states with the most actions were Tennessee, Montana, Pennsylvania, Texas and Washington. In total, those five states represented nearly 36 percent of all actions between July 2, 2020 and November 1, 2021. Across all states, Tennessee and Washington both introduced and passed the most bills (32%) that expanded local authority. Combined, Tennessee and Washington represented 31 percent of all municipal broadband actions. Of those that expanded local authority, Washington passed the majority (67%) of municipal broadband actions. Comparatively, Montana and West Virginia both introduced and passed the most (19%) bills that limited local authority. Montana passed the most laws that limit local authority (five) and was the only state that passed laws across the four grouped domains (employment, housing, firearms and municipal broadband).
See how your state compares: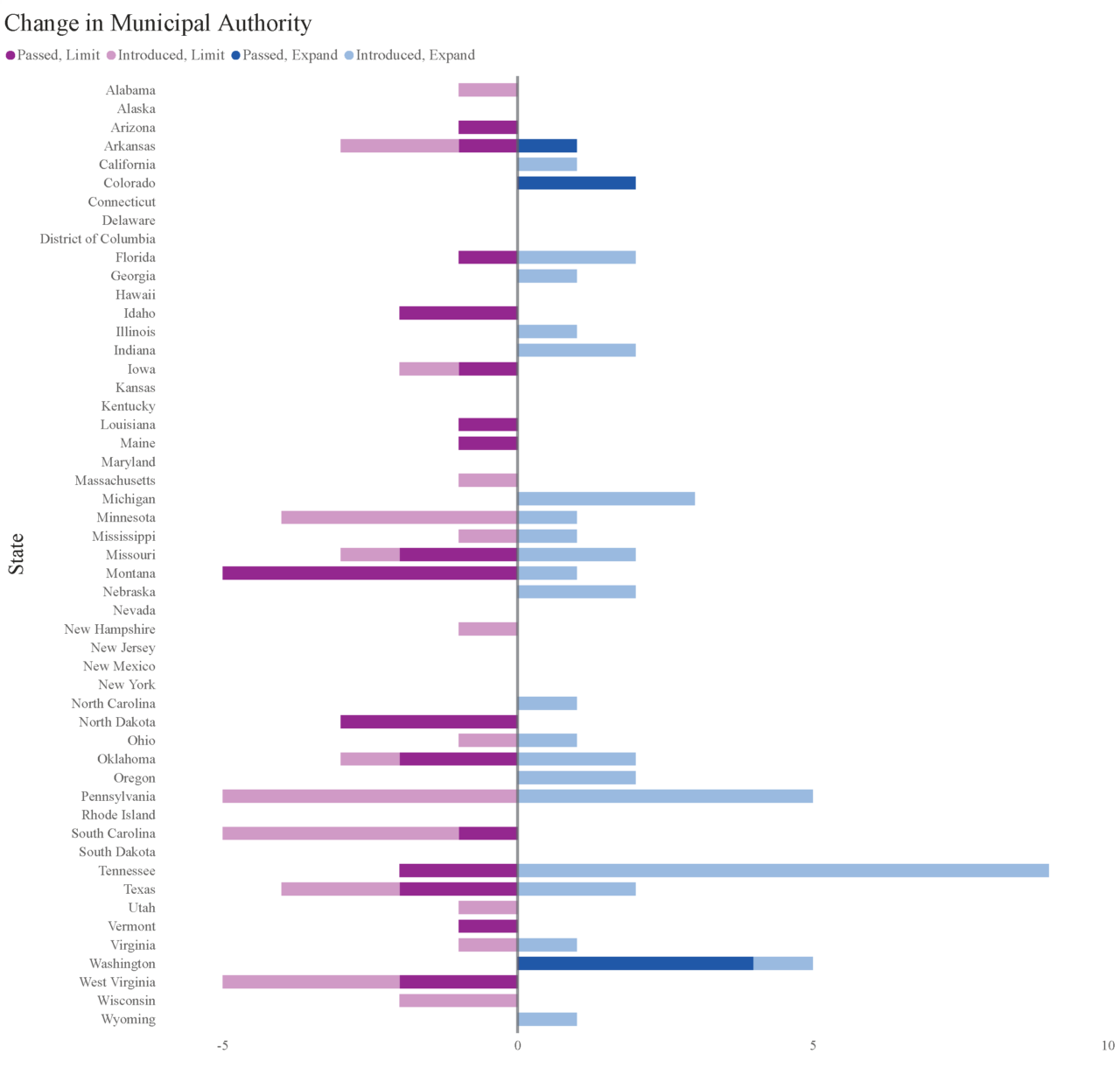 Learn More
Temple University's Policy Surveillance Program (PSP) in the Center for Public Health Law Research captures the characteristics of laws and policies that impact public health. To learn more about its policy surveillance data and read the most recent preemption report, visit LawAtlas.