Over the past couple of years, the scale and scope of state intervention against the authority of cities and towns, also known as preemption, has escalated. The 2021 state legislative sessions resulted in over 400 preemption bills – more than twice the number of bills tracked during the 2019 session (the last full session year prior to the pandemic), according to the Local Solutions Support Center. While case-by-case evidence suggests that preemption impedes economic, social and racial equity and local innovation, there has not been much research linking preemption to harmful local outcomes.
To better understand the impacts of preemption on government and community outcomes, NLC engaged with researchers from Michigan State University and University of Memphis to explore these connections. The researchers used a new preemption dataset that NLC developed with the Policy Surveillance Program at Temple University.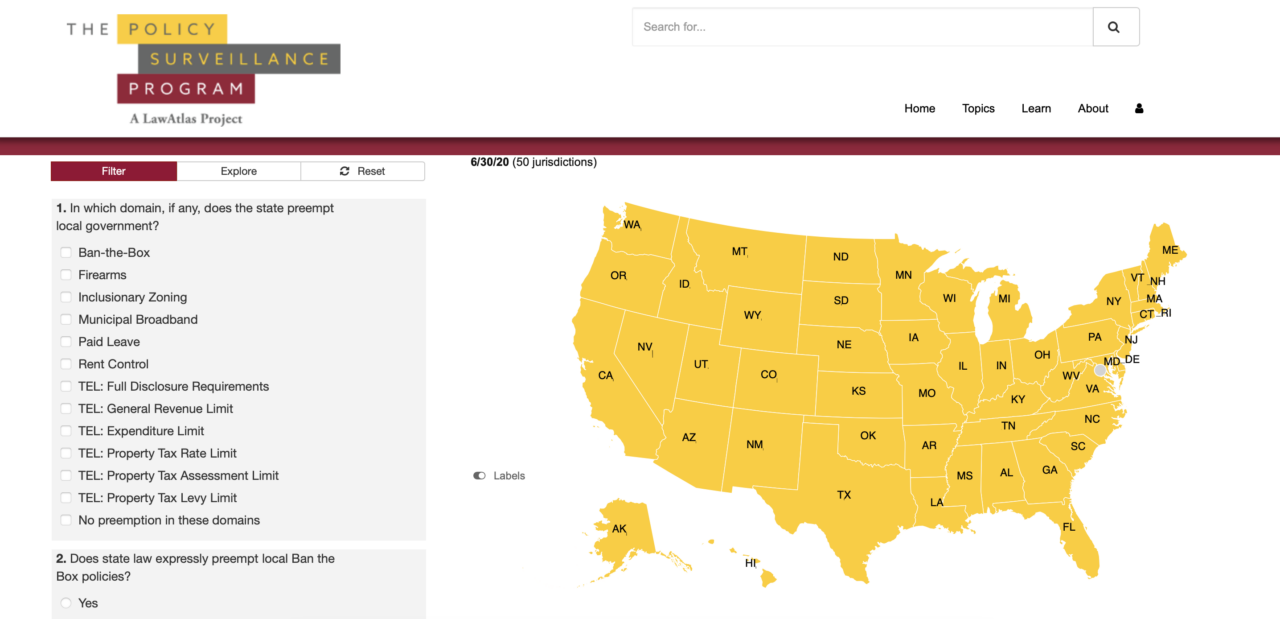 Consequences of State Tax and Expenditure Limits on Local Services
Preemptions that limit how cities raise revenue, called Tax and Expenditure Limitations (TELs), are some of the oldest and most prevalent preemptions. Erika Rosebrook of Michigan State University investigated how local service capacity is affected by these types of revenue-raising restrictions. Using full-time police per capita as an example, her analysis finds that TELs do indeed diminish service capacity, but that the impacts are visible over time and may not be immediately clear.
During the pandemic, TELs have already proven burdensome to local governments trying to provide essential services to residents. In Wisconsin, many local Emergency Medical Services (EMS) operations across the state have struggled with staffing and other costs. Local governments in this state that want to raise revenue for EMS services have been hindered by the state's limits on local property tax collections.  
Although all preemption-related budget and service impacts may not be as immediate or obvious as in Wisconsin, these revenue restrictions have long-term consequences. As local leaders confront budget crises and other challenges, lessons from this analysis can be used by local leaders to more effectively communicate the effects of preemption on services available to residents.  
Relationship Between State Preemption of Inclusionary Zoning and Health
Quality affordable housing is vital for public health, a fact underscored by the COVID-19 pandemic. Discriminatory zoning practices that predate the pandemic exacerbated public health challenges and continue to make renting and homeownership more financially burdensome for Black and Latinx individuals and families. Courtnee Melton-Fant at University of Memphis examined the relationship between state preemption of local inclusionary zoning policies and health outcomes.
Inclusionary zoning (IZ) policies are one policy tool used by local governments, particularly in cities with high rates of development and high housing costs, to increase the share of affordable housing. While the efficacy of IZ policies to increase affordable housing is up for debate, new research by Dr. Melton-Fant finds a significant relationship between state preemption of local IZ policies and health outcomes, particularly as it pertains to people of color.
Adults living in states that preempt inclusionary zoning were more likely to have poor or fair self-rated health status. Black adults in states that preempt local inclusionary zoning were more likely to report delaying medical care due to cost and were the only racial/ethnic group to experience this outcome.
For example, Montana HB 259 prevents municipalities from requiring that a certain portion of qualifying new and existing housing is sold or rented at an affordable price. The new preemption law forces the cities of Bozeman and Whitefish to stop enforcing inclusionary zoning ordinances meant to increase the supply of affordable housing. While the dynamics of housing-related preemption and health will vary based on local contexts, laws, such as that in Montana, present a potential public health threat with disparate impacts on Black and Latinx communities.
Preemption has accelerated in the wake of the pandemic, just as demands on city services have skyrocketed. To confront preemption, city leaders can communicate the problem in a nonpartisan way, build or join a coalition of other constituencies who are affected, and in severe cases, turn to the courts. This new research demonstrates that these limitations on local authority not only impede cities from addressing critical community needs, but also have long-term ramifications on service levels and health outcomes for people of color.
Become a Member of NLC
Join our network and get access to timely resources, proven best practices, and connections to peer networks.