Bring nature's benefits to young children, ages 0 – 5, in your city and support other city priorities, such as school readiness, health and wellness, equity, sustainability and more.
Cities Connecting Children to Nature (CCCN), a joint initiative of the National League of Cities Institute for Youth, Education, and Families and the Children & Nature Network, helps city leaders and their partners ensure that all children have the opportunity to play, learn and grow in nature. Launched in 2014, CCCN includes cities across the U.S. that create programs, partnerships and policies, and infrastructure to help kids learn, play and grow with nature as a key part of their daily lives.
To help cities bring nature's benefits to more young children, CCCN invites cities to apply to receive support and technical assistance in implementing strategies that connect children ages 0 – 5 to nature.
Providing young children with regular connections to nature at such a foundational time in their lives has long lasting benefits. Research shows these benefits include:
School readiness, such as learning, language and cognitive development, and enhanced play that prepares children for school.
Social-emotional learning, including self regulation and knowledge of oneself and others.
Health and wellness, such as improved physical and mental health.
Connection to nature and the community, which includes an emotional connection to nature, pro-environmental attitudes and caring for the environment.
A recent CCCN national landscape scan suggests that cities can equitably enhance local nature connections for young children through four pathways:
Enhancing parks and public spaces with natural elements such as boulders, logs and paths to encourage hands-on unstructured nature play.
Adding nature to outdoor spaces at early childhood centers and preschools, as well as family, friend, and neighbor-based child care.
Incorporating nature-based programming at city facilities, such as libraries and recreation centers.
Supporting nature preschools, which use outdoor learning strategies to teach content across a wide range of curriculum.
Additional efforts that support more equitable early childhood nature connection across all pathways include:
Aligning state child care licensing requirements and quality rating and improvement systems (QRIS)
Professional development for staff of early childhood programs
Engaging families and caregivers to support early childhood nature connection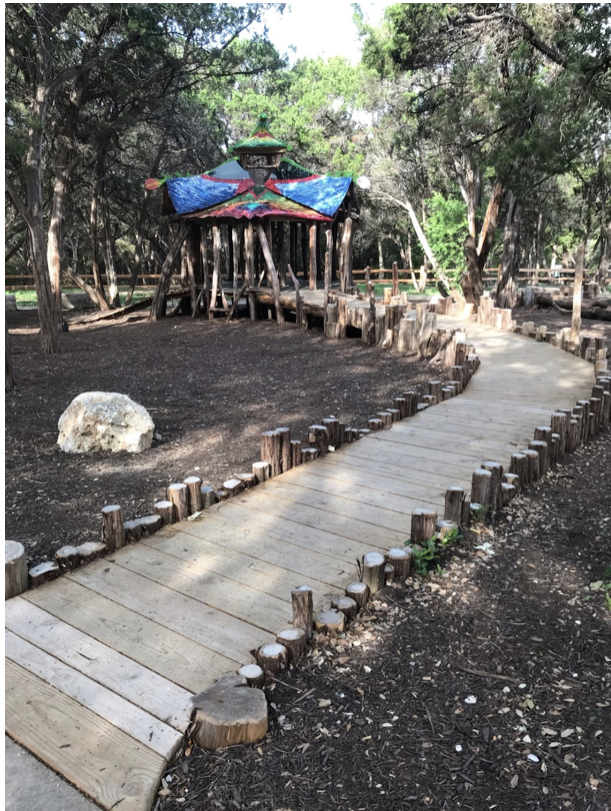 Cities including Madison, Austin and San Francisco, who all joined CCCN in 2016, are leading the way to connect young children with nature:
The Madison CCCN team selected seven early learning centers to receive funding and technical assistance to add natural elements to outdoor spaces. They applied an equity lens by selecting early childhood programs with less green space and those that enrolled 50% or more of children with subsidized payment plans.
In Austin, ten city parks offer nature play spaces and another two parks are planning to add nature play. In addition, four Austin early childcare centers currently participate in a state-wide effort to add nature to early childhood outdoor spaces through the initiative Outdoor Learning Environment  (OLE!) Texas. The Austin CCCN team started their process with a series of professional development workshops for educators. They've also connected local landscape designers to receive training on designing for children's  nature connection and are currently working on finalizing nature play guidelines focused on safety and maintenance staff. 
The  San Francisco Children & Nature collaborative works across the city to connect young children to nature. While the city's efforts started small – doing nature play days in parks and early childhood centers –  current projects have grown in scope and impact. This past year, the initiative partnered with the Low Income Investment Fund, led by Elizabeth Winograd, Senior Program Officer, to execute major changes to four early childhood centers and five family child care homes, raising $300,000 for the project. 
Read more about city progress in Children and Nature Network's Finding Nature News Story.
Apply Today
CCCN invites cities to apply to receive technical assistance to activate city leadership to launch, or expand, strategies to connect young children to nature more equitably. The 18 month technical assistance opportunity begins in Spring 2022.
Key Dates:
Application deadline: Friday, March 18
Virtual information session: Mon, February 14 from 2:00 – 3:00 p.m. ET. A recording will be provided.
Optional Office Hours: Thurs, February 24 at 2:00 p.m ET and Tues, March 1 at 3:00 p.m. ET