The eviction crisis is far from over. Cities, towns and villages are at a crossroads where they must continue to be nimble in how they address evictions induced by the pandemic, but also scale and refine their eviction prevention strategy for non-pandemic-related evictions.
The COVID-19 pandemic has been a testing ground for what municipalities can do to address evictions with partners such as the federal, state and county governments, as well as with community-based partners such as legal aid organizations, philanthropic partners, courts and community action agencies.
During the pandemic, cities stood up programs such as emergency rental assistance, eviction diversion, eviction mediation and right to counsel, along with hiring eviction navigators and landlord and tenant liaisons to address the needs of both renters and landlords. As of November 2021, more than 3.1 million payments of emergency rental assistance have been made by state, local and tribal governments to renters and landlords to prevent displacement and evictions.
Now, after two years of unprecedented focus and attention on evictions at the local level, city leaders have the opportunity to continue improving and developing their eviction prevention strategies to meaningfully address housing instability and racial disparities in housing that long pre-date COVID-19. Acting now, armed with federal funding and primed to enact significant change based on lessons from the pandemic, cities could help to ensure that residents have a safe, quality and affordable place to call home far into the future.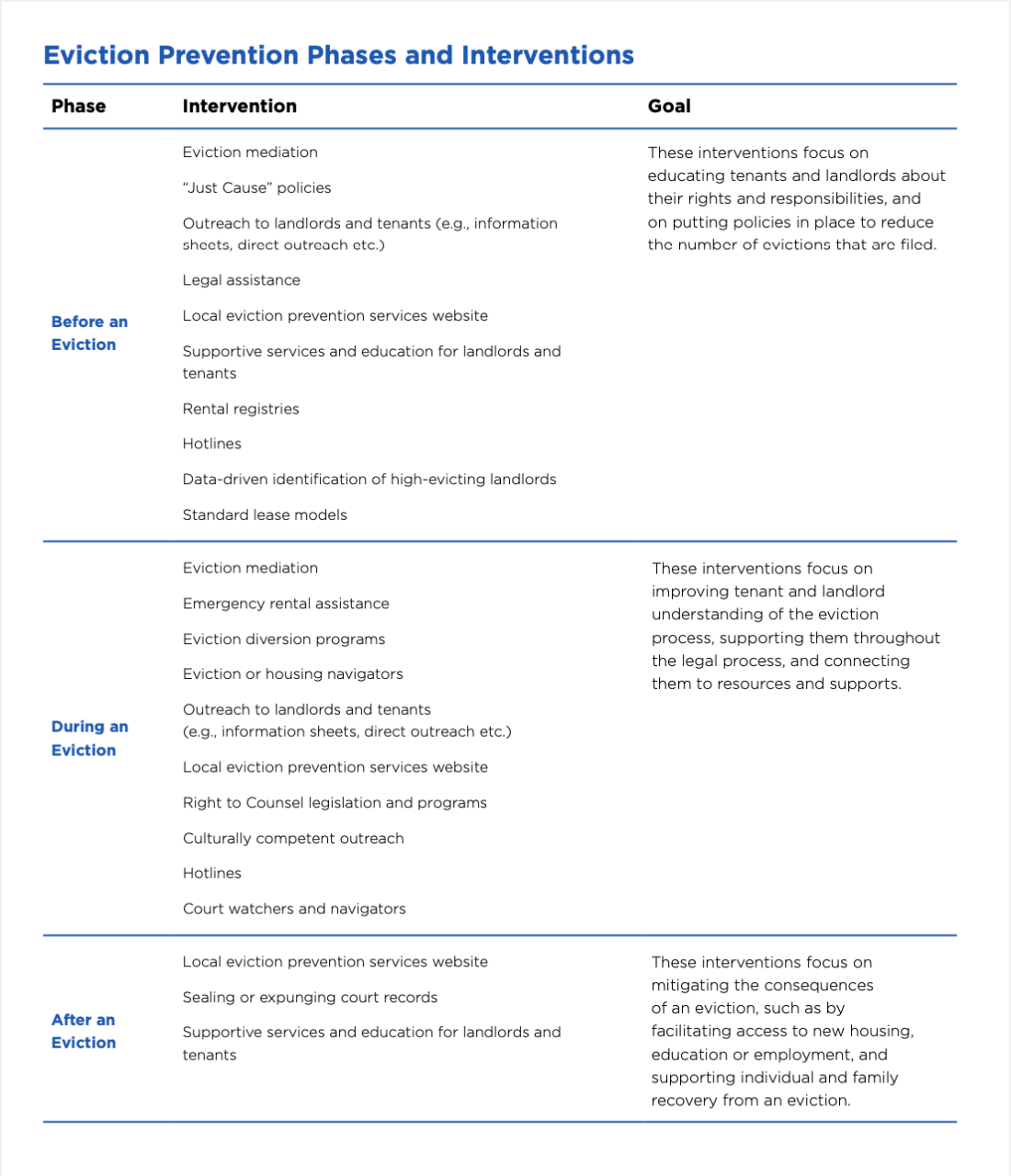 What is eviction prevention?
Eviction prevention refers to strategies or programs intended to keep individuals and families in their homes. Eviction prevention is often seen as an "upstream" solution to keep individuals and families stably housed; avoid them falling into unsafe housing conditions; and avert the damaging impacts on mental and physical health, economic wellbeing and access to future housing options that often come with evictions.
A host of strategies fall under eviction prevention that intervene and provide support at different points in the eviction process — before an eviction is filled with the courts, during an eviction proceeding, and after an eviction judgment is given.
What should a local eviction prevention strategy entail?
Addressing the eviction crisis with a single intervention or program will not prevent all— or likely even most — evictions from being filed or taking place in a community. The eviction crisis requires a comprehensive strategy with interventions at different stages in the eviction process, tailored to meet a range of individual needs and circumstances that address the root causes of evictions.
To assist cities, towns and villages in building or refining their eviction prevention strategy, National League of Cities has released Understanding Your Local Eviction Landscape: A Worksheet for City Officials and Eviction Prevention: A Guide for Local Governments in partnership with the Stanford Legal Design Lab.
The worksheet guides city officials and staff through the process of defining and documenting the patterns and trends associated with evictions and eviction filings at the local level. By considering these questions about the causes, scope and disproportionate impacts of eviction proceedings, local governments and community stakeholders will be better equipped to target services to those households and individuals of the greatest need and deploy funding toward policies and practices that are appropriate based on the local context.
In Eviction Prevention: A Guide for Local Governments, cities are led through a step-by-step process and menu of program offerings to develop effective interventions responsive to their community needs, which includes recommending that cities:
1. Develop a coordinated plan of action tailored to the unique needs of their community.
A community-based eviction task force that brings together diverse, and often competing, stakeholders can help to surface issues, assess gaps and find common ground.
2. Champion awareness of local housing issues at the state and federal levels.
By collaborating with state general assemblies and the federal government, local government officials can create or update laws and policies that drive equitable results for both tenants and landlords.
3. Map the local eviction process.
Visualizing the eviction landscape helps to align resources and communication channels among community stakeholders, service providers, government agencies, housing providers and tenants. It helps ensure that housing stabilization resources are effectively deployed at each phase.
4. Center racial equity and lived experiences.
By emphasizing racial equity in program design and selection processes, cities can work proactively across stakeholders to combat the effects of historic discrimination on the basis of race.
5. Develop an eviction data infrastructure.
By partnering with universities, foundations and nonprofits, cities can gather data that reveal who is being evicted, which neighborhoods are most affected, where serial evictions occur, the causes for evictions and the average past due balance associated with eviction judgments.
6. Partner with local courts.
Strong relationships between city agencies and community organizations with local court staff helps guarantee the success of eviction diversion and/or mediation programs.
7. Implement targeted communication and outreach strategies.
Effective communication ensures that renters and landlords both understand their rights and responsibilities at every phase. Outreach strategies should be especially attentive to tenants who may be experiencing exploitative practices, and to both tenants and landlords who face additional barriers to information and services due to challenges such as limited English-language proficiency or internet connectivity.
8. Dedicate resources in the general fund budget.
Eviction prevention programs, services and data systems that address both looming evictions and upstream interventions require long-term planning and continued investment. Sustainable funding strategies could leverage taxes, fees, levies, housing trust funds, philanthropic grants and federal housing funding such as the HOME Investment Partnerships (HOME) and Emergency Solutions Grants (ESG) to ensure long-lasting services.
9. Develop a sustainable and affordable housing stock.
Cities should align an eviction prevention strategy with a long-term plan to address the production and preservation of affordable housing.
10. Prioritize at-risk households.
In all work, cities should seek to serve the most in-need and at-risk households by developing a need or vulnerability index, or by relying on existing indices. This should inform outreach efforts and decision-making related to applications for assistance or program participation.
11. Employ an evidence-based, data-driven, multi-pronged eviction prevention strategy.
Depending on the needs of the community, this may involve a combination of eviction prevention tools or approaches, including eviction diversion or mediation programs; providing robust financial assistance for rent, utilities, moving costs and other expenses; establishing a right to counsel or providing for legal aid to tenants; or developing equitable protection policies such as Just Cause eviction laws.
By taking lessons learned during the pandemic and employing the approaches outlined in these resources, cities of all sizes are positioned to develop more effective, efficient and equitable eviction prevention strategies that foster improved housing stability in the long term.
Learn More
To learn more about how to develop or refine your local eviction prevention strategy, read NLC's new publication, Eviction Prevention: A Guide for Local Governments.