Tucson, Arizona's second-largest city, has a rich, vibrant community, bolstered by a multitude of businesses. With one of the highest concentrations of startups in the U.S., Tucson is ranked as a top-five American city for entrepreneurs. Real GDP for the Tucson metropolitan area was measured at $385 million for 2020. Moreover, its one-of-a-kind food industry earned the first "City of Gastronomy" designation by UNESCO in America.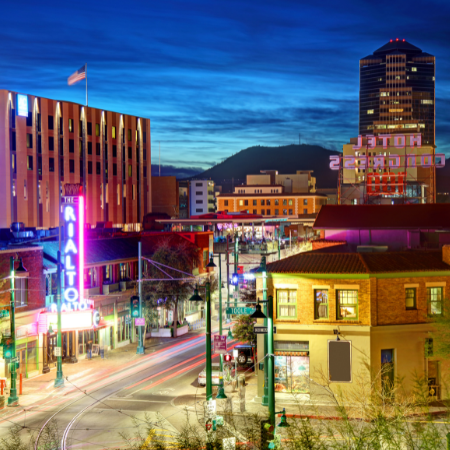 Like all cities, however, the COVID-19 pandemic has had a significant impact on Tucson's economy. Since emerging from the initial lockdown and economic shock, the Tucson area lags behind the state in terms of unemployment, with just 78% of jobs lost recovered through October 2021. Further, supply chain issues exert ongoing pressure on Tucson businesses as well as those in the greater Southern Arizona region.
To spur economic growth, Tucson joined NLC's City Innovation Ecosystems (CIE) Program and looked inward to the resources it already had: its anchor institutions. By increasing the diversity of local businesses from which private anchor institutions procure goods and services, Tucson hopes to create more jobs for its residents –jobs that meet the talents and desires of its unique community by leveraging the existing economic activity generated by these large purchasers.
Anchor institutions are corporations, nonprofits or other entities that are "anchored" in their communities. They have significant local influence and own tremendous assets, including real estate. Anchor institutions include university and hospital systems ("eds and meds"), as well as financial institutions, religious organizations and utility companies. They are among the largest employers in the U.S.
How Tucson Is Doing It
With technical assistance from program expert Interise, this supplier diversity initiative seeks to create opportunities for existing and emerging businesses to connect with local anchor institutions. In Tucson Director of Office of Economic Initiatives Barbra Coffee's words, "we'll be looking to engage with local private employers that have sizable annual procurement expenditures to determine if we can find ways to open up more opportunities locally for small businesses right here in Tucson." Her office believes redirecting this money to local businesses can have a transformative effect on Tucson's economy.
Jeffrey Anthony, Project Manager within the Economic Initiatives Office, also recognizes the city's responsibility to provide these businesses with capacity to effectively meet these demands. "With this bottom-up, community wealth-building process, we can maintain the distinct character of our community, allowing this plurality to thrive, while affording more local businesses the chance to bid on, and win, lucrative procurement contracts," says Anthony. For many of these businesses, especially those that are minority-, women- and veteran-owned, this will be their first time participating in such a process. Business training, preparation and mentorship is therefore essential for success.
To get started, the Economic Initiatives Office intends to team up with key players in the local workforce support ecosystem who already have training and funding programs in place to upskill and finance business expansion. Potential partners include the Community Investment Corporation (CIC), which provides financing for minority- and women-owned businesses, and Startup Tucson, which has a major presence in the local entrepreneurial sphere.
Forging these connections is going to take work and a lot of collaboration. Coffee, Anthony and their team recognize the importance of listening intentionally to their local community, including private anchor institutions. Feedback and adaptation will be key in supporting their unique needs and talents.
However, the biggest anticipated hurdle is institutional momentum. For many institutions, things have been done a certain way for a long time — "so why rock the boat?" Anthony points out. However, he believes that engaging with procurement managers and reminding them of the system-changing potential they possess is critical to overcoming inertia. As a former business owner and jazz musician, Anthony likes to employ a creative lens when tackling a program or issue. For him, it's about spotlighting the positive impacts of fulfilling institutional needs by adopting an intentional, locally-based procurement strategy. "Redirecting the flow of capital back into our community increases the potential for more creative businesses and ideas to arise and thrive," he says. "This is the truly exciting aspect of this program."
"I like to think of the supplier diversity anchor procurement program as a framework much like a jazz standard – there is a map of the song, with the basic melody and chord changes — but how you personally interpret the music and how you decide to engage with the other members of the band in real time is where the magic happens."


Jeffrey Anthony, Project Manager, Economic Initiatives Office, City of Tucson
Already, the city has made significant headway on its progress to, including by:
Compiling a list of local partners to engage with, including anchor institutions, workforce development centers, community centers, federal agencies and more.
Hosting ongoing discussions with serval large anchor institutions.
Attending Startup Tucson's food accelerator showcase and collecting contact information from local food entrepreneurs to share for future contracting opportunities.
Securing commitments from local capacity building organizations to help prepare businesses for procurement contract opportunities.
Lessons from Tucson
Go slow to go fast. Changes of this scale do not happen overnight, or even over the course of a few months. Anthony maintains the mantra of "go slow to go fast" at the initial stages. Taking the time to thoughtfully align resources at the beginning will allow for a program to flourish down the road.
Be yourself. Each city has its own unique identity, and it is this identity Tucson is trying to tease out and support, not bury or erase. With that, it is incumbent upon leaders in other cities engaging with or planning to enact a similar program to think creatively about what methods they should utilize to actuate their goals.
Visualize success and repeat it often. Issues like procurement reform don't always resonate with those outside of economic and workforce development partners. The biggest lesson Coffee and Anthony have learned so far is that they must demonstrate why these programs are important. Don't assume email will suffice, it may take multiple forms of communication to successfully deliver the message.
This blog is part of a series highlighting NLC's City Innovation Ecosystems (CIE) program. Cities in the program have committed to implementing new policies, programs and practices that increase economic opportunity for residents through small business ownership and entrepreneurship. In November 2021, Mayor Regina Romero of Tucson, AZ committed to increasing supplier diversity through equitable anchor procurement strategies.
Let NLC deliver for you!
The National League of Cities (NLC) is your partner in recovery. This is the time for America to do more than survival we can thrive.
NLC is a strategic partner for local leaders and municipal staff, serving as a resource and advocate for communities large and small. Click the button to learn how NLC can help deliver for your city.