Morrisville, North Carolina is a community of roughly 27,000 people in the metropolitan Research Triangle corridor located between Raleigh and Durham that has experienced rapid population growth in the last ten years. From 2010-2015 Morrisville's population grew from 18,000 to 23,000 and the town leaders expect the 2020 census to reveal around 30,000 residents. Most of the new residential construction is multi-family housing creating more density in a town that has not previously been anything but. As Morrisville anticipates and prepares for a new $1 billion campus for Apple computers in Triangle Research Park, and the 3,000 new jobs that will come with it, town leaders have a lot of work to do to prepare for this growth.
Numbers at a Glance]
Population
27,000
Cost of Adding Lanes to NC54
$10 million
Cost of Replacing the NC54 Bridge
$74 million
Population Growth in Last 10 years
↑ 66%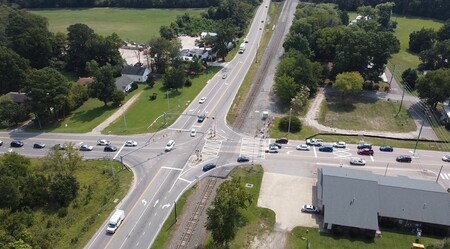 This dramatic growth manifests most clearly in the congestion and increased traffic accidents on North Carolina State Route 54, or NC54, which is a vital connection through Morrisville between Durham and Cary. This main thoroughfare includes a roughly five mile stretch that goes over a major creek and through the heart of Morrisville's center for shopping and dining. There is one critical intersection on NC-54 that supports at least 20,000 vehicles per day with an at-grade rail crossing. The NCDOT estimates that by 2035 the collective delay will be over 4,000 minutes; that number jumps to 7,000 minutes in 2045. In addition to the traffic delays, safety has increasingly become a concern as Morrisville has had a number of accidents – some of them fatal – at the grade crossings. Additionally, the bridge that goes over the creek has only two lanes and has come to the end of its useful life. Morrisville has a plan to widen the road, fix the bridge, and make both more pedestrian and bike-friendly. 
"This project is our highest priority… doing nothing is clearly not an option. In order to accommodate our growing population, to keep them safe, and to support our small businesses, we need to widen NC54 and replace this bridge."

Assistant Town Manager Brandon Zuidema
Road and Bridge Improvements Accommodate Bus Rapid Transit, Bikes and Pedestrians on a Multi-Use Path and Improve Safety
Morrisville has a plan to widen the parts of NC54 that run through its downtown and add a ten-foot multi-use path to support bikes and pedestrians. They also plan to replace the two-lane bridge that goes over the creek with a four-lane bridge with a multi-use path. These improvements will make it possible for a new Bus Rapid Transit line that NCDOT is funding to run along NC54 where residents and commuters need it. This bus service will provide 30-minute service between Wake Tech Community College, Research Triangle, and a regional office employment center. Without these improvements, the BRT line will have to find an alternative route because there is nothing rapid about the congestion on NC54's most traveled intersection. Morrisville has no time to waste to make these improvements, and federal support would expedite this process make it happen.
Cities Are Ready to Rebuild with Congress' Help
Morrisville's transit infrastructure story is one of the hundreds across the country. From the smallest to largest communities, every community has an infrastructure story to tell, and NLC's latest Ready to Rebuild report showcases a range of transportation, water, broadband, and workforce projects across the country from communities of all sizes that Congress could support with legislation. While projects are different, the message from local officials was the same: infrastructure is a job worth doing, but in most places, it's now beyond what the local government can handle on its own. Does that sound familiar?
Take Action: Highlight Your City and Why You're #ReadytoRebuild
Join NLC as we keep calling on Congress to directly invest in local infrastructure and prepare for a better future.