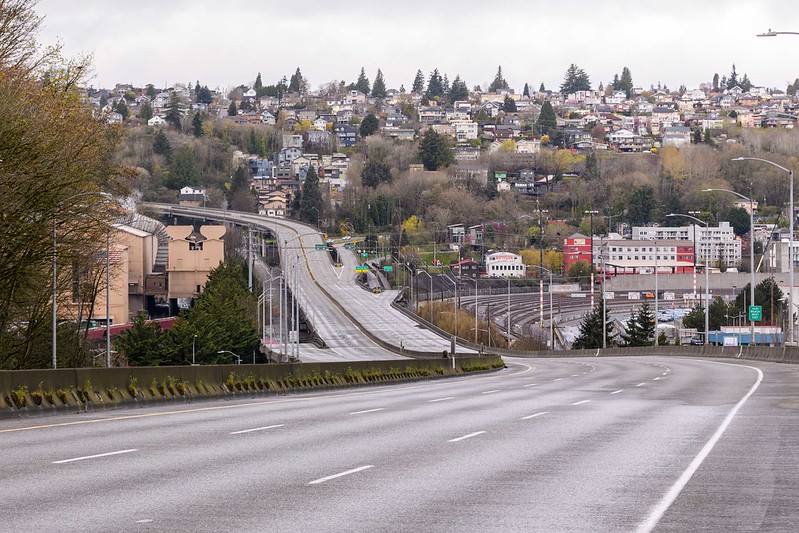 When infrastructure divides rather than unites, when it hurts rather than helps, it is time to repair and rebuild in ways that support entire communities, especially those hit hardest by projects built in the past. Seattle is answering that call and has identified two projects that will improve health, create jobs, reduce greenhouse gas emissions, and serve the people living near these projects.
Rehabilitating and Strengthening the West Seattle High Bridge
Like most cities across the U.S., Seattle is home to infrastructure that is deteriorating and in need of repair. Nowhere was this more evident than last winter when the West Seattle High Bridge, which typically carried 84,000 vehicles daily, closed suddenly and unexpectedly due to rapidly growing cracks in the concrete structure. The bridge project is like an emergency roof repair on a house – it's expensive, absolutely necessary and disruptive to life.
Numbers at a Glance
Project Cost (West Seattle High Bridge)
$71.5 million
Jobs creation
5,800
Average daily traffic on the bridge
85,000 cars
The closure has been devastating for the quality of life and economic opportunity for tens of thousands of Seattle residents and businesses. Those who relied on the bridge have been greatly inconvenienced, and the detour routes disproportionately affect historically marginalized communities. Repairing the West Seattle High Bridge will eliminate the safety, traffic and air impacts of high bridge detours that have been routed mostly through neighborhoods with significantly higher proportions of people of color than most other parts of Seattle.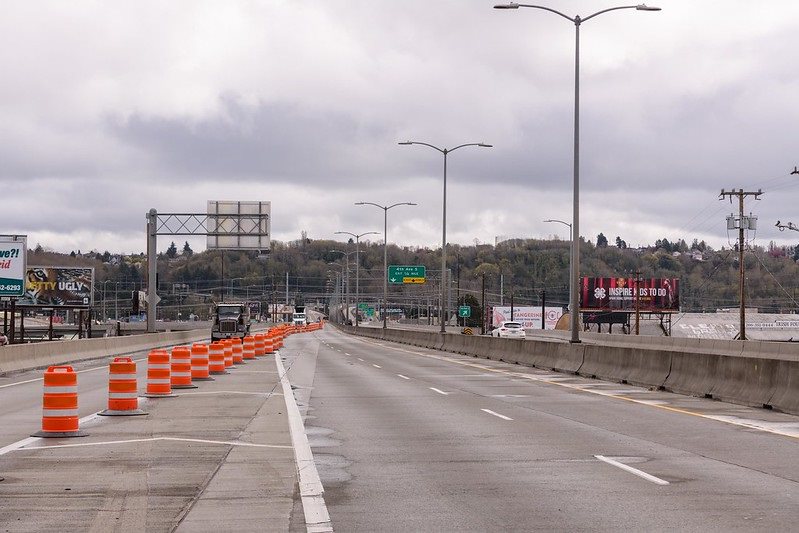 The city has stabilized the bridge and is moving forward with final design and contracting for a major structural repair project that would be completed mid-2022, but federal funding options for the emergency repair of a bridge are limited despite the emergency. As opposed to a natural or other federally declared disaster, the emergency repair isn't seen in a similar way with federal programs. But Seattle is looking to make the most of these repairs by seeking to ensure that the jobs created by the repairs to the bridge are given to those living in the community. The city is seeking a local workforce waiver from USDOT that would allow many of the jobs and apprenticeship opportunities related to the repair project to be prioritized for residents of these same communities.
"I'm very thankful that community members had the opportunity to give feedback and influence this decision. Reconnecting West Seattle and mitigating its impacts during this prolonged closure is the real hard and necessary work but we look forward to ensuring these efforts continue to meet the needs of our communities most acutely impacted. We will also continue to advocate for healthy mobility, reducing emissions and encouraging increased capacity for alternative modes of transportation thinking of our future."   

Duwamish River Cleanup Coalition Executive Director and West Seattle Bridge Community Task Force Co-Chair Paulina López
Connecting Two Neighborhoods Separated by Highways and a Superfund Site: The Georgetown to South Park Connection
The Georgetown and South Park communities are among the lowest income and most racially and ethnically diverse neighborhoods in the City of Seattle, and they are divided by the Duwamish River which served as a dumping ground for industrial contaminants beginning during WWII and ended only when the EPA declared it a Superfund site in 2001. Due to this legacy, combined with the highways built through the area in the 1960s and 1970s, residents of these neighborhoods suffer detrimental health outcomes including respiratory issues like asthma, and a life expectancy up to 20 years lower than Seattle's affluent neighborhoods. Georgetown and South Park are two miles apart and share community resources such as a library, community center and senior center, but there is no continuous facility to safely walk or bike between these two neighborhoods. Community advocates and city leaders have proposed a multimodal trail project to connect the two communities. The Georgetown to South Park Connection will include a new walking and biking facility which would help offset emissions from trucks and cars, provide families with a new recreational opportunity, and provide a safe connection for those who cannot drive to access services they need.
Numbers at a Glance
Project Cost (Georgetown to South Park Connection)
$8.5 million
Residents living in these neighborhoods
8,500
% BIPOC Residents in these neighborhoods
74%
Distance between neighborhoods
1.8 miles
A really great outcome of this process is that the route that will be developed responds best to the priorities identified by the community — a route that connects with the most businesses, bus stops and other bike routes, take advantage of open sight-lines and street lighting and also has the most opportunities for giving people walking and biking separate travel spaces, which is an extraordinary example of why community involvement in re-designing public spaces can be so important.
The Mayor and City Council have prioritized over $5 million in local funding for the project. However, the total cost is estimated to be $8.5 million, and federal funds are needed to fill the gap that remains.
Cities Are Ready to Rebuild with Congress' Help
Barrington's infrastructure story is one of the hundreds across the country. From the smallest to largest communities, every community has an infrastructure story to tell, and NLC's latest Ready to Rebuild report showcases a range of transportation, water, broadband, and workforce projects across the country from communities of all sizes that Congress could support with legislation. While projects are different, the message from local officials was the same: infrastructure is a job worth doing, but in most places, it's now beyond what the local government can handle on its own. Does that sound familiar?
Take Action: Highlight Your City and Why You're #ReadytoRebuild
Join NLC as we keep calling on Congress to directly invest in local infrastructure and prepare for a better future.
Congress is actively moving an infrastructure package so now is the time to share your infrastructure priorities with your Member of Congress' staffer in Washington, DC: Use NLC's pre-drafted letter here, or if you want a staffer's email from your Member of Congress' office, please just let us know at advocacy@nlc.org.