Every day in the U.S. trains are running through cities, and in many cases, there is no underpass or overpass and so the city's traffic stops while the train moves through. The National League of Cities has worked throughout the Senate negotiations on the Infrastructure Investment and Jobs Act (IIJA) to include a brand new $3 billion program to address these congestion pain points in cities – the Grade Crossing elimination grant program. This program along with the Consolidated Rail Infrastructure and Safety Improvements Program have the potential to untangle these rail-road intersections for the better in cities across the country like Barrington, IL.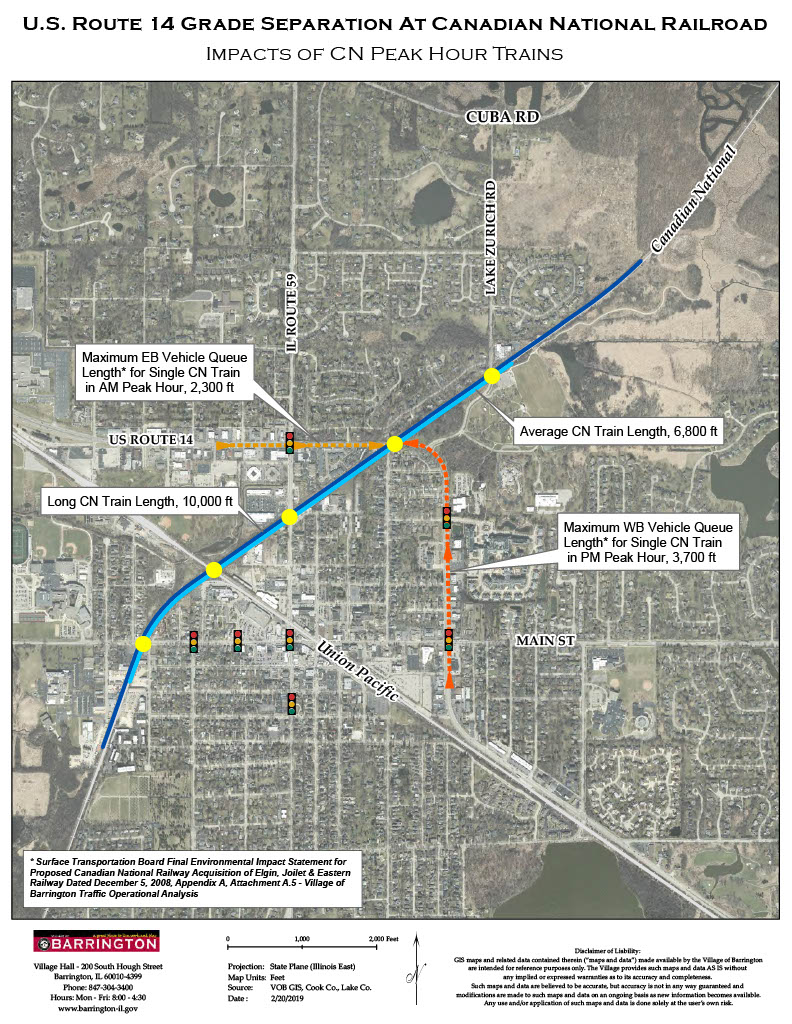 The small village of Barrington, Illinois is located 35 miles Northwest of Chicago and is home to a cargo freight line that allows trains to bypass Chicago and intersects every road in the center of town within 5,918 feet of each other. And though it is a small town, roughly 70,000 cars pass through each day for local travel and commutes to Chicago. While traffic congestion was a problem at certain times of day the freight traffic increase has made it not only much worse but unpredictable. Travel on the freight line was light prior to 2009, carrying an average of 3.5 trains per day, usually at night, until Canadian National (CN) purchased the rail line and significantly increased the volume of freight travel on the line. Local and commuter traffic are now disrupted 20 times per day for 3-5 minutes at a time while trains – some of them 12,000 feet long – can halt all traffic for extended periods of time. Five minutes is an inconvenience, but trains are known to break down, sometimes for hours at a time. According to a traffic delay analysis done in 2011 by CivilTech Engineering, vehicular delays at just one of the intersections went from just 2.46 hours in 2008 to 118 hours daily due to CN's freight operations.
Numbers at a Glance
Project Cost
$78 million
At Grade Crossings in Town
Four
Increase in Traffic
Nearly 50 times more vehicular delays
Delays caused by the trains have the potential to cut people off from health care, school, jobs, and more. Barrington High School serves five surrounding towns and has 3,000 students whose cars are parked on the other side of the train tracks from the school. Additionally, a freight train can block all four Barrington crossings that lead to the Advocate Good Shepherd Hospital; local and regional residents in need of emergency services are constantly at risk of being deprived of receiving potentially life-saving care. After 11 years of applying for federal support to create grade crossings, Barrington has secured enough funds to build an underpass on one of the four crossings but there are more to go and zero time to waste.
"Our residents appreciate the value of what these cargo trains do for our country's economy, but Barrington is paying too high a price with no benefits. We think it's fair to balance the movement of freight with the safety and well-being of communities like ours, and we need federal support to achieve that balance."

Village President Karen Darch
Fix the Grade Crossings, Improve Safety and Well-Being
A grade separation will not only return a dependable arterial roadway for commuters and local traffic, it would greatly enhance the quality of life and health for residents. The region would see a reduction in traffic congestion and noxious fumes from idling vehicles and highway noise, as well as increasing uninterrupted green space and bike paths. A good part of Barrington's housing stock is situated in proximity to the rail line and the traffic gridlock caused by CN freight, so this would be particularly beneficial to surrounding families and nearby senior housing facilities. Additionally, the project requires the relocation of a stream, which would result in an improvement in storm water flow in a flood-prone area, as well as greatly improve the water quality of a waterway that feeds into the region's watershed.
Cities Are Ready to Rebuild with Congress' Help
Barrington's infrastructure story is one of the hundreds across the country. From the smallest to largest communities, every community has an infrastructure story to tell, and NLC's latest Ready to Rebuild report showcases a range of transportation, water, broadband, and workforce projects across the country from communities of all sizes that Congress could support with legislation. While projects are different, the message from local officials was the same: infrastructure is a job worth doing, but in most places, it's now beyond what the local government can handle on its own. Does that sound familiar?
Take Action: Highlight Your City and Why You're #ReadytoRebuild
Join NLC as we keep calling on Congress to directly invest in local infrastructure and prepare for a better future.
Congress is actively moving an infrastructure package so now is the time to share your infrastructure priorities with your Member of Congress' staffer in Washington, DC: Use NLC's pre-drafted letter here, or if you want a staffer's email from your Member of Congress' office, please just let us know at advocacy@nlc.org.
More Resources for Cities Handling Blocked Crossings