Las Vegas is Ready to Fix the Charleston Boulevard Underpass.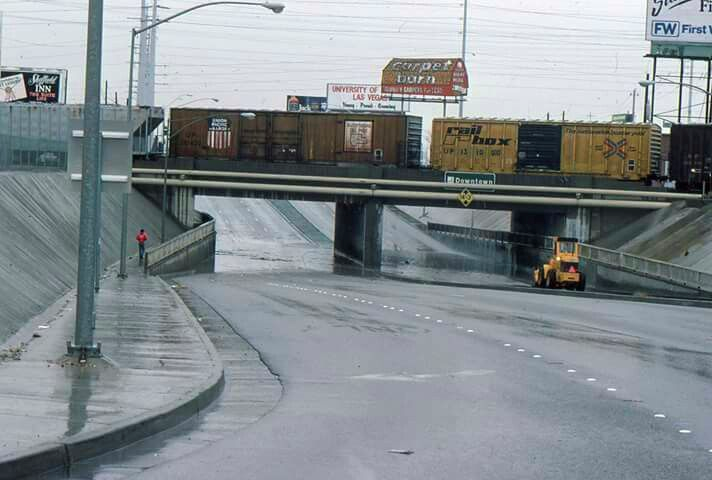 Cutting through the heart of growing downtown Las Vegas, Charleston Boulevard serves as the main road connecting the east-west corridors of the community. The Charleston Boulevard Underpass is a 70+-year-old underpass ready for an overhaul. While it is an essential path into Las Vegas, the underpass is deteriorating. As the years have passed, the road has become a physical and socioeconomic divide between the city's more affluent western suburbs – with better access to healthcare, employment and education – and has marginalized communities located on the east side of Las Vegas. 
Numbers at a Glance
Year Constructed
1949
Annual Traffic
18 Million cars and trucks
Project Cost
$40.2 Million
Amount Las Vegas can contribute with non-federal funds
$14.9 Million
Underserved communities who reside on the east side are more likely to rely on transit, walking, and bicycling to access educational, or employment opportunities in the Las Vegas core. These communities are also far more likely to belong to an equity group—including people of color, of low to moderate incomes, of older age, or with physical disabilities. Left unimproved, the Charleston Underpass will continue to act as both a real and perceived barrier between vital services in the west and the underserved communities that call the east side their home. 
The underpass in its current state also is a major safety hazard. The most recent accident data from 2015 to 2017 shows there were 57 crashes within the project limits with nearly 40% resulting in injury.
Charleston Boulevard serves as the east-west backbone through our city, connecting neighborhoods, jobs, education, medical facilities, and our Downtown. With increased infrastructure spending, we can upgrade the underpass to be a safer and more equitable transportation option for residents of Las Vegas.

Las Vegas Councilman Cedric Crear
How Fixing Charleston Boulevard Underpass Helps Las Vegas
Lowering the Charleston Boulevard Underpass and reconstructing the existing roadway into a wider boulevard with three lanes, a new bike lane, and wider sidewalks will better connect the communities on the East and West in Las Vegas. The project would remove bridge barriers and allow higher profile freight and transit vehicles to move more easily along the corridor. The improvements should also allow traffic to flow more freely and safely. An added benefit to investing in improvements to the underpass will set up the roadway for high-capacity transit along the Charleston Boulevard corridor by 2050 to match other local transit upgrades planned in the Las Vegas areas.   
Cities Are Ready to Rebuild with Congress' Help
Las Vegas' infrastructure story is one of the hundreds across the country. From the smallest to largest communities, every community has an infrastructure story to tell, and NLC's latest Ready to Rebuild report showcases a range of transportation, water, broadband, and workforce projects across the country from communities of all sizes that Congress could support with legislation. While projects are different, the message from local officials was the same: infrastructure is a job worth doing, but in most places, it's now beyond what the local government can handle on its own. Does that sound familiar?
Take Action: Highlight Your City and Why You're #ReadytoRebuild
Join NLC as we keep calling on Congress to directly invest in local infrastructure and prepare for a better future.