The City of Doraville's Buford Highway corridor is the premier destination in Metro Atlanta for international dining and retail. This is because Buford Highway is home to many immigrant entrepreneurs who have opened restaurants representing cuisine from around the world (including Chinese, Korean, and Columbian). This gives the 3.5 square mile city, whose tagline is "Diversity, Community, Vitality," a unique place in the larger metro region.
Numbers At-A-Glance
| | |
| --- | --- |
| Population | 10,228 |
| Project Cost | $1.7 million |
| Doraville's Project Contribution | $200k |
| Potential Lives Saved | Dozens over next decade |
| Percentage of Doraville Residents Without access to a Car | 11% |
| Daily Riders on MARTA Bus 39 Route | 5,4000 |
Buford Highway was originally built in the 1950s, and in the decades that followed it expanded from 2 to 7 lanes. In 2021, even though the corridor was built primarily for cars, more than 10% of the city's population doesn't have reliable access to a personal vehicle and relies on walking or public transit (the busiest bus route in Metro Atlanta runs straight through Doraville down Buford Highway). This means there are hundreds of pedestrians and bus riders walking down Buford Highway every day.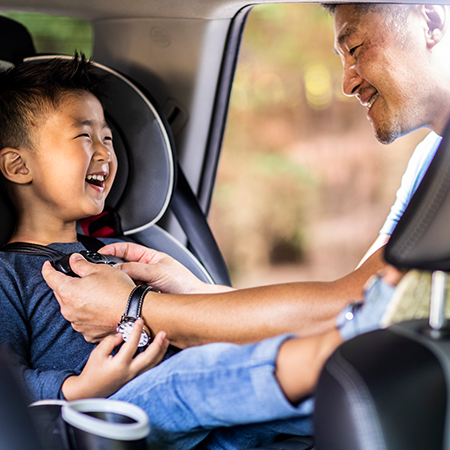 This mismatch has had life and death consequences. Over the past 5 years, there have been 32 crashes involving pedestrians in the City of Doraville, concentrated at major intersections on busy commercial corridors like Buford Highway. The lack of pedestrian infrastructure makes traversing the highway on foot a much more dangerous task than it should be.
The city has begun addressing safety and accessibility by adding some pedestrian crosswalks and changing the zoning from commercial to mixed use but there is a long way to go. One important project that Congresswoman Lucy McBath submitted for Congressional appropriation would create pedestrian improvements, making it easier to cross Buford Highway at Interstate 285 and potentially other intersections such as Longmire Way, McElroy Road, and Oakcliff Road. Thousands of cars exit and enter the freeway to and from Buford Highway daily and there is currently no refuge or even signaling that can be used by pedestrians. The project would restripe the intersection, increase its sidewalk width, elevate sidewalks above curb heights, and make improvements to lighting and stormwater drainage under the I-285 bridge.
We want Doraville to be a city where everyone is able to get around safely – whether in a car, on foot, or by bus"

Doraville Mayor Joseph Geierman
Cities Are Ready to Rebuild with Congress' Help
What we have seen in every city which invests in pedestrian infrastructure is that if you build it, they will come. The dozens of small, immigrant-owned businesses up and down Buford Highway would experience a boost with renewed investments in alternative means of transportation. Making Buford Highway a truly walkable street is not just an investment into physical infrastructure, but an investment into the human infrastructure that has been detailed in President Biden's American Jobs Plan. We have an unprecedented opportunity to transform this country's infrastructure for the better and we must not let this chance pass us by.
Doraville's highway story is one of the hundreds across the country. From the smallest to largest communities, every community has an infrastructure story to tell, and NLC's latest Ready to Rebuild report showcases a range of transportation, water, broadband, and workforce projects across the country from communities of all sizes that Congress could support with legislation. While projects are different, the message from local officials was the same: infrastructure is a job worth doing, but in most places, it's now beyond what the local government can handle on its own. Does that sound familiar?
Take Action: Highlight Your City and Why You're #ReadytoRebuild
Join NLC as we keep calling on Congress to directly invest in local infrastructure and prepare for a better future. Congress is actively negotiating an infrastructure package so now is the time to share your infrastructure priorities with:
Your Member of Congress' staffer in Washington, DC. Use NLC's pre-drafted letter here.
Your Senators' staffers in Washington, DC. Use NLC's pre-drafted letter here.
If you want a staffer's email from your Member of Congress' office or a Senate staffer's email, please let us know at advocacy@nlc.org.
Cities Are Ready to Rebuild
Take a few minutes to fill out NLC's Ready to Rebuild form to share your priority projects.