Father's Day celebrates and honors the men who have embraced the essential role of fatherhood. There has been growing evidence on the positive influence that fathers have on the development and well-being of their children. According to a 2016 National Parent Survey Report, 63% of fathers agree that "Dads don't get enough credit for their involvement in raising and caring for young children." Although their role has changed historically over the years, fathers can play a crucial role in the healthy development and well-being of their children, beginning as early as birth.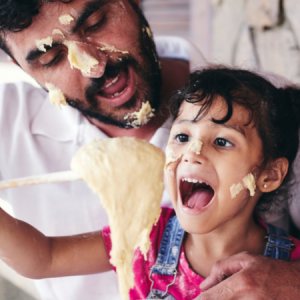 The first three years of life are the brick and mortar of brain development, setting the foundation for all learning. Although primary caregivers play the lead role in their child's development, they are often stretched during the earliest months and years and welcome supports.
Local leaders such as Mayor Tom Barrett of the City of Milwaukee have long been championing policies, programs, and practices that support fathers in their community. Mayor Barrett has led with the belief that fathers' strong engagement with their families not only helps children but strengthens the entire city. For 15 years, the City of Milwaukee has supported families through initiatives that reach all parents in their community and offer each child a strong start such as:
The inaugural Milwaukee Fatherhood Initiative Conference was held in October 2006 and was attended by more than 1,200 men from the area. The annual Milwaukee Fatherhood Initiative Summit is the largest such summit in the state and provides thousands of men the tools they need to become better fathers for their children.

In 2013, the City launched the Direct Assistance to Dads Project within the City of Milwaukee Health Department, a home visiting program that provides education, coaching, and a range of support services to men and teen boys during a partner's pregnancy and early in their child's life.
In 2017 Fatherhood Involvement Survey Data, 96% of fathers responding said bonds with their children grew stronger because of participation in the program, and 85% reported having better relationships with their children's mothers.
"Milwaukee's Fatherhood initiative is grounded in several basic principles.  First, men who have children want to be good fathers.  Second, supporting fathers with real programs can lead to better outcomes, and third, when fathers are engaged and encouraged, their children have a brighter future," said Mayor Barrett. "We have seen good results in our city, and we are committed to continued support of fathers."
Connect with the Early Childhood Success team at ECTeam@nlc.org to get started on building an early childhood agenda within your city.
Stay Informed
Learn more about what cities are doing to improve outcomes for young children and their families by signing up for our newsletter.