The first three years of life are the 'brick and mortar' of brain development, setting the foundation for all learning. During this time, the brain develops at a speed faster than at any other point later in life. Though they play the lead role, parents are often stretched in these earliest months and years, but they do not have to do it alone. Government leaders play a vital role in advancing outcomes for children and families during this period. A comprehensive prenatal-to-three (PN-3) system of care is complex and requires policy makers to keep young children and families top of mind as they create policies, practices, and programs that support the health and well-being of their residents today and in the future.
The National League of Cities (NLC)'s Institute for Youth, Education, and Families offer municipal leaders' guidance and support to establish and strengthen local prenatal-to-age 3 (PN-3) strategies to help our nation's children achieve better outcomes.
The Network of Early Childhood Success Cities
Since 2017, 14 cities have participated in PN-3 City Cohorts working to establish and strengthen local prenatal-to-age 3 (PN-3) agenda.
NLC's Early Childhood Success Network reaches more than 3.2 million children ages 0-8.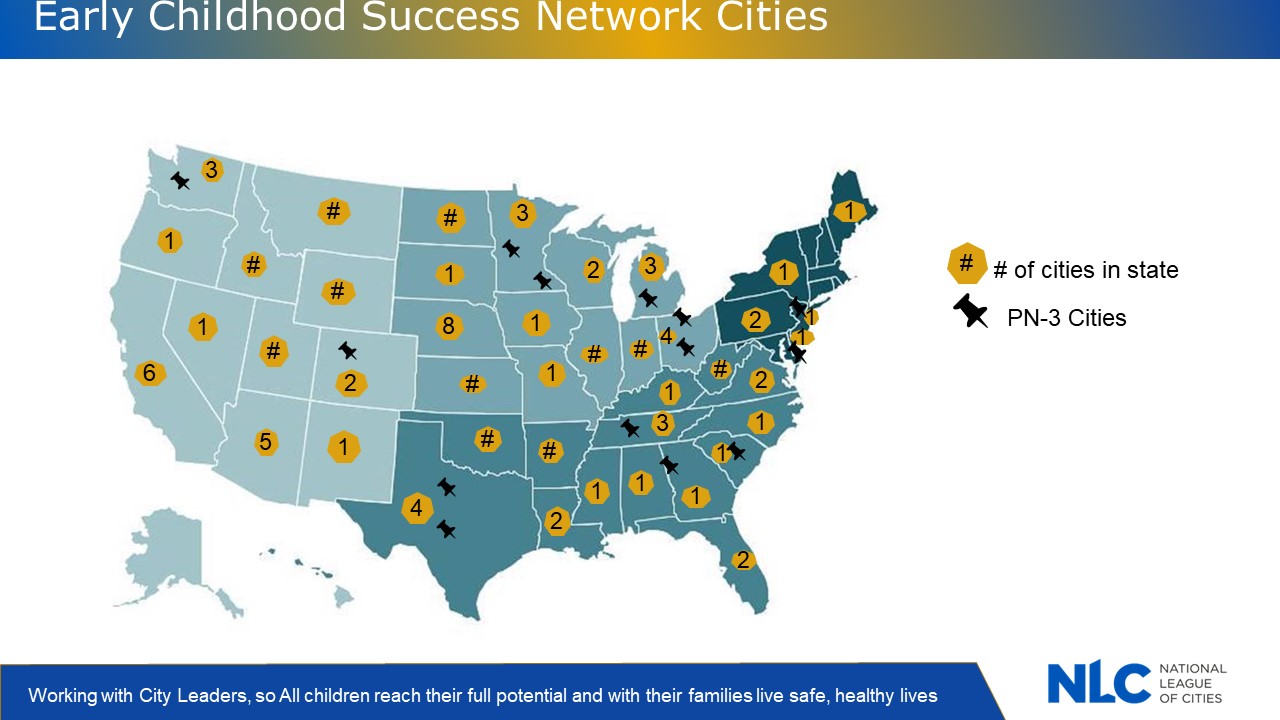 PN-3 Cities
Akron, OH
Atlanta, GA
Austin, TX
Baltimore, MD
Charleston, SC
Chattanooga, TN
Cleveland, OH
Denver, CO
Flint, MI
Fort Worth, TX
Minneapolis, MN
Newark, NJ
Saint Paul, MN
Tacoma, WA
Connecting to Broader Issues
Where we, live, work, and play matters to our quality- of life. In various cities across America, the policies and programs implemented to support the physical and human infrastructure of a city impacts the health and well-being of young children and their families. As hubs of innovation, cities are working to advance programs and practices that address the breadth of public policy. Unfortunately, despite all the benefits of a healthy and equitable community, not everyone has access to the safe and supportive environments they need to succeed. This initiative aims to increase the capacity of municipal leaders and stakeholders to build awareness and infuse a prenatal-to-three agenda to improve outcomes for children and families in the targeted impact areas:
Housing and homelessness
Climate and environmental health
Family economic stability
Beyond City Limits
In the spirit of this drive towards efficiency and cooperation, the National League of Cities (NLC), National Association of Counties Research Foundation (NACoRF), and the National Conference of State Legislatures (NCSL) have teamed up to develop the State and Local Government Prenatal to Three Collaboration in Action Series. The series will help local leaders identify common challenges and actionable strategies to strengthen alignments between city, county, and state governments in support of a prenatal through age three agenda for families in their communities.
Related Resources
Learn more
To learn more about NLC's work around Early Childhood Success contact our team at the Institute for Youth, Education, and Families.