As cities prepare to receive direct funding through the American Rescue Plan Act (ARPA), city leaders are recognizing the importance of engaging with the community to assess their needs and exploring how the funding can best align with local priorities. The following examples highlight how different cities have leveraged various tools to pursue this important work. These, and other, examples are captured in the COVID-19 Local Action Tracker, a partnership between the National League of Cities and Bloomberg Philanthropies launched last year to collect and share actions that cities are taking in response to COVID-19.
"The funds that Davenport [Iowa] will receive through the American Rescue Plan Act will be able to make a significant impact in our community," said Mayor Mike Matson. "Input from residents is essential in the decision-making process on how these funds are used. Through resident input, we can align the use of these funds with the priorities that our residents have shared with us."
Types of Engagement
Cities have pursued community engagement in a variety of different ways, including in-person listening sessions (no-tech), online surveys (low-tech), and interactive budget simulations (high-tech). Each of these methods have been successfully enacted by city leaders in different contexts and can serve as a source of inspiration to others. It is important to note that the type of engagement is less important than the fact that the voice of the community is driving the conversation about how to deploy these ARPA funds. No matter where a city is at in its adoption of technology, there are ways to gain insight from residents on this important topic.
"We want to make sure that we hear from people on the front end instead of scurrying around and having them react to something we already do so we'll have lots of chances for them to sound off." – Mayor Rosenburg of Wausau, WI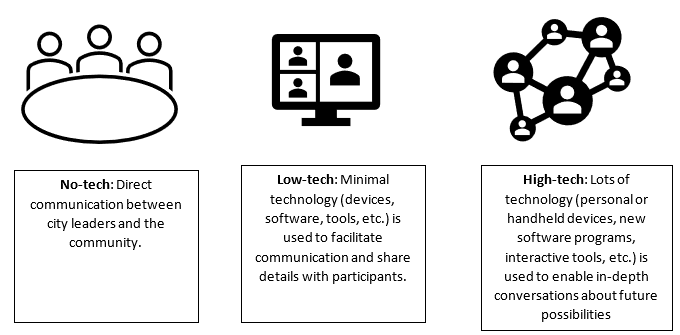 No-Tech Strategies
As vaccination rates continue to increase, city leaders are beginning to host more in-person meetings to gather community feedback, such as:
Low-Tech Strategies
Given the increase in remote work and the growing emphasis on virtual engagement over the course of the pandemic, many cities have used a variety of online tools to facilitate community engagement, such as:
St. Louis, MO; Manchester, NH; Youngstown, OH and Santa Ana, CA are using online surveys published on the city's website and other social media platforms to gather resident feedback
In Atlanta, GA, city leaders launched a COVID-19 Community Impact Survey, in collaboration with the Latino Community Fund and other national partners, to gather insights from Black, Latinx and immigrant residents to better understand the short-term and structural challenges that they faced over the course of the pandemic.
Tulsa, OK, also piloted a similar survey as they plan to incorporate the results into their recovery efforts centered around racial equity considerations.
High-Tech Strategies
There are an increasing number of advanced technological tools to help cities promote engagement in a more interactive and dynamic format. These include: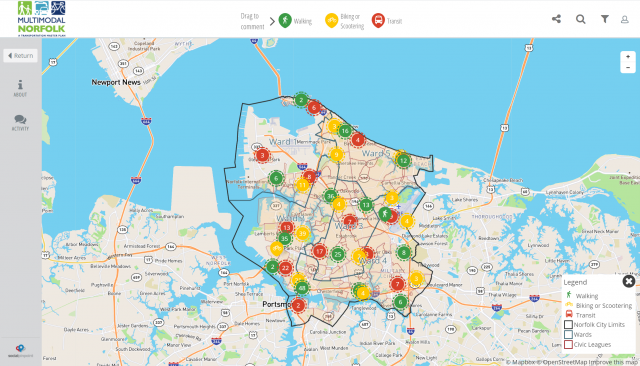 Conclusion
As cities contemplate how to utilize this unprecedented allocation of direct federal funding for all municipalities, it is critical that all community members be welcomed into the decision-making process. City leaders should consider how to adapt some of the different strategies highlighted in this blog to the unique context of their city in order to most effectively facilitate an equitable and inclusive community engagement process.
Not only should city leaders assess their own technological capabilities to determine the feasibility of different engagement strategies, but careful consideration should also be given to the technological access of different community members. If technological tools are being utilized, it is important to be intentional in the feedback-gathering process that all voices are being heard and that residents without internet access or other technical barriers are not being excluded from the conversation. For example, cities such as Raleigh, NC and Seattle, WA have launched surveys that are available to fill out either online or by phone. In pursuing this type of engagement, city leaders should strive to reach members of the community where they are at and use whichever combination of strategies tools that can best achieve to achieve that goal.
"It's important that we seek input from our community, especially those most vulnerable and our underserved community members, as they have been the most impacted by COVID-19. Moreover, having residents vote for these grant proposals gives them a real voice in their local government decision making and how funds are put back into their community." – Interim Assistant Budget Director Andrew Holland, City of Durham, NC
The National League of Cities (NLC) is the voice of America's cities, towns and villages, representing more than 200 million people. NLC works to strengthen local leadership, influence federal policy and drive innovative solutions. Learn more about becoming an NLC member at nlc.org/membership.