In September 2020, 47 cities made commitments to new initiatives to support inclusive economic development and innovation at the Kauffman Mayor's Conference on Entrepreneurship. NLC's City Innovation Ecosystems program collects and tracks these commitments to showcase successes, identify best practices, and connect peer cities that can learn together. Interested in joining next year's cohort, launching in November 2021? Complete an interest form here and we'll be in touch!
Filling gaps left by the Paycheck Protection Program
New Orleans's economy is dominated by the cultural institutions that make it America's most unique city. It plays host to more than 200 festivals a year, including three that attract at least half a million visitors each. Its restaurant scene is unparalleled in the United States; on a per capita basis, no other city produces as many James Beard Award-winning chefs as New Orleans. Likewise, few cities compete with its music scene. On any given night, you're likely to hear zydeco, jazz, brass bands, rap, and more – often at the same venue.
The traditions that captured the world's imagination and powered the local economy were also vulnerable to disruption by the COVID-19 pandemic. And like Hurricane Katrina before it, COVID-19 disproportionately impacted New Orleans's Black and Latino populations. Small business revenues in New Orleans have decreased 59%, compared to 29% nationally, with many of its historically Black neighborhoods hit the hardest.
In Summer 2020, NLC connected with Jeff Schwartz, the City's Director of Economic Development, to see whether Mayor Latoya Cantrell would be interested in making a commitment to inclusive economic development through the City Innovation Ecosystems program. At that time, Jeff began holding a weekly call with the city's economic development stakeholders and entrepreneurial support organizations to provide updates on COVID, PPP, and other small business support programs.
As a byproduct of these weekly calls, Jeff learned that PPP was not accessible to a majority of the city's microenterprises – very small businesses that typically lack collateral or extensive credit histories. To stay afloat, these businesses needed relief that was fast and that wasn't contingent on a pre-existing banking relationship. Kiva, a non-profit website that makes 0% interest, crowdfunded loans to small businesses, was an ideal solution.
Kiva was working with the City Innovation Ecosystems program at NLC to extend its Hubs model across the country. Through the program, cities would identify a local nonprofit or entrepreneurial support organization to assume the responsibility of providing technical assistance to minority, female, and low-to-moderate income entrepreneurs, and, if appropriate, help them apply for a Kiva loan.
Once Mayor Cantrell signed on to the program, NLC connected the City with Kiva and, together, they identified Fund 17, a local nonprofit that provides inclusive business support to early-stage businesses, as a potential Hub.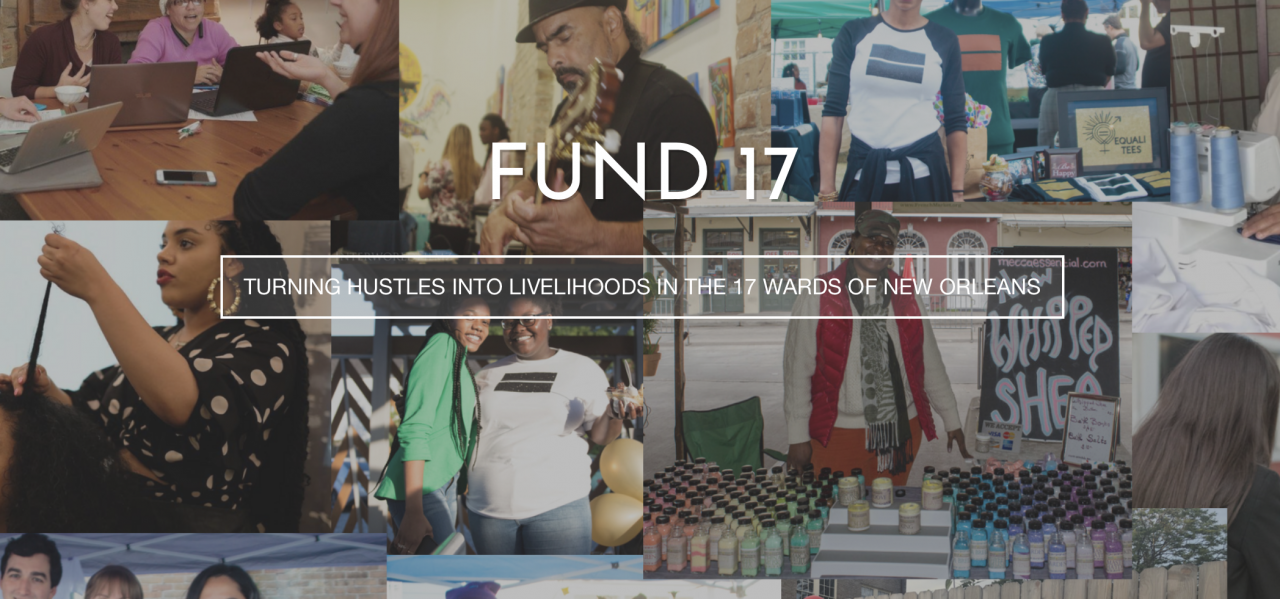 Fund 17 extends COVID relief and capital access to early-stage entrepreneurs
Veranisha Thompson is the Capital Access Manager – CAM, for short – at Fund 17. CAMs are responsible for supporting entrepreneurs through Kiva's loan application process and connecting them with other resources they need to grow their business. Veranisha is a New Orleans native and possesses the local knowledge and skillsets required to conduct effective outreach and provide tailored support to local enterprises.
"The businesses we work with may not be building a scalable, innovative tech venture," says Veranisha, "but each of them is an important part of the overall cultural economy that makes us an international city."
"We want to help them transition a side hustle into their main hustle, but many can't tap into family and friends for extra resources, and a lot of the time their credit scores are held against them."
She says Kiva is a good fit because it provides an alternative to bank loans which many early-stage entrepreneurs feel intimidated in applying for. "They tell us 'I don't know if I should apply for a bank loan; I don't know if I'll get it, and if I do get it, the interest rate will probably be too high'" Veranisha explains.
There's also evidence that white applicants for PPP loans were treated better by lenders than Black applicants. In a study conducted by the National Community Reinvestment Coalition, the researchers found "different levels of encouragement to apply for loans, different products offered and different information provided by bank representatives."
Though many of its loans are smaller, Kiva offers up to $10,000 in crowdfunded loans at 0% interest and boasts a global repayment rate of 97%.
Two months after launching, the Kiva program at Fund 17 is off to a promising start and expects to lend 20 Kiva loans by April 2022.
For example, Veranisha recently supported Shauntaye Merritt-Williams, founder of social justice lifestyle brand Equali Tees, to secure a $5,000 loan. Equali Tees sells t-shirts and other products to advance social causes. One of their popular collections is "The Journey Home," which aims to secure ancestral DNA kits from African Ancestry for Black students. The loan will allow Shaun to upgrade production equipment, protect the brand, and enhance marketing efforts.      
What's next for Fund 17
Kiva is just one innovative solution Fund 17 is piloting this year. The nonprofit is also implementing new programs and funding structures that attempt to replicate "friends and family" investments for lower-wealth entrepreneurs who may lack the financial networks and personal wealth to cover business startup costs.
These include an entrepreneurial assistance fund to cover essential needs less than $1,000 for things like critical licenses and permits, without which it's difficult to operate as a business and effectively impossible to grow.
Lessons learned
Replicate systems of privilege through programs and policies. Many entrepreneurs lack access to family wealth and business networks that make it easier to start a business. Fund 17 and the City of New Orleans run several programs that connect low-wealth entrepreneurs to the resources they need to get their business off the ground.
Local government can play quarterback. The City's Director of Economic Development built strong relationships with local entrepreneurial support organizations, knew the role each of them played, and knew where gaps in capital access existed. When the time came, he was able to seamlessly pass the ball to Fund 17 because he knew they were a good fit for the Kiva program.
Develop capital vehicles for the full spectrum of entrepreneurs. Kiva is a viable solution for early-stage microenterprises. However, additional capital vehicles are required to cover the needs of all entrepreneurs and small business owners. Economic development stakeholders must become familiar with alternatives to traditional debt and equity products. These might include equity crowdfunding, revenue-based financing, and profit-sharing models.