With nearly two jobs for every resident living in the city, Boise, Idaho attracts commuters from neighboring suburbs into the growing city center for work. Unfortunately, the old Highway 44 going into the city from the north side of Boise River serves as the only connection for four cities north of river. Along with the traffic created by this bottleneck, much of the busy highway needs work and is now marked by aging commercial developments and very little pedestrian infrastructure. Though city leaders changed some curbs in recent years to give pedestrians a safer place to walk, this road should be safer. A recent study revealed that, in its current capacity, the highway would need to be tripled in order to handle all the cars using it. This would mean possible costly solutions such as double decking the highway or wiping out miles of real estate in order to create the space needed for this corridor. But Boise has developed a better option: improve the highway and add Bus Rapid Transit on Highway 44.
Numbers at a Glance

Project Cost
$40 million
Amount Boise can contribute to the project
$6 million
Number of new homes built
5,000
Daily increase in boardings by 2035
7,900
How Boise's Highway Expansion Can Relieve Congestion, Create Jobs, and Support New Housing
"If we can add one lane in each direction and add Bus Rapid Transit Lines we can change the commute pattern from the Northern side of Treasure Valley from one that is clogged and auto-oriented to one that keeps the highway moving because its transit-oriented," said Boise City Council President Elaine Clegg, "This would be a game changer for our city because it would improve people's commutes, our air quality, increase housing, and help the businesses along the highway."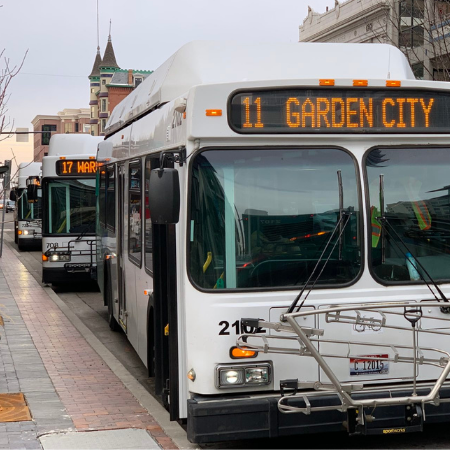 The Multiplier Effect of Bus Rapid Transit
The current daily ridership is 1,100, but this area is expected to add 20,000 jobs in the next ten years which will apply tremendous pressure to this corridor for congestion relief and housing units. Adding additional lanes that can be used for Bus Rapid Transit could increase service to 9,000 boardings per day which would be significant for managing congestion in Boise. Additionally, this Project would include a rebuild of all intersections along the corridor, add transit infrastructure, build level loading platforms, ½ mile walk and bike connections to all of the stations, and, perhaps best of all, encourage development of 5,000 houses of Transit Oriented Development along the corridor – all of this would cost less than double decking the freeway. City leaders know BRT would be used because, in a recent survey conducted along a similar corridor in Boise, 87% of residents said they would use transit if it existed in their neighborhood. 
Congress Can Support Projects Like Boise's
NLC is a strong supporter for a bipartisan infrastructure package that can meet the transportation and workforce needs of cities like Boise's. Members of Congress have prioritized a bipartisan infrastructure package, and President Biden has proposed the American Jobs Plan to invest in our communities through investments in infrastructure and jobs. As discussions in Washington progress on an infrastructure package, cities like Boise will see the greatest benefit if funds from the American Jobs Plan are directed to cities.
Send a Note to Your Member of Congress and Senators
Together, we're asking Congress to pass an infrastructure bill that cities and towns can use to rebuild at home.