The four square-mile city of Ferndale is situated roughly ten miles north of Detroit. The two cities are connected by an eight-lane corridor highway, Woodward Avenue, which was the first paved road in the United States. The quaint city's downtown is cut in half by the corridor — only 6% of which has sidewalks — everything else is oriented to cars and a median that no one can use. There have been 800 crashes in this area from 2016-2018, and it is considered unsafe for pedestrians.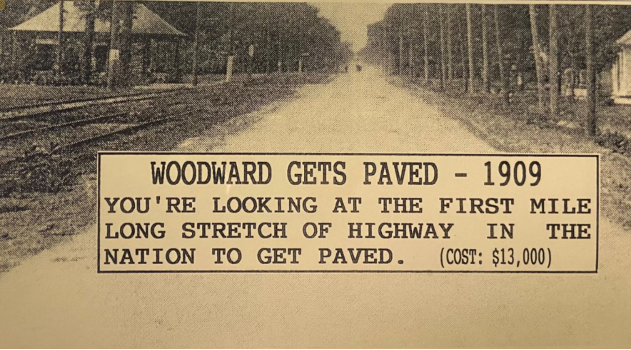 The Woodward Avenue corridor is also the culprit for frequent city-wide flooding events because the stormwater drainage along Woodward is outdated and in need of repair. In 2014, during a record-breaking rainstorm, 80% of Ferndale's homes flooded because of the city's poor drainage system resulting in a federal disaster declaration that caused $80 million in damages from basement flooding alone. Residents overwhelmingly agree that this needs to be fixed before the next extreme weather event occurs. Even when it is not considered an extreme weather event, any heavy downpour causes the avenue to flood rendering the thoroughfare unusable for 5-6 hours at a time. The State of Michigan is planning to repave Woodward in 2022 and Ferndale looks to capitalize on the state's repaving efforts to revisit how an improved corridor can improve the lives of the citizens of Ferndale.
Numbers at a Glance

Project Cost
$20 million
Ferndale's Annual Operating Budget
$28 million
Jobs Creation
1,124 Job Years
Number of lead lines in need of replacement
7,500
Cost to Replace Lead Lines
$8 million
Ferndale is Ready to Improve Health and Safety and Avoid a Flooding Disaster
"The improvements to infrastructure in Ferndale are connected directly to the people infrastructure: We have the opportunity to rethink and redesign the Woodward corridor in a way that will prevent a major disaster, take cars off the road, and improve the health of our citizens by adding bike lanes and sidewalks. This thoroughfare was designed during the automotive buildup of the 1940's. But it is time to rethink it… And time is of the essence – there must be action and improvements to this lifeline of Ferndale before the next disaster strikes."
Ferndale is Ready to Improve Safety and Clean its Air
The Woodward Moves! Project proposes to remove a lane in each direction for the two-mile segment that runs through the core of the city in order to install sidewalks, bike lanes, and improve the corridor's stormwater infrastructure. The daily volume of vehicle traffic on this corridor is at roughly 40% of the capacity of the road, so these lanes will not be missed. City leaders also plan to plant more trees as part of its urban forestry program to reach 40% tree coverage. Strategically placing plants around the gutters will have the added benefit of reducing storm water going into the drains. The budget for the Project far exceeds the city's available resources, so a federal investment is critical to its success.
Another Disaster in Waiting: Lead Lines
In 2019, following the crisis in Flint, the state of Michigan mandated that cities must replace all lead lines leading from the street to each house over the next 20 years. In Ferndale this means replacing 7500 lead lines without passing the cost on to ratepayers. Governor Whitmer developed a $10 million revolving loan fund with interest that Ferndale is leveraging in order to meet the 20-year deadline. It will cost $8 million for Ferndale to replace all of its lead lines, and the pace of improvement will only accelerate with federal support. There is scant time to waste as the next weather emergency or disaster could once again overwhelm the city's infrastructure.
Join Ferndale and NLC in Supporting Infrastructure
NLC is a strong supporter for a bipartisan infrastructure package that can meet the transportation and workforce needs of cities like Ferndale. Members of Congress have prioritized a bipartisan infrastructure package, and President Biden has proposed the American Jobs Plan to invest in our communities through investments in infrastructure and jobs. As discussions in Washington progress on an infrastructure package, cities like Ferndale will see the greatest benefit if funds from the American Jobs Plan are directed to cities.
Together, we're asking Congress to pass an infrastructure bill that cities and towns can use to rebuild at home. Join us and send a note to your Member of Congress and Senators here.
Learn More
Ferndale: Woodward Moves Community Meeting