April 22 is Earth Day and there is no better way to celebrate than to nurture residents'  connection to the planet and develop its future stewards. 

Ten cities will advance these goals by joining a new green schoolyard initiative led by Cities Connecting Children to Nature (CCCN), a joint initiative of the National League of Cities and its key partner, Children & Nature Network.  As one aspect of recovery efforts after the COVID-19 pandemic, leaders from Atlanta, GA, Black Canyon City, AZ, El Cajon, CA, Cincinnati, OH, Dearborn, MI, Flagstaff, AZ, Little Rock, AR, Milwaukee, WI, Paterson, NJ and U.S. Virgin Islands will leverage green schoolyards in their communities for outdoor learning, advancement of environmental goals and enhancement of residents' health and well-being.
"Public schools are one of the top three landholders in most communities. This points to a great and often underutilized resource that can be reimagined to support student achievement and community well-being, as well as mitigate the effects of climate change," said CEO of the Children & Nature Network Sarah Milligan-Toffler. "This initiative is a critical step in helping cities maximize school grounds and the natural infrastructure that exists to improve student, community, and environmental health."
Supported by technical assistance from CCCN's national experts, Green Schoolyards teams from selected cities will now embark on a three-year journey to identify local assets, such as schoolyards, community partners, funding opportunities and more to transform public school grounds into nature-filled, multi-functional green spaces.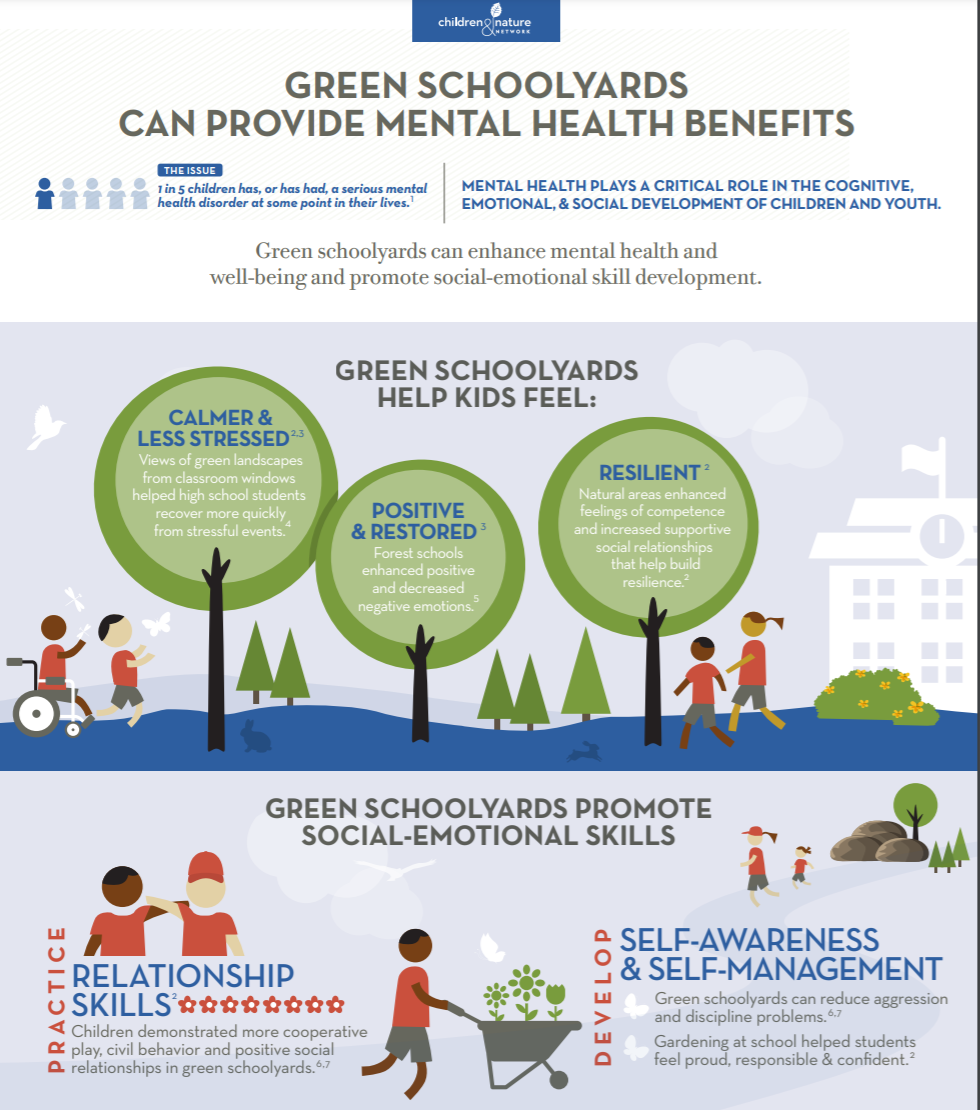 "In the Community Schools Model, the school becomes a hub where programs that meet the needs of the entire neighborhood are offered at the school site. Therefore, it's crucial that parents and community members feel drawn to spend time at the school and on the school grounds," said City of Little Rock Mayor Frank Scott Jr. "Technical assistance through the CCCN program will initially guide Little Rock's green schoolyards team in helping two community schools operating in our most densely populated neighborhoods to become welcoming spaces for those neighbors."

By serving as local community hubs, green schoolyards offer students and residents safe, trusted and nearby places to connect with nature. Research shows that green schoolyards can enhance mental health and well-being, academic performance, and physical activity for children. They also turn often underutilized public school lands into vibrant, healthy green spaces that bring a wealth of environmental benefits, from stormwater capture to increasing wildlife habitat to reducing urban heat.

"Not only do these schoolyards provide crucial spaces for children to play, learn, explore and grow, they also provide surrounding neighborhoods access to parks and greenspace, which is instrumental to the health and well-being of Flagstaff's residents," said Flagstaff City Manager Greg Clifton. "[It will] be a huge step towards the equity and resiliency goals in our Climate Action and Adaptation Plan."
Several cities have pulled together collaborative teams—including education, park, and city officials, as well as local nonprofits and community partners—to advocate for and help turn public school lands into green schoolyards. Municipal and school leaders see green schoolyards as a way to recover more equitably from the COVID-19 pandemic, by enhancing green infrastructure and adding safe greenspaces, especially in communities that lack access. 

"Activating schoolyards as destinations for safe natural play and learning will continue to support the City's goals of decreasing health disparities between neighborhoods and races and improving the resiliency of our urban neighborhoods," said Michael Forrester, director of Office of Environment and Sustainability for the City of Cincinnati.

Author's Note: Funding from The JPB Foundation makes this effort possible, with additional support from The Arthur M. Blank Family Foundation and smallMatters institute.
Learn More
Want to learn more about Cities Connecting Children to Nature and developing a green schoolyard in your community?