As congressional leadership considers the $908 billion stimulus proposal offered by a bipartisan group of legislators this week, the critical needs of cities, towns and villages are taking center stage. The latest proposal includes $160 billion in relief for state, local and tribal governments, delivering the direct and flexible aid that local leaders have been calling for since the start of the pandemic.
With unemployment numbers persistently high, key pandemic assistance programs set to expire this month, and record numbers of COVID-19 cases across the country, it has never been more important for the federal government to make an investment in local economies everywhere to protect our fragile economy and encourage its recovery.
Local leaders must keep up the fight, urging congressional leadership to deliver long-term solutions for our nation's hometowns.
Last week, NLC released the results of a new survey quantifying the damage COVID-19 has done to municipal budgets across the country. The new survey found that, on average, cities have seen revenues decline by 21% since the beginning of the pandemic, while additional expenditures – including PPE, remote work technology and overtime pay for essential employees – have increased 17% over the same time period. This adds up to a budget gap of about $90 billion for 2020 alone. Importantly, an overwhelming 71% of cities indicated that their local governments' financial strains would worsen if Congress does not pass another stimulus package.
This data is a sobering reminder that municipalities everywhere are continuing to suffer from the devastating effects of the COVID-19 pandemic and that the financial hardships our local leaders are experiencing will continue into 2021 and beyond. These impacts are being felt across the country in communities of all sizes and have been exacerbated throughout the year by issues closer to home.
In Pittsburgh, Mayor Bill Peduto was faced with a $100 million budget shortfall when crafting a new budget this summer. Even laying off 400 municipal employees – a 10 percent reduction – "wouldn't even come close to filling the hole," Peduto said. "It's the reality of where we are." Peduto emphasized that the budget shortfalls that Pittsburgh and other cities are facing will force cuts to critical services that communities need more than ever to recover from the economic devastation of COVID-19: "Without an ability — almost a bridge — to get us to where we'll need to be over these next couple of years, what you're going to see in cities is more cuts to essential services and to critical projects."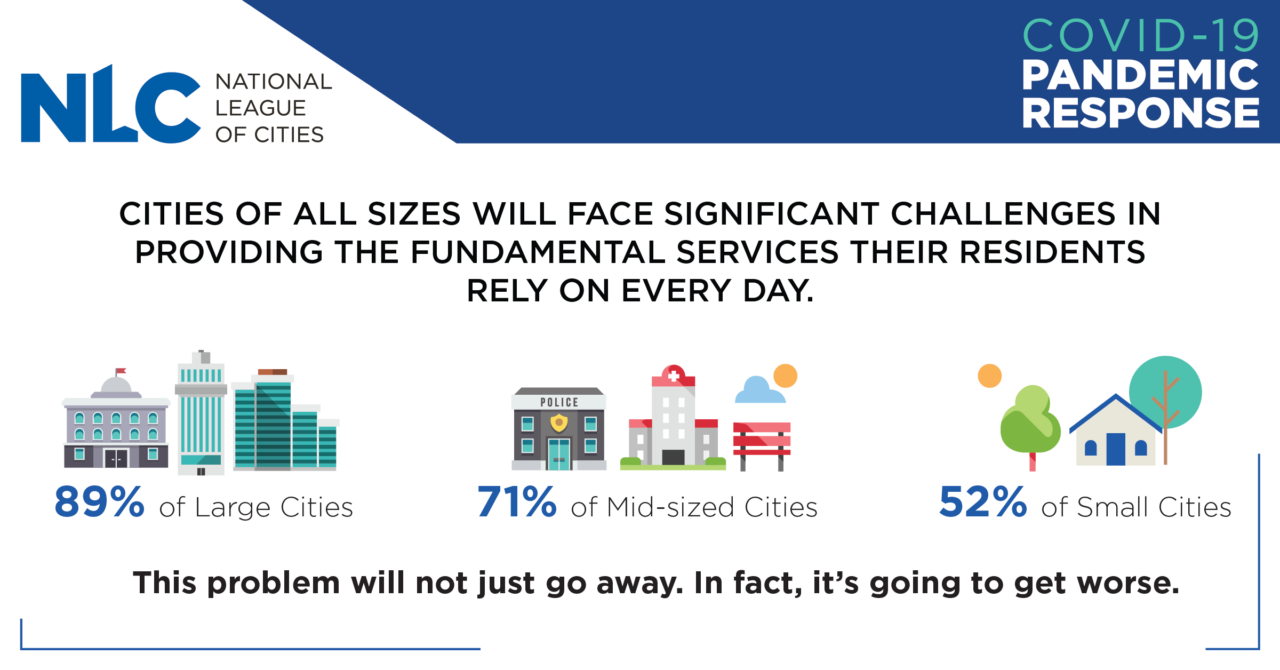 Lake Charles, Louisiana Mayor Nic Hunter led his community through two major hurricanes – Laura and Delta – that brought devastation to the Gulf Coast earlier this year while simultaneously battling the impacts of the pandemic. "2020 has been detrimental from COVID-19, but it has also been an absolutely historic and catastrophic year for natural disasters," Mayor Hunter said. Even before the storms, Lake Charles anticipated sales tax revenues to decrease by 6 to 10 percent this year, impacting the city's ability to effectively respond. "The fiscal impacts of the pandemic have certainly been a punch in the gut. We need a hand up, not a handout," he said.
Athens, Ohio – home to Ohio University – confronted challenges similar to those faced by many university communities across the country. "Loss of population means loss of revenue," Athens Mayor Steve Patterson said. While the permanent residents of Athens are struggling to pay their utility bills, the city is still responsible for maintaining water and electricity systems, all while revenues shrink due to decreased business activity and more students learning remotely. "As we're looking forward," Patterson predicted, "We're not going to come out of any level of recovery, I think in most college towns, for at least another two to three years when you're seeing losses like we're seeing."
Devastating wildfires brought unprecedented damages to communities throughout the Pacific Northwest this year. In Hillsboro, Oregon, Mayor Steve Callaway said that although cities prioritize keeping a reserve after balancing their annual budgets, "there's no size of a reserve that we can carry forward that would address this kind of catastrophic natural disaster." The dual fiscal challenges of the pandemic and the wildfires underscored the need for urgent federal relief. "Providing stopgap funding for those cities that have been devastated by the natural disasters is going to be critical, because at least that gets you back to a starting point and then begins to help you move forward," Callaway said.
City leaders have been fighting tirelessly for their communities this year, and delivery of additional aid from the federal government will provide critical support to shore up our suffering economy as cities, towns and villages brave an uncertain winter. Local leaders must keep up the fight, urging congressional leadership to deliver long-term solutions for our nation's hometowns.