Recycling is one of the most widespread environmental success stories of the last 50 years. Cities have been at the center of it all, working with haulers, processors and other partners to safely and sustainably manage waste.
In 2017, the U.S. recycling and reuse industry accounted for:
534,000 stable jobs
$30.6 billion in wages
$117 billion in economic activity
$8.2 billion in state, local and federal tax revenues.
But there's more work to be done. Recycling is the most common way to divert waste, but it doesn't help as many people as it could. Although 94% of US residents have access to some type of recycling services, 73% of residents have curbside recycling, while 21% only have access to drop-off programs.
Some cities have limited or no curbside recycling pickup, while others have very robust systems that even include curbside food waste/compost pickup – based largely on the regional market availability, financing and scale.
Other programs are even less common in cities, like composting programs, yard trimming services, food waste laws, electronics collection and recyclable glass or plastic container programs.
Recycling Reimagined is a resource to help local governments discover and pursue more innovative waste management solutions.
The Challenge Our Current System Faces
Americans create a lot of trash and recycling systems are not universal, creating inconsistencies in programs and streams, difficulty in maintaining clean streams and the issue of "Who pays for this?"
Since the 1960s, recycling programs picked up steam, participation grew and thriving international markets developed for key recyclable commodities. Many local governments were able to fund their own programs through the sale of the materials collected.
Now, we need to rethink recycling as a country, and continue to progress to a zero-waste system. Why? There are many challenges in the current system that can hinder progress toward zero-waste.
Lack of consistency in policy
In 2014, the US paid $6.8 billion to dispose of 136 million tons of waste.
Residential or commercial? Multifamily or single family? Landlord or lessee? There is inconsistency in all of these situations in many cities.
The private sector has difficulty adapting between separate markets based on system differences. For example, a large company with multiple office, retail and manufacturing locations must adapt internal policies and methods to suit each location.
Inconsistencies in streams
There are inconsistencies in recycling streams across the country – single vs. multi stream, what is accepted in the streams and how to divide items in different streams. These inconsistencies also lead to disagreements about who should be responsible for the separation of recyclables – source-separated puts the burden on residents, businesses and government/haulers, while single stream puts the burden on processors. Inconsistencies between government and private sectors when establishing recycled commodities creates costly processing burdens for items such as plastic bags and film.
Difficulty in maintaining
clean streams at all levels
Many manufacturers and producers do not design for reuse and recyclability, and haulers are often not empowered by government and ordinances to manage contamination through tagging and ticketing, etc. Processors often lack the means to invest in better equipment, technology and equipment upgrades, leveraging tax incentives for capital improvement, and processors are often not incentivized economically to encourage recycling and organics over landfilling.
39 million tons of food waste was generated in 2014, and only 5.3% was composted
Who pays for recycling?
The inconsistencies of program financing and customer fees can also limit recycling programs. Some programs are financed through enterprise funds, others general funds and still others by allocated funds. Programs with customer fees are also inconsistent and structures range from Pay-As-You-Throw, to bundled trash and recycling fees, to free curbside collection. These fee structures give customers the false impression that recycling is free, and with constant fluctuations of recycled product sales, it is difficult to calculate stable rates to charge customers.
China will stop importing 
China, the world's largest buyer of recyclable goods, has announced a new policy restricting imports. The move has unsettled global recycling, creating an oversupply of several key commodities that threaten all processors, not just the ones that depended on exports. Without the money from overseas buyers, local governments across the country are rethinking their recycling programs.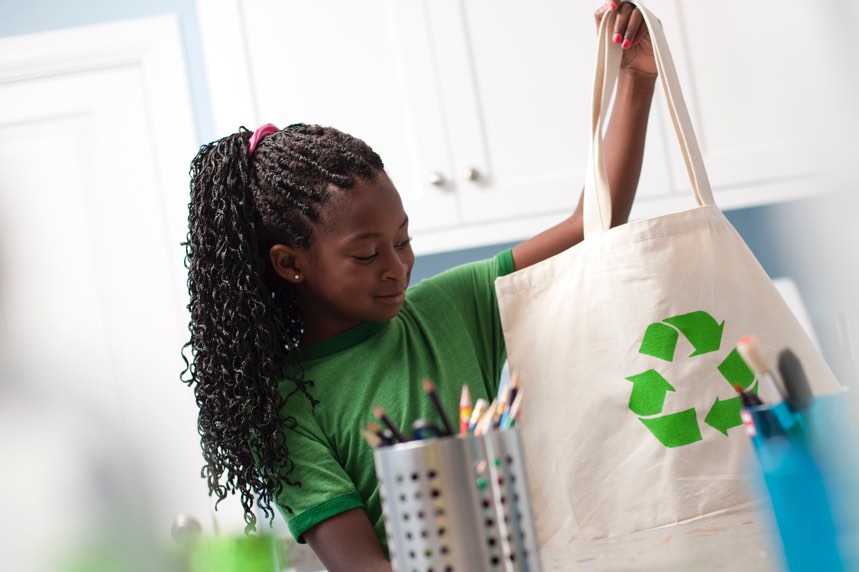 What can we do right now?
The health of our citizens and the safety of our environment depend on sustainable waste management systems. Cities should feel empowered to improve diversion rates and reduce waste. Examining your waste and recycling system can jumpstart local circular economies – generating new industry and keeping economic benefits closer to home. Here's how:
Embrace the circular economy 
A linear economy's model is "take, make, waste." A circular economy connects the two ends of the cycle, using waste as a feedstock for production.
Pushing toward a circular economy would generate real benefits for workers and the environment.
Doubling our diversion rate from 34% to 75% by 2030 could create 1.1 million jobs and reduce 276 million metric tons of carbon dioxide, which is equal to shutting down 72 coal power plants or removing 50 million cars from the road.
Zero waste, or using waste from one process as a resource for others, and separating material consumption from economic growth will preserve resources, create jobs, add economic value, minimize waste and curb greenhouse emissions.
Examining our waste and recycling systems is an easy way to jumpstart local circular economies – and this, in turn, can help streamline municipal waste management systems to maximize waste diversion and use waste as a resource instead of a burden.
Get to know your waste
Waste characterization or composition studies identify what kinds of materials end up in the landfill. They can also be used to determine the material composition of other streams, such as single-stream recycling. Knowing the most common materials in the waste stream helps to focus first on the low-hanging fruit and prioritize specific programs and services. For example, if a large percentage of materials currently landfilled could be diverted to other streams, such as recycling or composting, consider launching new services, expanding existing programs or enhancing education efforts for established streams.
Educate key stakeholders
A move towards zero waste and a circular economy will require a significant cultural shift in how we think about consumption and the end life of the products, materials and resources we use. Education efforts should involve stakeholder engagement, public outreach and marketing campaigns, and they should also include praise for correct waste diversion at the individual level and recognition for innovative practices at the organizational level. Manufacturers and product designers can use the packaging itself to educate consumers on what to do with the items after use. 
Incentivize the waste hierarchy 
Circular economy principles should prioritize the highest and best use of materials and resources, establishing a waste hierarchy to guide actions. Use the hierarchy as a stepladder to improve strategically.
Landfills should only serve as a last result. Your city might begin diverting waste by incinerating trash to generate energy, if it is safe to do so. Recycling and composting materials at the end of their life can be improved through education or mandatory curbside programs. Specific waste streams such as construction debris or textiles offer excellent opportunities to reuse, refurbish or remanufacture products.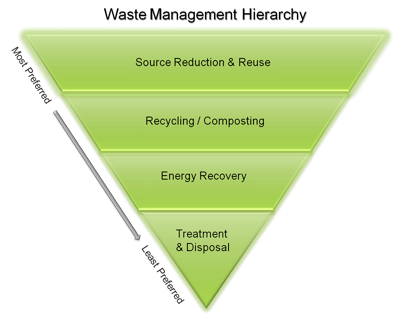 Streamline regulations and standards
Creating clear and consistent expectations is vital to success. Examine your local system holistically and seek to simplify and create consistent and equitable standards. Consider instituting a universal ordinance that guarantees access to the same recycling and composting programs for single-family, multi-family and commercial sectors. Pay particular attention to the relationship of tenants to their landlords or property owners in all sectors to protect against possible policy loopholes. Standardize waste diversion options in public spaces, so that waste diversion operations are the same wherever residents go in their daily lives.
Be a sustainable purchasing champion

Increasing the supply of recyclable materials is only half the battle. Cities also have the procurement power to boost demand for sustainable products. Strive to purchase items with a minimum recycled material content and that are fully recyclable in the current local system. Natural products should be tested and certified as fully compostable in municipal systems through third-party certifications such as BPI Certification from the Biodegradable Products Institute. Minimize single-use products and embrace single-material products that are most easily recyclable and compostable. Many cleaning products such as soaps and detergents are available in natural and biodegradable formulas that have minimal impact on municipal drinking water quality and treatment.
Pursue new partnerships
No single stakeholder will be able to change the system and culture of waste alone. Governments should strive to build partnerships between departments and leverage outside resources. Economic development, public works, environmental services and others should develop shared goals. Businesses that generate waste and manufacturers who need materials should be convened to identify opportunities. Businesses that generate waste and manufacturers who need materials should convene to identify opportunities.
Case study: Austin
Austin has begun prioritizing partnerships to achieve zero-waste. One of these partnerships is with the Austin Materials Marketplace, an online platform that connects local individuals with businesses to divert, reuse and/or repurpose materials that are difficult or impossible to recycle or compost.
Learn more
Case study: Phoenix
The Research Innovation Campus is an
eco-industrial and manufacturing incubator sitting on roughly 50 acres that will be turning trash into resources. Businesses around the city can also lease parcels of RIC land to develop technologies and processes that use waste to create new products.
Learn more
Build regional support
Partnerships among local governments are particularly important to achieve economy and viability of scale for systems and infrastructure, as well as to better coordinate and streamline the current patchwork of systems and regulations. Local pilot programs are important, but many of the same haulers and processors your community relies on are shared by neighboring governments. Together, your region can build leverage to change the current system or attract new partners who share your mission.
Find innovative funding models and grants
Some cities have established separate funds that are reserved expressly for sustainable waste management and resource recovery initiatives: This may be an option as a fee that is assessed monthly or annually in conjunction with the regular fee for waste hauling services. Other cities have also made moves toward extended producer responsibility by adding fees to items that are difficult to manage within the waste and recycling system, such as plastic shopping bags.
Build infrastructure and improve technology
New infrastructure and technology may be necessary for sustainable materials management. The partnerships mentioned previously are key to securing the scale and funds required for high cost, but high value, infrastructure upgrades and construction, and tax incentives for capital improvement expenditures can help the process along. Investing in transfer stations, materials recovery facilities, compost facilities and eco-industrial parks will help immensely in creating a more sustainable and affordable recycling system. Any changes or additions to infrastructure and technology in the local system should align with the process and methods that will be used to collect the waste.
Pilot programs
Download a PDF version of our recommendations (in a box)
Does your community have the next great idea to promote the circular economy? Pilot programs allow cities and organizations to test new concepts, services or facilities in small and controlled areas with limited cost. Successful pilots will help get buy-in from government officials, potential investors and partners, members of the community and other stakeholders. Pilot programs allow for unforeseen issues to be identified and resolved before a full-scale program is launched, and they can inform the planning and preparation process for scaling up, including the specifics of costs and financing. Even unsuccessful pilots can provide valuable data concerning the economic and environmental benefits or effectiveness of a new program.
Case Studies
Since we never stop learning, Phoenix built a campus.
In 2014, Phoenix uncovered sobering information about its waste system: The overall recycling rate was only 20%, and nearly 45% of the local landfill stream consisted of compostable organic materials.
Phoenix has very few formal policies to mandate waste diversion and aid in the development of a local circular economy. Neither recycling nor composting are required for households or businesses.
Still, two years after this waste analysis, the city made the ambitious decision to become a zero waste, circular economy by 2050. Phoenix identified three key strategies to get there:
Expand education and access to services
Incubate local businesses and industries that can help divert waste from landfills
Encourage the local retail industry to provide products that can be completely recycled or repurposed
Phoenix's first step was to partner with Arizona State University (ASU) to launch the Resource Innovation and Solutions Network (RISN) program. Funded through Phoenix's municipally-owned waste and recycling infrastructure, RISN engages in research on behalf of the city.
RISN is also helping to implement something called the Research Innovation Campus (RIC). RIC is an eco-industrial and manufacturing incubator sitting on roughly 50 acres that will be turning trash into resources. Businesses around the city can also lease parcels of RIC land to develop technologies and processes that use waste to create new products.
The first business to secure space at the RIC plans to take palm fronds – a common local waste product that is difficult to compost – and grind them with nuts and dates to make livestock feed.
In the future, ASU will establish a business incubator at RIC to provide support and technical services to startups that promote a circular economy. At that point, Phoenix will solicit proposals to creatively address other problematic materials in its waste stream, including carpet, foam, latex paint and treated wood.
But already, RIC is becoming a center for innovation, waste minimization and economic opportunity.
Often, the ethical approach is also the profitable one.
In 2011, Austin's Department of Solid Waste Services became Austin Resource Recovery (ARR). With that name change came a new focus: creating a zero waste system.
ARR immediately released the Austin Resource Recovery Master Plan to outline actionable paths forward, including entire chapters dedicated to sustainability, materials management and economic development, complete with metrics for measuring success.
Like many cities, Austin has been taking a multi-faceted approach to achieving zero waste. One of the first changes Austin made was to require nearly all multifamily and commercial properties to make recycling more convenient. Under the Universal Recycling Ordinance (URO), all recycling receptacles must have consistent colors and branding throughout the city.
The URO established another important norm: All food service enterprises, such as grocery stores, farmers markets and restaurants must now divert food waste.
If one person's trash is another's treasure, then it helps to have lots of people in on the action. That's why Austin has begun prioritizing partnerships to achieve zero waste. One of these partnerships is with the Austin Materials Marketplace, an online platform that connects local individuals with businesses to divert, reuse and/or repurpose materials that are difficult or impossible to recycle or compost.
Materials Marketplace is able to breathe new life into these materials by finding entities that are interested in purchasing them. Additionally, the platform can help organizations identify ways to reduce waste or substitute materials. The model financially benefits all participants, as sellers are able to receive revenue from a product that was formerly discarded as waste, and buyers can purchase materials and products at a significantly lower cost than new or virgin materials.
Smaller partnerships include Austin's Economic Development Department, which builds local businesses and engages stakeholders; the Austin Chamber of Commerce, which connects ARR with real estate and broker services; and local chapters of non-profits such as Goodwill, Habitat for Humanity and the Salvation Army, which create opportunities for reusing and repurposing of goods like textiles.
Austin is also in the process of establishing a partnership with the Austin Technology Incubator (ATI) at the University of Texas at Austin to foster circular economy startups and disruptive technology.
The city pays for these initiatives by charging a monthly "Clean Community Fee" to all residents and local business. But the revenues the city – as well as local businesses – enjoys from these new initiatives are substantial, proving that a zero waste system is not only sustainable, but also profitable.
A bold and holistic approach to a zero waste system.
Severe wildfires between 2010 and 2012 and a flood in 2013 devastated Boulder. For the city, stemming environmental crises has become non-negotiable.
Boulder does not advertise that it wants to become a "circular economy" – instead, it is trying to frame the move in terms of more tangible issues, such as open space, affordability and mobility.
The city adopted its first zero waste plan in 2006, expressing the belief that:
A true zero waste system is cyclical, like nature: everything we produce, consume and dispose of eventually goes back to feed the larger system at the end of its useful life.
Today, less than half of Boulder's waste ends up in landfills, making its waste diversion program one of the most successful in the U.S.
This success has been made possible by Boulder's Zero Waste Strategic Plan, which outlines three priorities:
Develop the infrastructure to provide recycling services across all sectors
Improve streams through targeting
Reduce per-capita waste generation
Boulder depends heavily on its relationships with outside stakeholders to foster the local circular economy. For instance, the city government works closely with the Boulder Chamber of Commerce to improve outreach to the local business community and emphasize co-creation
Additionally, in 2017, the city convened the Task Force on the Circular Economy in partnership with the University of Colorado Boulder. Boulder has an agreement with the university to research sustainability initiatives and the development of a fully circular economy.
Although these partnerships have been invaluable, the city still struggles with per-capita waste reduction.
To address this, Boulder adopted its Universal Zero Waste Ordinance. The ordinance stipulates that all properties, commercial and residential, must recycle and compost. Furthermore, recycling and composting receptacles must be made available at any special events.
The city also uses negative reinforcement, such as assessing fees on all disposable paper and plastic bags distributed at grocery stores and levying a trash tax on haulers throughout the city. This revenue is used to fund Boulder's waste reduction efforts.
What's next for Boulder? Generating new materials from 85% of its waste by 2025. It's ambitious, but Boulder is nothing if not bold.
Innovating beyond the diversion rate.
Recently, the city of Vancouver stopped using diversion rates as a key metric for waste reduction.
Diversion rates represent a percentage of total waste generated – meaning that even if the city is increasing its waste, diversion rates will still rise. So instead, Vancouver is now measuring total tons of waste disposed.
The city has the ambitious goal of becoming the world's greenest city. As part of that, Vancouver aims to reach zero waste by 2040. With a combined recycling and composting rate of 62%, Vancouver knows it's reaching the limits of standard municipal waste programs.
So the city is taking a non-standard approach and targeting demolition waste and single-use items.
One of Vancouver's newest policies is the Green Demolition Bylaw, which requires a minimum percentage of residential demolition waste be diverted from the landfill. The policy currently applies to all homes built prior to 1940 and will be expanded incrementally to include newer homes.
Anyone applying for a demolition permit must submit documentation of the age and character of the home in question. "Character homes" must divert at least 90% of their demolition materials from the waste stream, while all other homes must divert at least 75%. The applicant pays a permit deposit, refundable in full or in part depending on compliance.
Meanwhile, the city is also phasing in its Single-Use Item Reduction Strategy which targets single-use disposable items like plastic straws and polystyrene cups. Between 2019 and 2025, Vancouver will:
Implement bans on some existing products
Require that new products contain a minimum amount of recycled material
Launch education and outreach initiatives
Require businesses to reduce usage, engage in sustainable purchasing practices and have recycling collection points
However, Vancouver is facing some challenges on the road is zero waste. Crucially, many of the city's focus areas, like revamping regulatory processes and rethinking non-residential waste streams, are outside the local government's direct control.
So like many cities, Vancouver is taking the lead. The city will work with the national government to develop a universal single-use plastics reduction strategy, which could positively impact cities and towns nationwide.
Vancouver is also looking to expand a sophisticated list of producer requirements put forth by British Columbia. Already, the requirements affect solvents, paints, batteries, pharmaceuticals, oil, electronics, tires, beverage containers and packaging materials. In the future, Vancouver will add requirements for single-use items, textiles, carpet, furniture, and construction and demolition waste.
It takes a village… or thirty.
In Copenhagen, just 2% of all waste goes to the landfill, making it one of the most sustainable cities in the world. However, the city hasn't always been a sustainability leader.
Until recently, Copenhagen was experiencing population decline. The local economy was relatively poor and traffic congestion was bad, and many residents left for more liveable communities. The Copenhagen of the 1980s was nothing like the clean, bike-friendly haven that exists today.
In 1987, one simple change made all the difference: Copenhagen decided to incentivize waste reduction practices through taxation. Taxes on landfilling and incineration skyrocketed while recycling remained tax-free.
Today, Copenhagen recycles approximately 59% of its waste and incinerates most of the non-recyclable waste, which is 38% of the total stream. The incineration plants act as combined heat and power generation facilities, powering homes and businesses across the city.
Although accomplished, Copenhagen remains ambitious. The city estimates that about 12% of all incinerated waste could be recycled while 41% could be composted. Currently, the city is focusing on two strategies to create a true circular economy:
Collaborate with nearby cities
Introduce more streams
The Danish capital is collaborating with 30 other cities to improve regional materials recovery and processing capabilities. Currently, building facilities to process certain types of waste, like plastics, is not economical because the quantity of material produced locally is too small. But if Copenhagen combines streams with other nearby cities, the city may be able to recycle half of the plastic waste that is currently incinerated.
In the past few years, Copenhagen has expanded its recycling program, introduced food waste composting and increased its focus on access for the multi-family sector, since an overwhelming 90% of Copenhageners live in apartments. Today, residents are required to separate their waste, including compostable materials, into twelve different streams.
According to the city's current Resource and Waste Management Plan: "Materials must no longer be discarded and wasted; they must circulate in the cycle as long as possible… We will turn Copenhagen into a resource-efficient metropolis in which we no longer see waste as a problem but as a resource that has not yet been fully exploited."
Identifying new resources and creating a thriving society is what zero waste is all about. Although not quite there yet, Copenhagen is already able to enjoy many of these benefits.
What's Next for China?
In 2017, China announced that it would ban all recycling imports by 2020.
While the ban on recycling caught the rest of the world off guard, China's move towards a circular economy actually began with an academic paper published 20 years ago.
In 1998, Chinese scholars published an academic paper touting the merits of adopting a circular economy in China. At that time, the Chinese State Environmental Protection Administration (SEPA) was already trying to address local environmental degradation and pollution.
The idea of a circular economy intrigued the staff of SEPA and soon after, China launched a series of eco-industrial park pilot projects across the country. Each park had two collocated manufacturing companies, and one company's waste output would serve as the other's resource input – literally closing the loop.
The successful pilot projects led to several new laws governing cleaner manufacturing processes. Eventually, the National Development and Reform Commission (NDRC), a high-level governmental body that oversees economic strategic planning in China, became responsible for developing a circular economy – meaning that environmental sustainability was now an economic priority.
Perhaps most importantly, in 2008, China adopted the Circular Economy Promotion Law and became the first country in the world to pass legislation establishing the circular economy as a development strategy.
But as the largest manufacturing – and most populous – country in the world, China began to lose control of its waste consumption.
For four decades, waste and recycling commodities from around the world fed China's booming manufacturing industry. But over the course of just 13 years, the country was using about 30% of the world's natural resources and its consumption had tripled. Years of policy change and pilots just weren't enough.
Taking aggressive environmental action became a matter of survival.
China severely tightened regulations and is poised to enforce the ban on recycling imports.
That wasn't all: in July, China and the European Union (EU) signed a joint Memorandum of Understanding on Circular Economy Cooperation. The MOU specifies annual coordination meetings for the next five years, as well as the exchange of management systems and policy tools related to:
Eco-design for products
Eco-labelling
Expanded producer responsibility
Green supply chains
Best practices for industrial parks, chemicals, plastics and waste
The Ellen MacArthur Foundation, which promotes the transition to circular economies, notes that China and Europe are the world's two largest economies, and the agreement "could accelerate adoption of circular economy practices at a global scale, creating potential for a 'system shift' towards a low carbon, regenerative economy."
A partnership between Starbucks and the National League of Cities
© National League of Cities | View full list of sources and citations