By clustering talent, startups, established firms, nonprofits, research institutions and cultural assets, innovation districts encourage people to come together in places that can incubate creativity and serve as labs for forward-looking concepts and policies.
Innovation districts help bridge gaps and build partnerships across sectors, creating larger ecosystems that foster heightened creativity and technological breakthroughs and thereby further transforming cities into "innovation labs."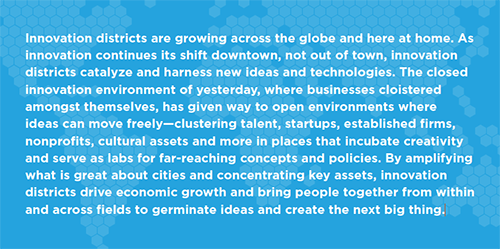 Chattanooga's decision to build its innovation district, known as "the Gig," contrasts with the wait-and-see approach taken by many other cities, as challenges to laws that prohibit or limit cities from competing with private sector broadband and cable providers work their way through the courts. The Gig has helped the city's municipally owned network keep pace with networks available in larger cities that have benefited from decades of intense private sector investment in the telecomsector. For many Chattanoogans, the Gig is viewed as a 21st-century natural resource of sorts and a potential draw for innovative high-technology companies with an insatiable appetite for bandwidth.