NLC's latest report provides a fiscal snapshot of cities based on a survey of revenues and expenditures as well as policy actions and priorities. The official report release streamed live from Washington, D.C. at 11:00 a.m. EST on October 13 and featured a panel of distinguished guests.
Guest Speakers:
Jerry Abramson, Deputy Assistant to the President and White House Director of Intergovernmental Affairs
Jeffrey DeWitt, Chief Financial Officer, District of Columbia
David Sweeney, Chief Financial Officer, City of Boston
Michael A. Pagano, Dean, College of Urban Planning and Public Affairs at University of Illinois at Chicago
Clarence E. Anthony, NLC CEO & Executive Director
Melodee Colbert-Kean, Councilmember, Joplin, Missouri, and NLC President
Christiana K. McFarland, Research Director, National League of Cities
About the Report
Each year, the National League of Cities (NLC) surveys city finance officers from across the nation about actual and budgeted revenues and expenditures as well as policy actions and priorities. Taken together, their responses provide a snapshot of the "average city" within the municipal sector. This is the 31st annual edition of the NLC survey, which began in 1986.
City Fiscal Conditions Are Getting Stronger
City finance officers are confident that cities are in a better fiscal position this year than last. Eighty-one percent of city finance officers report that their cities are better able to meet the financial needs of their communities in 2016 than in 2015. This level of optimism among finance officers is similar to last year, indicative of continuing fiscal recovery in cities.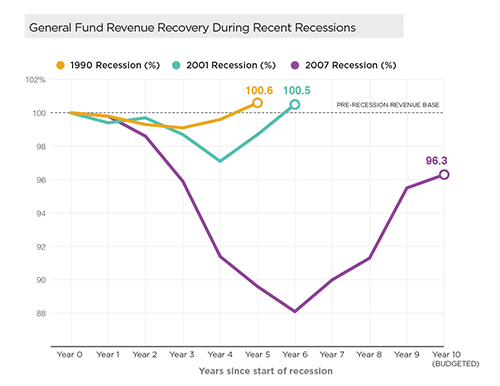 City Revenues Are Nearing Pre-Recession Levels
As of 2016, revenues have recovered to about 96 percent of pre-recession (2006) levels. The changes in General Fund revenues tend to reflect the changing economic and fiscal environment within which cities operate.