New Data from the National League of Cities Reveals Cities Concerned About Funding, Developing and Providing Essential Infrastructure Services for their Residents
As the Congress and the Administration debate the details of a new comprehensive infrastructure package, new survey data released today from the National League of Cities (NLC) shows 91% of cities, towns and villages surveyed identified that insufficient funding for infrastructure is a top priority.
"Local governments have led the way on infrastructure for decades. The latest data and stories from America's cities, towns and villages highlight the incredibly urgent need for support and partnership from the federal government to pass comprehensive infrastructure legislation," said Kathy Maness, President, National League of Cities and Councilmember, Lexington, South Carolina. "It is well beyond time to rebuild our nation's roads, water systems, broadband and workforce. Our communities can't keep doing it alone."
The 596 local leaders surveyed in March and April 2021 identified top factors impacting their infrastructure decision-making including insufficient funding (91%), lack of pre-development funds (56%), essential services (31%) and hiring workers skilled for infrastructure (27%). Local leaders have also identified the need for making infrastructure decisions through an equity lens—with nearly 20% of those surveyed identifying equity as a top factor in their decision making. With an estimated $660 billion in local infrastructure needs according to the Kinder Institute for Urban Research at Rice University, the survey results reflect that infrastructure demands far exceed city resources.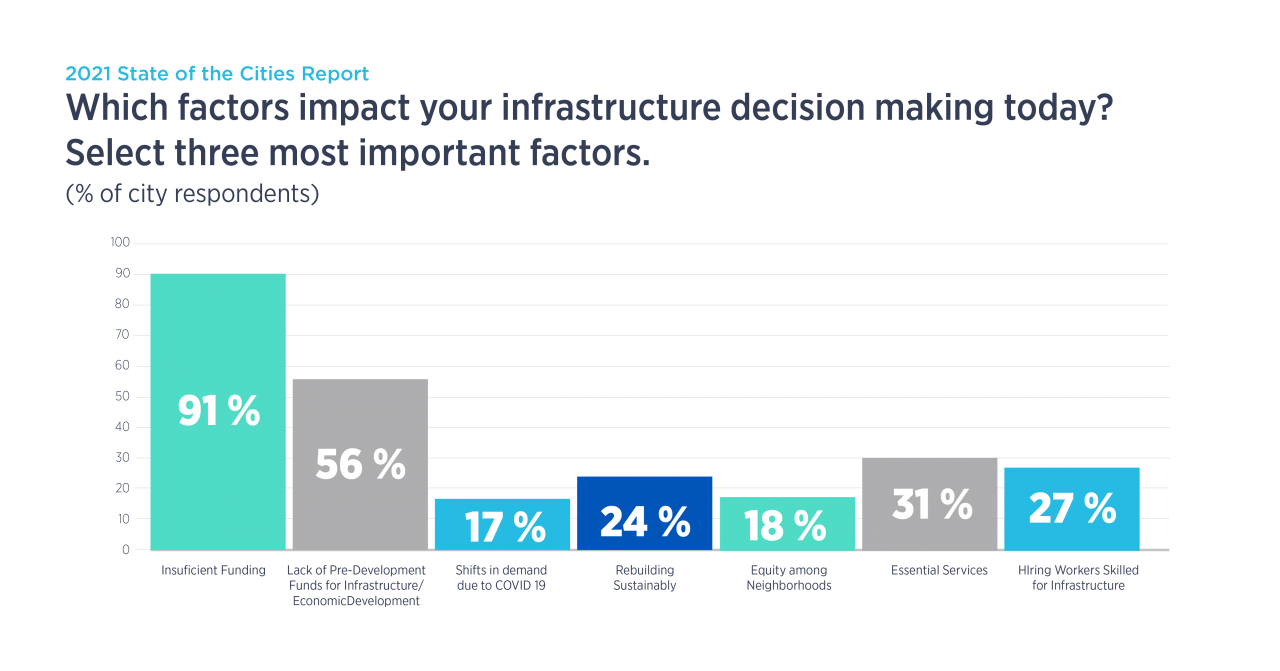 "The best time to invest in infrastructure was years ago. The second-best time is right now. The needs of America's communities, families and workers are simply not being met by the current level of funding and support from the federal government on this critical issue," said Vince Williams, First Vice President, National League of Cities and Mayor, Union City, Georgia. "Mobility and modern infrastructure should be considered a civil right in our nation. Let's do the right thing and work together to invest in a brighter future for all."
The new survey data is from the National League of Cities' annual State of the Cities report, which examines the priorities of cities, towns and villages across the country. The comprehensive analysis will be released in early June.
###
The National League of Cities (NLC) is the voice of America's cities, towns and villages, representing more than 200 million people across the country. NLC works to strengthen local leadership, influence federal policy and drive innovative solutions. Stay connected with NLC on Facebook, Twitter, LinkedIn and Instagram.