WASHINGTON – May 30, 2018 – The National League of Cities (NLC) released its 2018 State of the Cities report today at a national morning press event with city leaders and policy experts. The report shows that economic development, infrastructure, budgets, housing and public safety continue to top the list of agenda priorities for U.S. mayors, as well as revealing that opioids, broadband access and climate change have emerged as new and growing concerns.
Now in its fifth year, NLC's annual report analyzes key issues and trends in the state of the city (SOTC) speeches mayors deliver each year to outline their top priorities. This year's report examined 160 mayoral speeches delivered between January and April 2018 and includes cities across population sizes and geographic regions.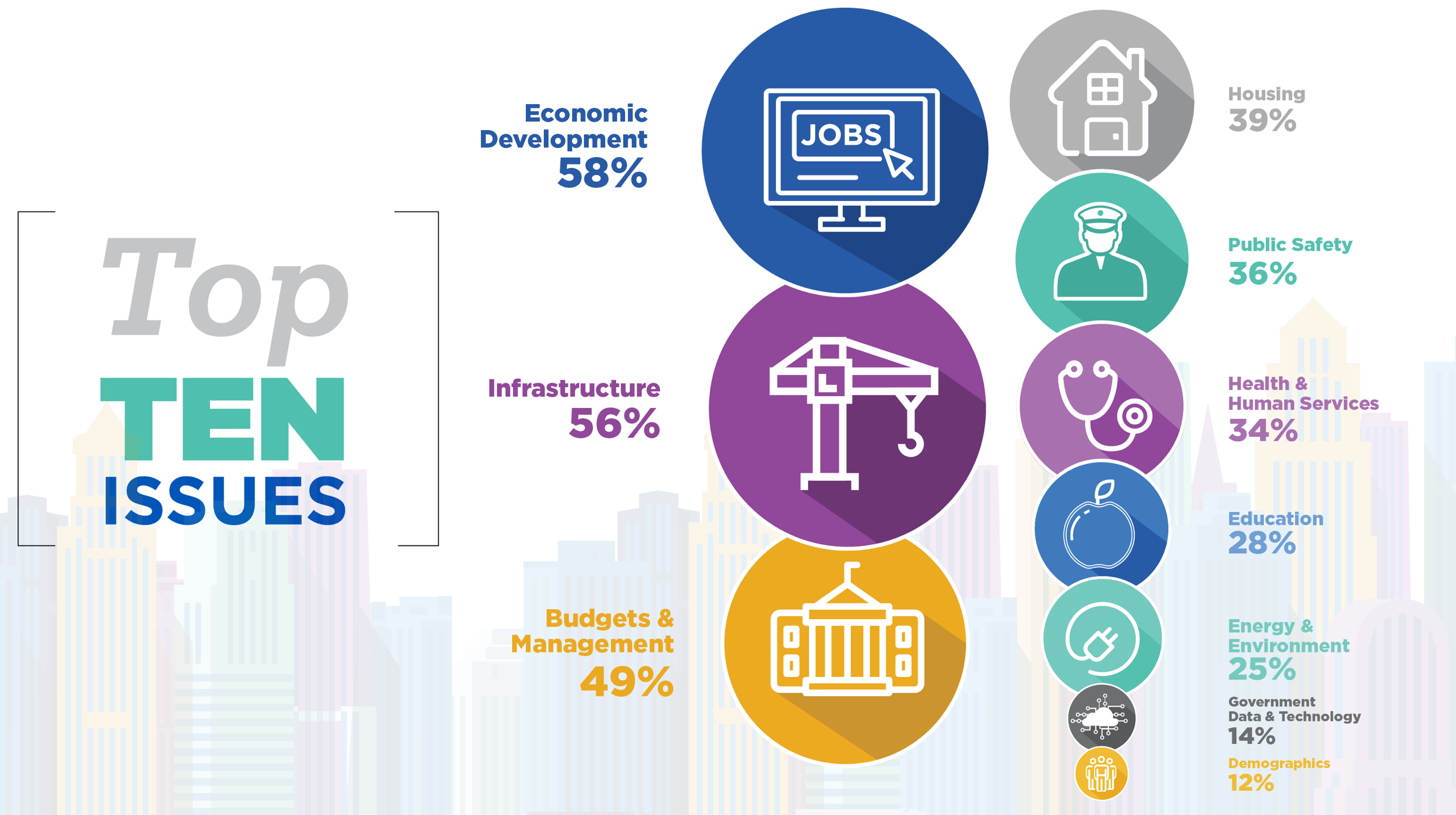 Top 10 SOTC Issues in 2018
Economic development 58%
Infrastructure 56%
Budgets and Management 49%
Housing 39%
Public Safety 36%
Health and Human Services 34%
Education 28%
Energy and the Environment 25%
Government Data and Technology 14%
Demographics 12%
While the major topics in SOTC speeches have remained relatively consistent for the past five years, subtopics in this year's report revealed several new trends. Mounting concern over broadband access was expressed in 14 percent of SOTC addresses, and 11 percent of mayors highlighted the need for cities to address the opioid epidemic.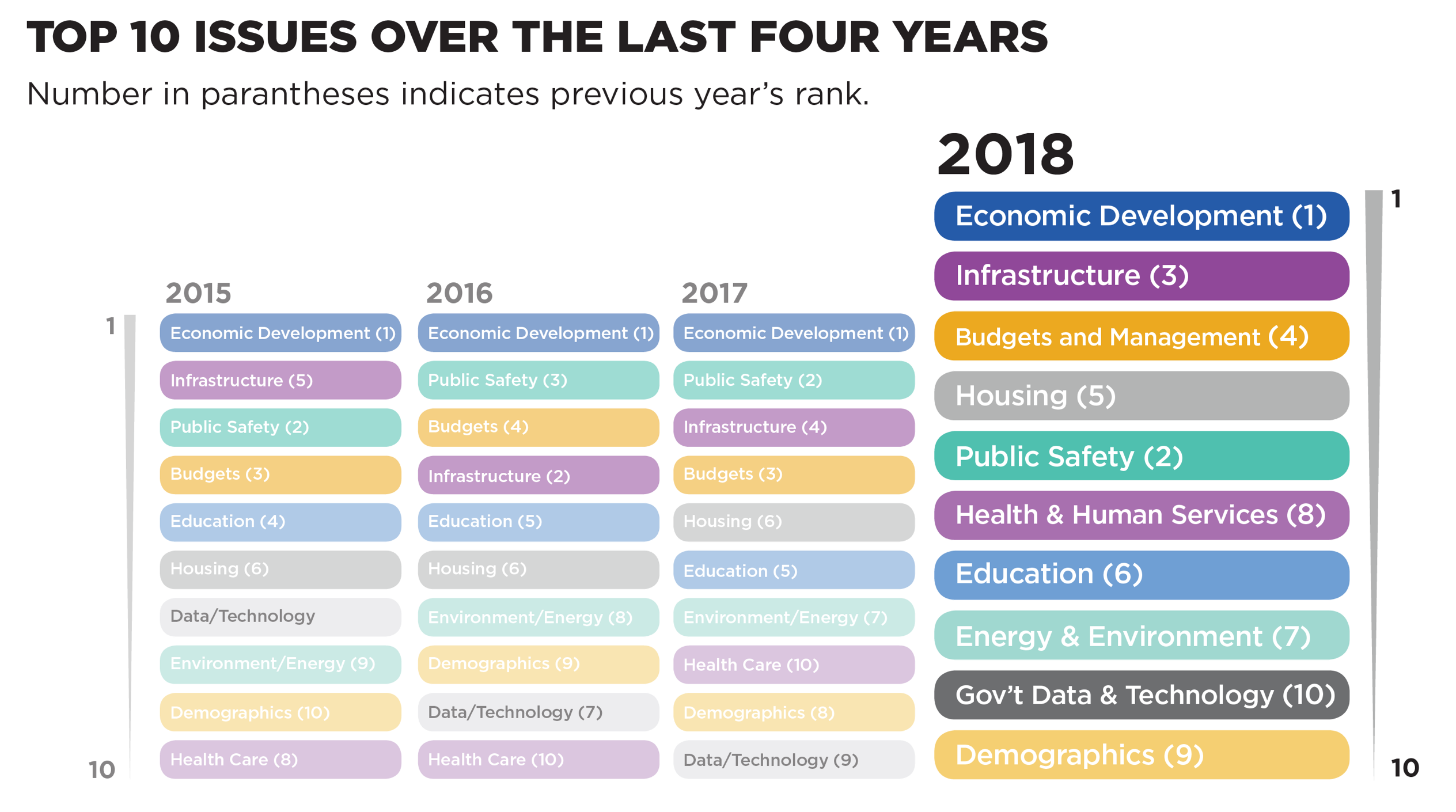 "Large and small, urban and rural, cities across the country are confronted with growing range of complex issues," said Clarence E. Anthony, NLC's CEO and executive director. "From ongoing concerns about failing infrastructure and lack of affordable housing, to emerging challenges like the opioid epidemic and climate change, America's cities are taking the lead to find creative solutions to local government's most pressing problems."
Many mayors expressed their climate concerns in their SOTC addresses, especially related to rising sea levels. While climate change is not strictly a local issue, its effects are felt in cities everywhere and mayors are having to face the problem in real time – with little or no support from federal partners.
"I'm also committed to leadership at the local level in the area of climate change, which is absent at the federal level. We need to reduce greenhouse gas emissions, and I've committed to the U.S. Climate Mayor's Pledge to achieve this by developing a climate action plan for Buffalo," said Mayor Byron Brown, Buffalo, New York.
Strained partnerships with state and federal governments was another theme of many SOTC addresses this year. As a subtopic within budgets and management, intergovernmental relations increased to the number three issue for mayors in 2018 due to concerns over broad policy conflicts between state, federal, and local government, as well as specific concerns on tax and revenue tensions.
"With many state and federal partners stuck in political gridlock or actively disinvesting in cities, mayors consistently demonstrate the capacity and willingness to solve complex problems that are shaped by local realities and have broad national implications," said Brooks Rainwater, director of City Solutions and Applied Research at NLC and an author of the report.
###
The National League of Cities (NLC) is the voice of America's cities, towns and villages, representing more than 200 million people across the country. NLC works to strengthen local leadership, influence federal policy and drive innovative solutions. Stay connected with NLC on Facebook, Twitter, LinkedIn and Instagram.