Press Contact:
Sam Warlick
(202) 626-3062
warlick@nlc.org
FOR IMMEDIATE RELEASE
May 14, 2018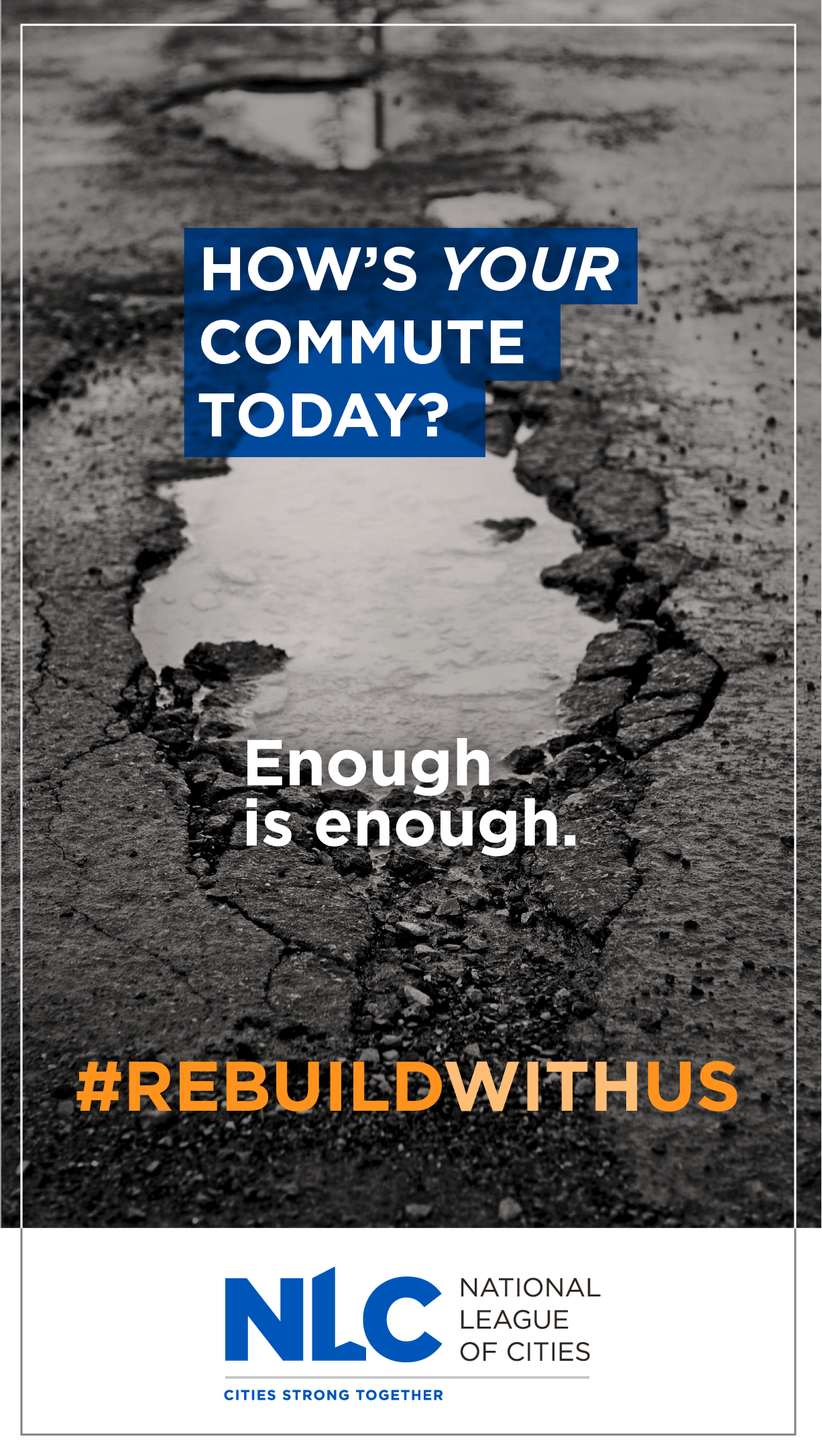 City Leaders Press Congress to Rebuild America's Failing Infrastructure
Underscoring critical needs in cities during Infrastructure Week
WASHINGTON – May 14, 2018 – With the nation facing a $2 trillion investment gap in infrastructure, the National League of Cities (NLC) is convening city leaders from across the country in Washington, D.C., to advocate for federal infrastructure investment during Infrastructure Week 2018.
Throughout the week, city leaders will meet with members of Congress, lead briefings and sit down with administration officials in Washington to ensure that infrastructure remains a national priority.
"From drinking water to workforce development, reliable infrastructure is critical to the health, safety and the economic growth of our communities," said NLC President Mark Stodola, mayor of Little Rock, Arkansas. "We can't sustain a thriving national economy unless Congress and the administration partner with cities and towns to fix this before it's too late."
In January, NLC launched a national Rebuild With Us campaign to encourage Congress and the administration to tackle infrastructure in partnership with cities. Today also marks the beginning of NLC's digital billboard campaign, which will highlight the need to address crumbling infrastructure in markets from Massachusetts to California.
From May 14 – 16, city leaders will participate in a range of Infrastructure Week advocacy events, including a panel discussion led by NLC President Mark Stodola on what it will take to develop a skilled workforce that can design, build and maintain the complex systems America's infrastructure relies on.
Other events include:
Infrastructure Week Kick-Off Event
NLC President Mark Stodola, mayor of Little Rock, Arkansas, will speak at the official kick-off event for Infrastructure Week
Water, Parks and Cities: Partners in Green Infrastructure
Energy, Environment and Natural Resources Federal Advocacy Committee Chair Cynthia Pratt, deputy mayor of Lacey, Washington, will speak about the ways city leaders and other stakeholders are working to implement green infrastructure projects.
Smart City Works Infrastructure Week Digital Community Seminar
NLC Transportation and Infrastructure Federal Advocacy Committee Chair Pam O'Connor, councilmember of Santa Monica, California, will speak about the smart city movement and mobility that enhances the human experience.
C-Suite Perspectives on the Value of Water
On Tuesday, May 15, NLC 1st Vice President Karen Freeman-Wilson, mayor of Gary, Indiana, will provide the city perspective on the importance of water infrastructure, opening a panel discussion on how businesses are finding creative ways to use, reuse and manage water safely and sustainably.
Bloomberg Next: Infrastructure
On Wednesday, May 16, Mayor Wade Troxell of Fort Collins, Colorado, will provide the city perspective on the future of drones and the road to deploying new drivers of economic growth alongside Acting Administrator of the Federal Aviation Administration and other drone industry leaders.
###
The National League of Cities (NLC) is the voice of America's cities, towns and villages, representing more than 200 million people across the country. NLC works to strengthen local leadership, influence federal policy and drive innovative solutions. Stay connected with NLC on Facebook, Twitter, LinkedIn and Instagram.