Annual "State of the Cities" Report Finds Mayors Expanding Leadership Roles to Fight Attacks on Local Control, Address Top Issues for Cities
WASHINGTON — May 24, 2017 — A comprehensive analysis of mayoral state of the city speeches released today by the National League of Cities (NLC) finds that economic development, public safety, infrastructure and city budgets are the top issues for communities around the nation. The new report, State of the Cities 2017, examines state of the city speeches in 120 cities representing a diverse cross section of population sizes and geographic regions.
NLC's analysis shows that cities face the same issues around the country — regardless of size or location. Though the order and intensity of the 10 issues examined have remained relatively consistent over the past four years, the primary emphasis has shifted, with mayors expanding what is possible within their leadership roles to take action and ensure prosperity, fairness and resilience in their cities.
"Mayors work tirelessly to build stronger communities through innovative policy solutions, public-private collaborations and strategic investments in our urban cores," said Clarence E. Anthony, CEO and executive director of the National League of Cities (NLC). "However, cities also face tremendous challenges in this political environment, including crime, affordability, and racial and income disparities. The report shows us that mayors are fighting attacks on local control, and are seeking solutions to these issues to lift their communities up."
Key findings from the 2017 analysis include:
Cities are driving the nation forward, with an increased number of jobs and outsized economic growth providing the ability to make strategic investments in our urban cores. Specifically, 66 percent of state of the city speeches included significant coverage of
 economic development
 issues.
Police (73 percent), fire protection (56 percent) and road paving (48 percent) were mentioned the most in mayoral speeches this year.
Equity is a key concern for cities across the country, in terms of fairness and inclusivity in public safety, housing and education. Sixty-four percent of state of the city speeches included significant coverage of public safety issues.
Mayors are meeting with resistance from a federal administration keen on disparaging America's urban areas and state legislatures across the country blocking city-led initiatives.
"As mayors work to create a fairer, more equitable America, they are meeting resistance from the state and federal level," said Brooks Rainwater, senior executive and director of the Center for City Solutions at the National League of Cities. "Mayors are welcoming all people, standing against policies that strip federal funds from so-called sanctuary cities and recognizing the importance of diversity and inclusion to their communities. In the face of negative sentiments from the federal government, cities are pushing a positive agenda focused on building economic vitality and bridging divisions in our society. With or without intergovernmental partners, mayors will work from the bottom up to make things happen. "
Here are the top 10 issues mentioned in mayoral state of the city speeches: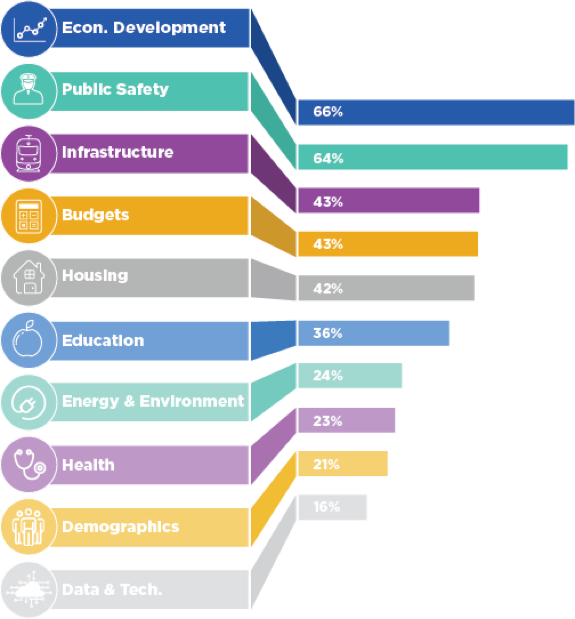 The report also highlights specific policies and issues facing cities of all sizes, such as workforce training, transit, immigration, renewable energy, autonomous vehicles and the opioid crisis. For the full analysis, visit NLC.org/SOTC.
Press contact: Courtney Bernard, (202) 626-3133, bernard@nlc.org
The National League of Cities (NLC) is dedicated to helping city leaders build better communities. NLC is a resource and advocate for 19,000 cities, towns and villages, representing more than 218 million Americans.
# # #