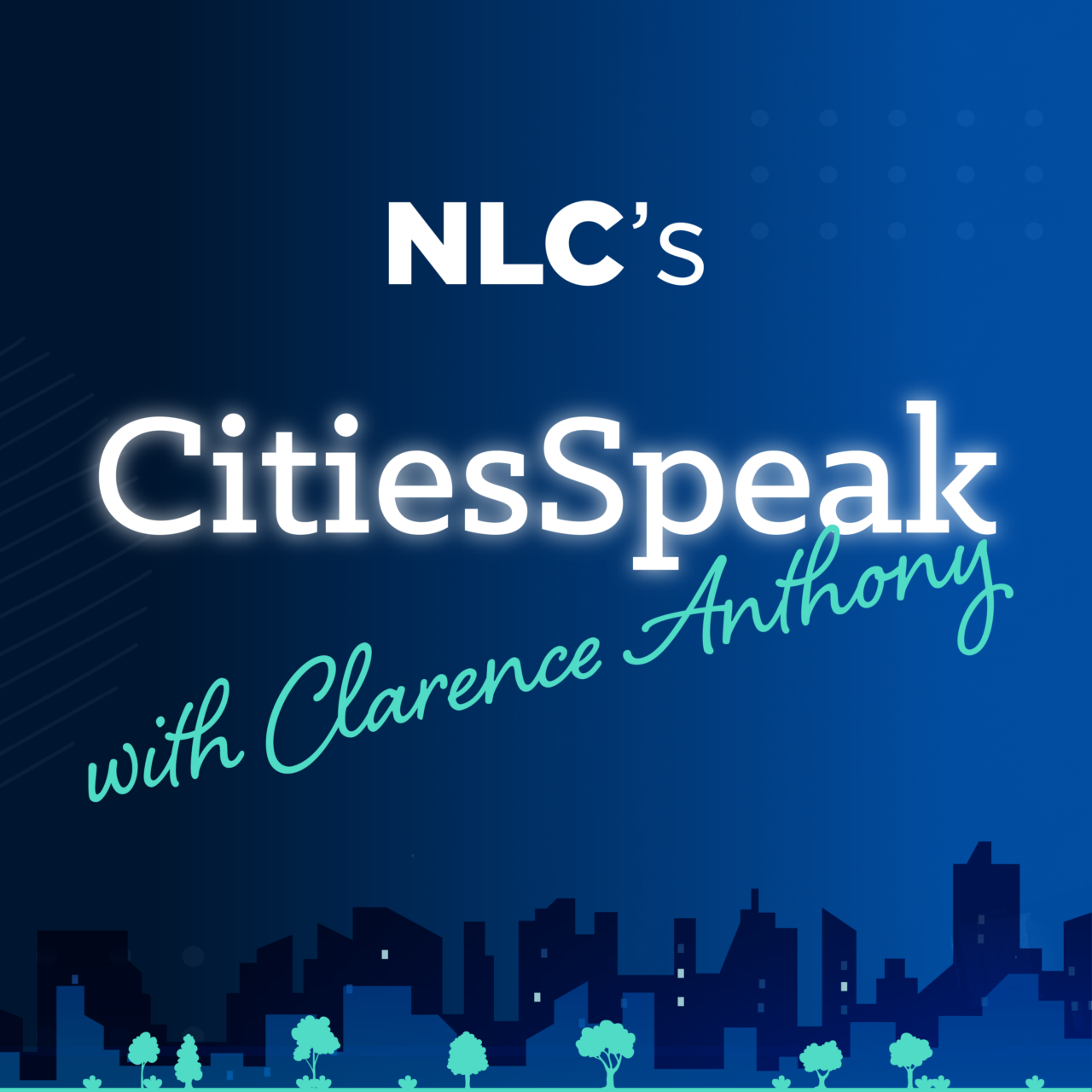 Each episode of NLC's new podcast, CitiesSpeak with Clarence Anthony, dives into a critical issue facing local leaders today, featuring conversations with elected leaders and policy experts from across the country. The podcast is a relaxed and entertaining resource for local policymakers looking for ideas and information to bring back to their communities. The podcast is hosted by NLC CEO and Executive Director Clarence Anthony, who previously served as mayor of South Bay, Florida for two decades.
New, 30-minute episodes of CitiesSpeak are available monthly on all major podcasting platforms. If you have feedback for the show or ideas for future guests, email us at citiesspeakpodcast@nlc.org. Happy listening!
Listen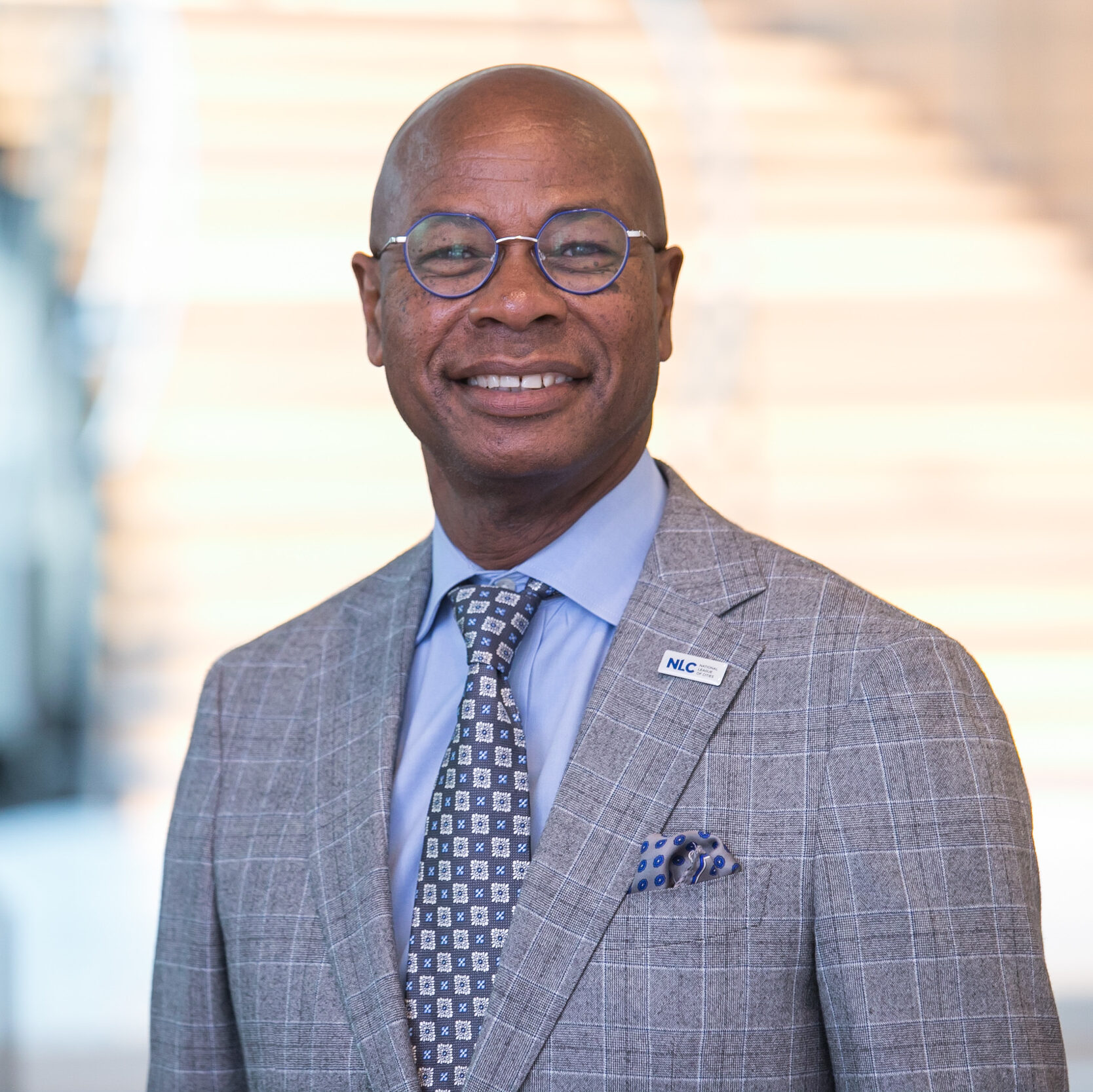 About the Host
Clarence E. Anthony is CEO and Executive Director of the National League of Cities (NLC), the largest and oldest organization representing America's cities, towns and villages and their leaders. Under his leadership, NLC delivered billions of dollars in direct, flexible federal relief through the CARES Act and historic American Rescue Plan Act to help support local governments respond, recover and rebuild from the COVID-19 pandemic. During his leadership, NLC also ushered passage of the Infrastructure Invest and Jobs Act, delivering transformative investments in transportation, broadband and water to communities across the country. Today, NLC continues to advance policies that strengthen local leadership and provides support for local leaders to promote equitable public health and safety, economic development and sustainability for all residents. Read more
Latest Episodes
June 1, 2023
Episode 12: Supporting Residents in Recovery with Tom Coderre
Coming off of Mental Health Awareness Month, Clarence sits down for a conversation with Tom Coderre, Acting Deputy Assistant Secretary for Mental Health and Substance Use at SAMHSA. They discuss how Tom's personal recovery journey has influenced his work at the agency, the impact of opioids on communities across America, and how local leaders can support better mental health for their residents.
May 18, 2023
Episode 11: Using Data to Inform Local Policymaking with Stephen Goldsmith
In this episode, Clarence sits down with Stephen Goldsmith, professor of urban policy at the Harvard Kennedy School, former Deputy Mayor of New York City, and former Mayor of Indianapolis, IN. They discuss how big data can help city leaders be better decision-makers and the innovative ways cities are using new technologies to solve some of our biggest challe
May 4, 2023
Episode 10: Building Safe & Inclusive Communities with Oakland Mayor Sheng Thao
In this episode, Clarence sits down for a moving conversation with Mayor Sheng Thao, Mayor of Oakland, California. They talk about how her upbringing and young adulthood living in public housing informed her approach to policymaking today, how Oakland is using ARPA dollars to address homelessness, and her vision for cities where everyone has a safe and affordable place to live.
APRIL 6, 2023
Episode 9: Reflecting on Public Service with Former Columbia Mayor Steve Benjamin
In this special episode recorded live at NLC's Congressional City Conference, Clarence sits down with Steve Benjamin, former Mayor of Columbia, South Carolina to reflect on the lessons he's learned about public service, partnerships that are important for local leaders to forge, and his new public engagement role in the Biden administration.
MARCH 2, 2023
Episode 8: Defining Leadership in a Polarized World with Mesa Mayor John Giles
In this episode, Clarence sits down with John Giles, Mayor of Mesa, Arizona for a moving conversation on bipartisan leadership. They discuss how Mayor Giles has navigated division and incivility in his community as one of America's "most controversial conservative mayors" and what leadership means in an era of growing polarization.
FEBRUARY 2, 2023
Episode 7: Expanding Access to Affordable Housing with Tempe Mayor Corey Woods
In this episode, Clarence sits down with Corey Woods, Mayor of Tempe, Arizona for a conversation about housing. They talk about Mayor Woods' journey to being elected the city's first African-American mayor, why housing availability is so critical to building inclusive communities, and the importance of federal, state and local collaboration to advance affordable housing.
JANUARY 5, 2023
Episode 6: Pairing People and Partnerships to Create Possibilities with Tacoma Mayor Victoria Woodards
In this episode, Clarence sits down with Victoria Woodards, Mayor of Tacoma, Washington and our new National League of Cities President. They discuss her unexpected journey to public service and why she thinks combining the power of talented residents with strong partnerships can help create endless possibilities for everyone in communities across the country.
DECEMBER 8, 2022
Episode 5: Building Resilient Cities with Duluth Mayor Emily Larson
In this episode, Clarence sits down with Emily Larson, Mayor of Duluth, Minnesota to talk about how the city of Duluth is addressing big issues from revitalizing its downtown core coming out of the pandemic to addressing the impacts of climate change and building a more sustainable community.
NOVEMBER 3, 2022
Episode 4: Building Innovative Communities with Tulsa Mayor G.T. Bynum
In this episode, Clarence sits down with G.T. Bynum, Mayor of Tulsa, Oklahoma to talk about the work the city of Tulsa is doing to prioritize equal opportunity for everyone, and how it's drawn thousands of workers to the city through its innovative remote work incentive program.
OCTOBER 6, 2022
Episode 3: Protecting the Right to Vote with Houston Mayor Sylvester Turner & Oklahoma City Mayor David Holt
In this two-for-one episode, Clarence sits down with Sylvester Turner, Mayor of Houston, Texas and David Holt, Mayor of Oklahoma City, Oklahoma at the National Nonpartisan Conversation on Voter Rights. They discuss how cities across America are working toward greater voter engagement, education and access, and the importance of bipartisanship when it comes to protecting democracy.
SEPTEMBER 9, 2022
Episode 2: Creating Opportunities for People with Union City Mayor Vince Williams
In this episode, Clarence sits down with Vince Williams, Mayor of Union City, Georgia and President of the National League of Cities. They discuss the big opportunities that local leaders in small towns can create for their residents, how Union City boosted its economy by transforming a dilapidated mall into a booming business, and the role that his faith plays in his leadership.
JULY 27, 2022
Episode 1: Implementing the Bipartisan Infrastructure Law with Mitch Landrieu
In this episode, Clarence sits down with Mitch Landrieu, former mayor of New Orleans and Senior Advisor & Infrastructure Coordinator for the White House. They discuss Mitch's deep family roots in public service and his experience working across the local, state and federal levels. Mitch explains how his experience helping New Orleans recover after Hurricane Katrina has taught him valuable lessons about rebuilding communities after crisis, which he's applying in his new role implementing the Bipartisan Infrastructure Law in the White House today.
JULY 20, 2022
Trailer: Introducing CitiesSpeak With Clarence Anthony
CitiesSpeak with Clarence Anthony, a new podcast from the National League of Cities, gives listeners an insider's view of what local leadership in America means today. Featuring conversations between NLC CEO and Executive Director Clarence Anthony and city leaders, policy experts and other guests, the show gets into the biggest issues, challenges and topics facing America's cities, towns and villages. Whether it's talking about what it's like to have residents protesting on their front lawn or discussing the creative things local governments are doing with their infrastructure dollars, CitiesSpeak gives listeners insight into what's on the minds of mayors and council members across the country.