COVID-19 has spread at an unprecedented pace, impacting life as we know it including loss of jobs, revealing inequities in healthcare, education, and inconsistencies in transportation. We must be inspired to innovate within and across our cities. As cities respond and fight the spread of COVID-19, there is also opportunities to recalibrate services, technology, and strengthen the potential to grow.
NLC in partnership with IGNITE Cities is launching these monthly roundtable conversations to hear directly from mayors how they are thinking about the transformation of their cities. Local leaders are agreed that a new path forward has been unlocked offering new opportunities, identifying methods for new growth in addition to presenting a new way of living.
**All times are listed in Eastern Standard Time**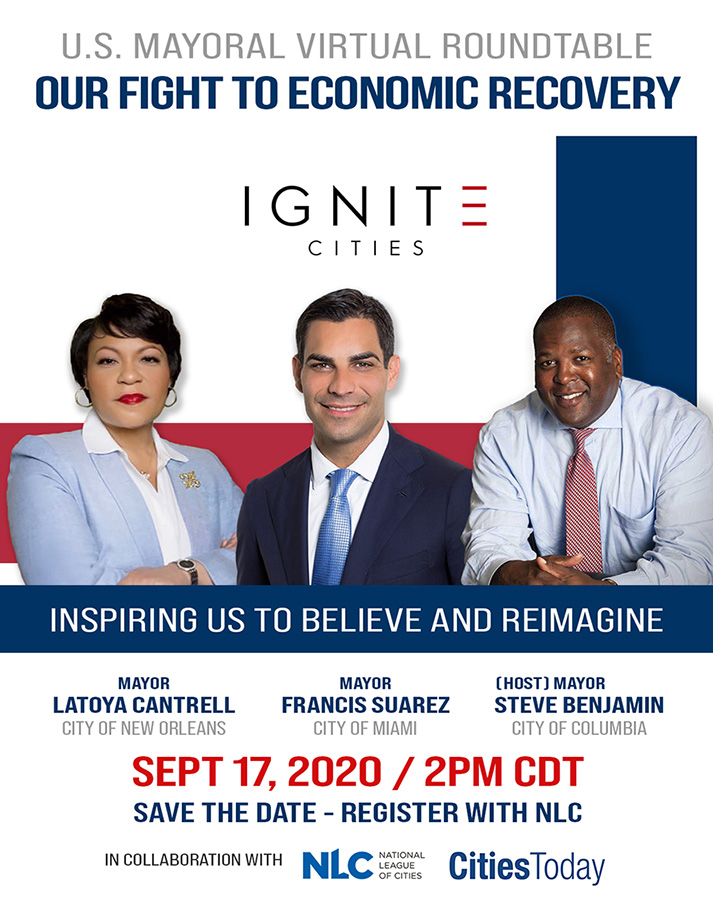 Panelists
Mayor Latoya Cantrell
Mayor Cantrell's life has been steeped in community service. As a little girl, her grandmother would bring her to neighborhood meetings, and by the age of 13, she was serving as secretary for her local chamber of commerce.
"My soul found its home in New Orleans," is how Mayor Cantrell describes her arrival in 1990 as a student at Xavier University. After graduation, she and her husband, Jason, bought a home in the Broadmoor neighborhood, and Cantrell became an active member of her new community.
As the President of the Broadmoor Improvement Association, Cantrell led the neighborhood's redevelopment following Hurricane Katrina and the levee failures. Flooding decimated Broadmoor, but through citizen engagement and Cantrell's leadership, Broadmoor is now considered an international model for disaster recovery.
Elected to the City Council in 2012, Cantrell has prioritized improving people's lives.
On May 7, 2018, Mayor Cantrell was sworn in as the first female Mayor of New Orleans, just in time to celebrate the city's tricentennial or 300th anniversary.
She is a dedicated wife to her husband, Jason, proud mother of her daughter, RayAnn, and a parishioner at Blessed Trinity Catholic Church.
Mayor Cantrell pledges to produce results that will create a more equitable and safe New Orleans for all residents.
Mayor Francis Suarez
Francis X. Suarez serves the City of Miami as Mayor, working diligently to raise the standards of the community where he was born and raised. He currently also serves as Vice-Chair of the Miami-Dade Transportation Planning Organization, tasked with approving federally required plans and transportation policies, and as President of the Miami-Dade County League of Cities.
Prior to being elected mayor, he served as commissioner for District 4 for eight years.
The oldest of four siblings, Mayor Suarez was born into a family where, as he describes, "being socially conscious was a kind of requirement." Mayor Suarez is dedicated to elevating the quality of life of the residents he serves by way of focusing on transportation and connectivity issues within the city and beyond, nurturing the growth of a tech-based economy in the area and, by extension, job creation and international opportunities with Latin America. His priorities also include affordable housing, tackling the poverty pandemic and, as a corollary, reducing crime.
Mayor Suarez graduated from Florida International University where he majored in finance and graduated in the top ten percent of his class. He went on to law school at the University of Florida Frederic G. Levin College of Law, graduating cum laude. Prior to running for public office, Mayor Suarez founded a successful real estate firm. He is also a practicing attorney with the law firm of Carlton Fields, specializing in real estate and corporate transactions.
Mayor Suarez is married to Gloria M. Fonts. They have one child – Andrew Xavier – and consider themselves proud and blessed to be raising their family in the City of Miami.