Beginning in January and running through March, the National League of Cities, in partnership with the Association of Public and Land-grant Universities (APLU) and the National Governors Association (NGA) will host a four-part webinar series exploring how Innovation and Economic Prosperity (IEP)-designated public universities, cities and states are teaming up to drive talent development, promote regional innovation and create healthy, vibrant local economies.
While many partnerships are essential to the economic engagement of public research universities, partnerships with mayors and governors are especially impactful. Aligning efforts across local, state and university resources contributes powerfully to spurring economic development and resilience in communities.
Webinar 2: Nurturing Inclusive Innovation Ecosystems through University-State-City Partnerships
On Thursday, February 25, tune in to learn how universities, municipal and state leaders can work together to develop and grow entrepreneurship and tech-based economic development in their communities.
Featured Speakers:
Rebecca Robinson, Chief Corporate Engagement & Economic Development Officer, Kansas State University
Trent Armbrust, Director of Strategy for Bioscience & Technology at the Kansas Department of Commerce
Jason Hilgers, Deputy City Manager at the City of Manhattan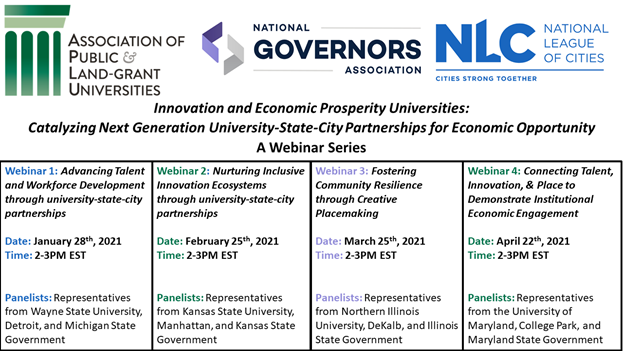 Stay tuned for additional details on upcoming webinars in this series.