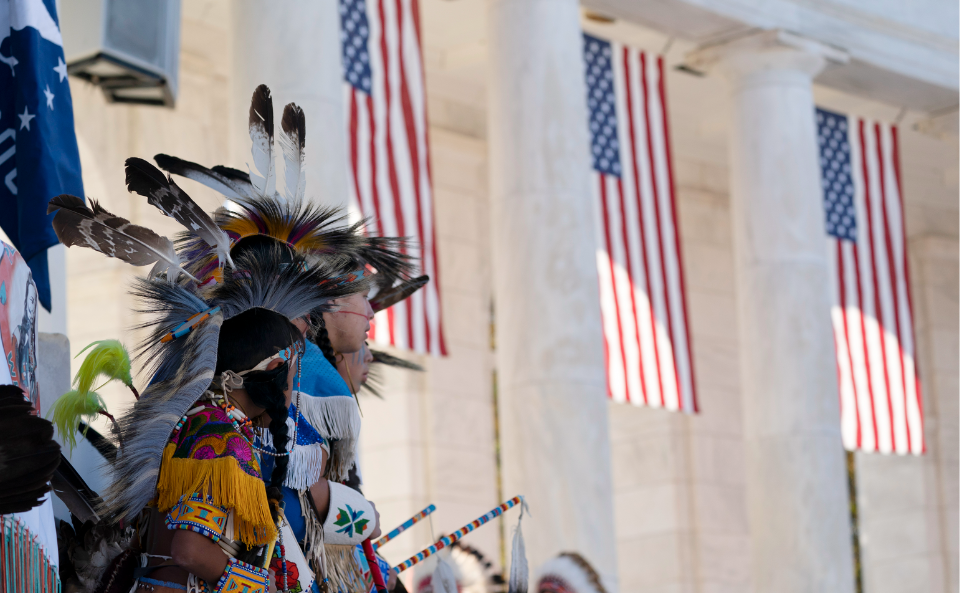 In recognition of National Native American & Alaska Native Heritage Month, join NLC and Indigenous Municipal Officials for their second annual Facebook Live Event on Tuesday, Nov. 1st, 2022, at 3:00 pm ET.
During the conversation, local leaders will discuss the importance of Native voices in government, how Native peoples can affect local policy, and why Native peoples should run for local office.
This Facebook Live event is produced in collaboration with the National League of Cities and Advance Native Political Leadership (ANPL).
Featured Guest Host:
Indigenous Municipal Official Panelists:
Discussion Resources:
The National League of Cities, The Kellog Foundation, and Members of IMO have created the Roadmap To Repair: A Guide to How Cities Can Acknowledge and Address the History of Harm to Indigenous Peoples, Rebuild Trust, and Repair Relationships, which offers guidance to municipal leaders on acknowledging past harm and intentionally moving toward the repair. This resource will help guide critical work and efforts in repairing relationships but also help frame discussions on how to create a more equitable world for everyone.
How to Join Our Facebook Live:
RSVP on NLC's Facebook page and connect on Tuesday, Nov 1, at 3:00 PM ET.
---
About the Indigenous Municipal Officials
The National League of Cities Indigenous Municipal Officials (IMO) brings together Native American, Alaskan Native, and Native Hawaiian Municipal Elected Officials and City Staff leaders to network, share best practices, and ensure that NLC's policies and programs benefit their community. IMO meets and hosts bi-monthly with three meetings virtually (Jan, May, Sep.) and three times in-person (March, July, Nov) a year.
To join the Indigenous Municipal Officials, please email our membership team at membership@nlc.org and include Indigenous Municipal Officials in the subject line.
About Advance Native Political Leadership
Advance Native Political Leadership aims to be a political home for Native people living on and off tribal lands across the United States. ANPL addresses the need for increased Native American representation in elected and appointed offices throughout the country. Investment in equitable representation in elected offices is a critical endeavor for securing a reflective democracy for all Americans – one in which the country benefits from the leadership and talents of Native peoples and is responsive to the assets and issues of Native citizens.