In recognition of Lights On Afterschool this month, a national celebration recognizing the importance of afterschool/Out of School Time (OST) programs, NLC interviewed Mayor Satya Rhodes-Conway of Madison, Wisconsin. Mayor Rhodes-Conway joined with the Madison Metropolitan School District to fund a position split between the City and the District to act as an OST intermediary, Madison-area Out of School Time (MOST). This OST Coordinator, Nathan Beck, facilitates collaboration between the City, District, and community-based organizations to support high-quality OST programs throughout the city.
NLC: Mayor Satya Rhodes-Conway, you have made significant investments in Out of School Time (OST). Can you share some information about how OST looks in Madison?
SRC: We have a rich eco-system of OST providers across Madison, from 50+ different school based afterschool programs, to dozens of local neighborhood centers to organizations that focus on LGBTQ youth, STEM programming, entrepreneurship, working with kids of recently incarcerated parents, and a really impressive youth employment network too. We have a strong tradition of collaborating with organizations to support common students and align resources across various levels of government. I am proud of that culture of partnership and hope we continue to grow them to solve complex problems today and into the future.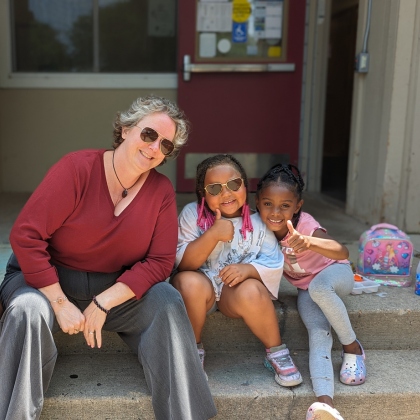 In Madison, we've got well over 10,000 young people accessing OST programs on a regular basis and we're proud of that. Still, we have a long way to go. We looked at data this summer, of all elementary students who qualify for free or reduced lunch to see how many were regularly attending a full-day summer learning program. We looked across all providers, neighborhood centers and school-based programs. Only around 10% were attending full day summer learning programs 65% of the time or more. So this has to be a topic we're all focused on improving next summer.
If I was to sum it up: Madison OST is a rich collaborative ecosystem, data-driven, and not afraid to name the problems and work together to solve them.
NLC: Why should mayors and city leaders consider supporting OST programs?
SRC: OST programs are critical for your cities, kids, and families! There are many reasons why mayors and leaders should support such programs ranging from physical health, mental wellness, economic wellbeing and more. It is an investment in our future. Kids spend about 80% of their time outside of school, and all evidence shows that the more kids participate in OST the better they and their communities fare. The pandemic showed us why these programs are important; let's remember those lessons.
NLC: Many programs across the country are experiencing challenges recruiting and retaining staff in afterschool and summer programs. How is Madison approaching this issue?
SRC: We're not immune to those challenges here, and in fact, workforce issues are a key barrier preventing youth from accessing programs. We are following the data that has clearly demonstrated that if we compensate and respect OST staff adequately, they will stay and young people will benefit. We've privately raised funds and even used public funds when appropriate, to subsidize youth workers. The data has shown that it pays off with higher quality programming, shorter waitlists, and better outcomes and experiences for kids. Retaining OST staff doesn't have to be a complicated problem; we've got to find ways to pay OST staff more and cities can be a part of pushing that message, helping to raise money, and allocating funds when possible. A specific strategy we have initiated includes launching a paid Afterschool Fellows program, thanks to the generosity of American Family Insurance. Through this program, we are investing in supporting and developing future leaders. Additionally we have a "MOST Outstanding Youth Workers" award, where staff are nominated by their peers and young people make final selections. We give them checks and have a big party celebrating them. Our school superintendent and I got to award them this year and we had 300 people come to recognize our winners. Funders, staff, families, Executive Directors, and elected officials all in the same space celebrating the people in the grind. It really is a beautiful day, and people feel seen in a way that they really deserve.
NLC: Do you have any advice on leveraging federal funding to support OST programs?
SRC: NLC has put out lots of great resources on this topic that we've looked at. Many school districts across the country are in a place where they still have ESSER funds and don't know how to spend them. I encourage them to look to cities as partners. In Madison, our city has on a few different occasions supported our district in granting dollars out to community-based OST programs. Cities often have certain infrastructure that school districts don't. So I encourage city and school leaders to think about partnerships like this that use the federal funds to immediately benefit young people. While federal and local funding is always an important part of the picture and we should be creatively exploring all of our options, I don't want to lose sight of another important place for OST funding: states. State Education Agencies and Departments of Children and Families are often the main funders and policy-makers that shape what OST looks like, so it's important that we all engage at the state level too.
NLC: I've heard you visit OST sites whenever you can. What is it like for you, as a mayor, to spend time in Madison's OST programs?
SRC: Oh, it's fabulous, it gives me hope and deep gratitude for all that is being done. I have many fun stories and have had the wildest and most enjoyable kind of time. This summer a skeptical 8-year-old asked me what "Mayoring" was and it really stumped me a bit to describe to this skeptical kid what I do in a way that he would understand! Last summer I got to feed a wildebeest with some kindergarteners. This spring I visited a group of teens we support who literally distribute tens of thousands of dollars to fund other teen led projects. It has been inspiring to see young people take action on issues as complex as immigration, homelessness, and mental health. Whenever I can get out and visit an OST site, I know it won't be a typical day! Spending time in programs is fun and energizing. I encourage elected officials to make the time to see these programs and I hope everyone else is inviting elected officials to be a part of that magic.