Traffic accidents claim over 100 lives daily, with American youth between 15 and 24 being particularly affected. In 2021, the 15-20 age group accounted for eight percent of drivers involved in fatal crashes. They were 11 percent of all distracted drivers and 16 percent of drivers specifically distracted by cell phones in fatal crashes. But initiatives like Project Yellow Light are working to prevent future tragedies by engaging the nation's youth and bringing fresh perspectives so that safety messages resonate and change behavior.
About Project Yellow Light
The Project Yellow Light scholarship competition emerged following the death of Hunter Garner, who was 16 years old when he died in a car crash in 2007. To honor Hunter's memory, his family established a scholarship program initially focused on short films. It has since evolved to a national initiative that empowers high school and college students to create TV, radio and billboard public service advertisements (PSAs) that educate their peers about the dangers of distracted driving. Scholarships of up to $8,000 are offered to help students pursue their education while reinforcing safe driving habits among young people nationwide.
Billboard Spotlight
For the eighth consecutive year, Clear Channel Outdoor is engaging in this initiative alongside the Ad Council, the National Highway Traffic Safety Administration (NHTSA), and other campaign partners to deliver this important message across the country.
This year, eight winners were chosen out of a pool of over 2,600 submissions across all 50 states and Washington, D.C. In June, these talented students had the unique opportunity to witness their winning PSAs launch on Clear Channel Outdoor's digital billboards in the heart of New York City's Times Square. Additionally, the winning PSAs will be featured across more than 1,700 digital displays nationwide, as well as TV networks and radio stations, carrying out the critical mission of making our roads safer, especially during this busy summer travel season.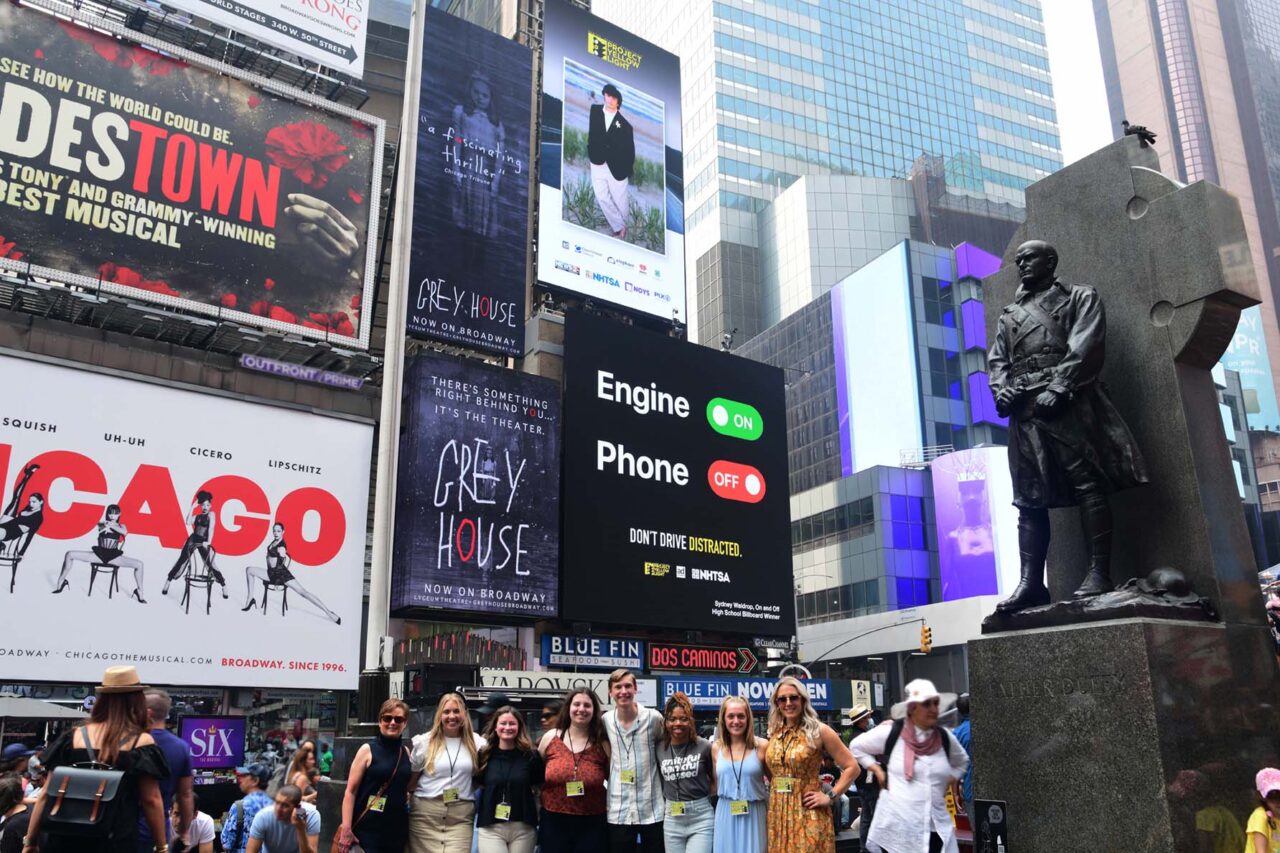 Safety Messaging That Works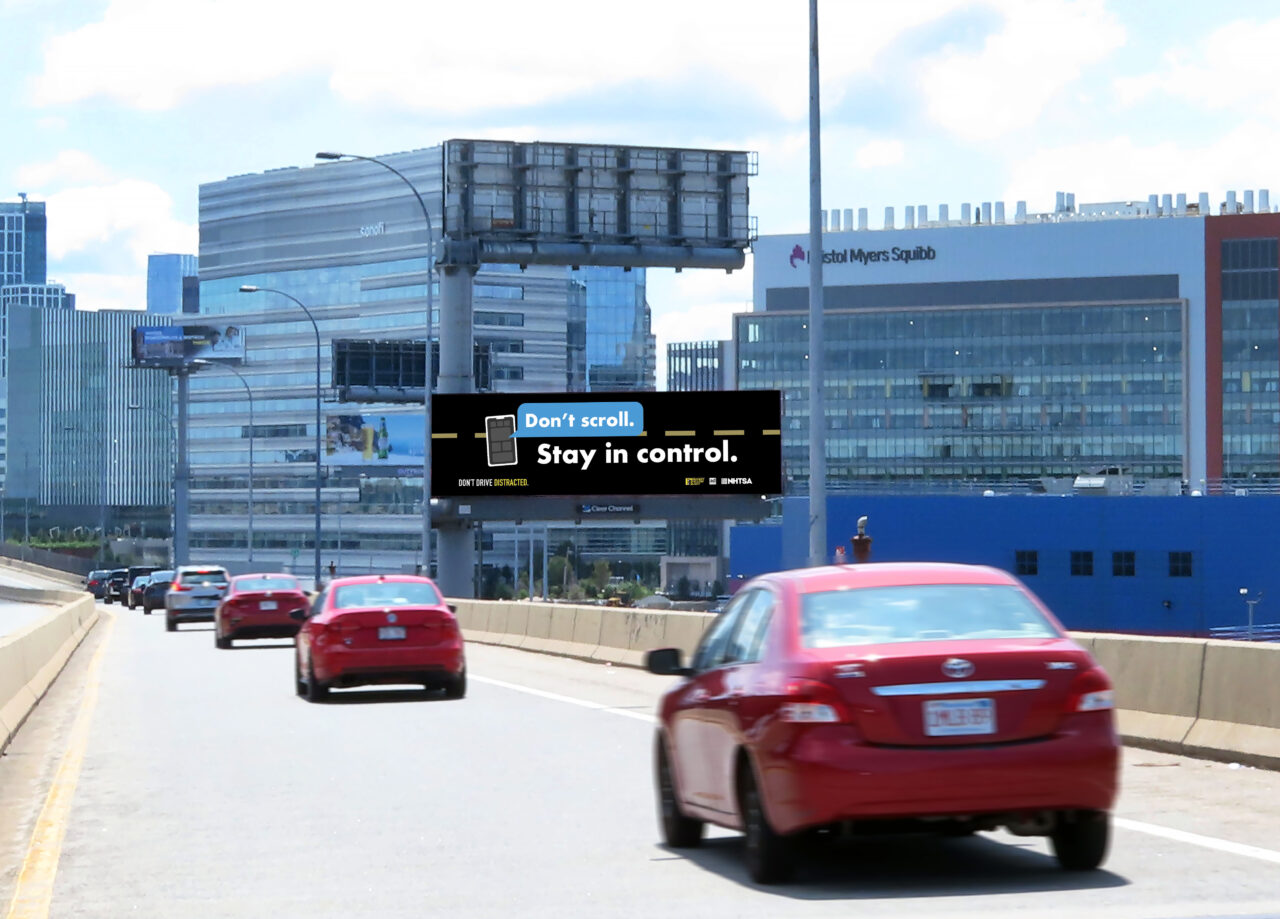 The 2023 winners designed PSAs that effectively resonate with their peers, a demographic more receptive to messages from individuals of their age group. If a resounding message emanates from the work of Project Yellow Light, it's a simple yet vital one, echoed by Project Yellow Light winner Jami Pandiscio: "Don't Scroll, Stay in Control."
"When it comes to reaching people my age, it's best not to overcomplicate the message," said Sydney Waldrop, billboard high school winner, offering insights on connecting with young people.
"Since learning about Project Yellow Light, my driving habits have dramatically improved," shared Jami Pandiscio, billboard college winner. "Not only do I refrain from using my phone while driving, but I also activate the 'Do Not Disturb' feature and speak up when I'm in a car with others who may be driving distracted."
Communities Step Up Road Safety
Every year, more than 3,000 lives are tragically lost in car crashes caused by distracted driving. Sadly, the U.S. is seeing the highest pedestrian fatalities from vehicle collisions in more than 40 years. In response, U.S communities are adopting road safety initiatives to eliminate traffic-related deaths nationally, and the National League of Cities is actively engaging young people in discussions to raise awareness and collaborate on road safety.
This aligns with Project Yellow Light's mission to empower young individuals to drive change in their own communities through their remarkable ingenuity and the influential power of media. By encouraging safe driving habits, Project Yellow Light serves as a force for positive change, aiming to prevent tragedies and save lives.
Find Out More
Head to ProjectYellowLight.com to check out the winning PSAs and learn more about how to enter next year's contest.
Also, if your city wants to do more on safety, consider joining the NLC Safety First Challenge cities' cohort, where Clear Channel will be working with cities on road safety advertising and messaging strategies like Project Yellow Light.
About the Author:
Jason D. King is Senior Vice President of Corporate Communications & Marketing for Clear Channel Outdoor.