The Village of Los Ranchos de Albuquerque, endearingly known by locals as "The Village," is a rural oasis of roughly 6,000 people abutting urban Albuquerque, New Mexico. Los Ranchos has grown from an agricultural past to the present picturesque community that has used both transportation investments in their main Fourth Street area as well as open space development like their Agri-Nature Center to grow and preserve their community's character.
As the entry point of the Rio Grande water dam and pumping station that supports the whole Albuquerque metropolitan area's water intake, Los Ranchos is no stranger to integrating infrastructure seamlessly into the landscape of their lives. Small communities in urban areas often work hard to retain their character while modernizing for the future, and Los Ranchos represents a blueprint for balancing keeping ample open space from their rich agriculture history and the charm of a small rural town while leveraging the benefits of being next to one of New Mexico's largest cities.
Village Local Leadership Embraces Past and Present
Mayor Donald T. Lopez grew up in Los Ranchos and remembers his childhood working on his grandfather's farm well. Now, after a long career as the Assistant State Engineer of New Mexico and a Colonel in the United States Air Force and Air Force Reserve, he now uses his practical engineering and management experience to benefit his community. Like most small cities, his highest priorities have been to keep strong fiscal health for the Village while solidifying the plans and infrastructure improvements that will ensure local long-term resident retainment and prosperity.
The Village of Los Ranchos must build for the future and maintain its agricultural heritage for future generations.

Mayor Don Lopez
To do this as a smaller community, Mayor Lopez works to leverage collaboration at the federal, state and regional levels to bring home grants and resources. The Village has been very active with New Mexico legislators and Congress to advocate for the community and their infrastructure upgrades that can support the Village's future. He also encourages residents to join him in writing to their legislators to advocate for community facilities and improvements from major road overhaul projects, like Fourth Street, at the federal level to parks and pickle ball courts at the state level.
How Infrastructure Investment Impacts Los Ranchos
Infrastructure is the base foundation of cities, but it can also spur the larger economic development plan for an area. There may not be a better example of this than Los Ranchos' Fourth Street development to upgrade the Village's main street hosting many of Los Ranchos' restaurants and small businesses to:
Reconfigure from four‐lane road to two lanes
Add a center two‐way left turn lane
Construct ADA sidewalk and trails
Build stormwater drainage system
Add landscaping, lighting and bus stops
Consider roundabout at El Pueblo and intersection improvement throughout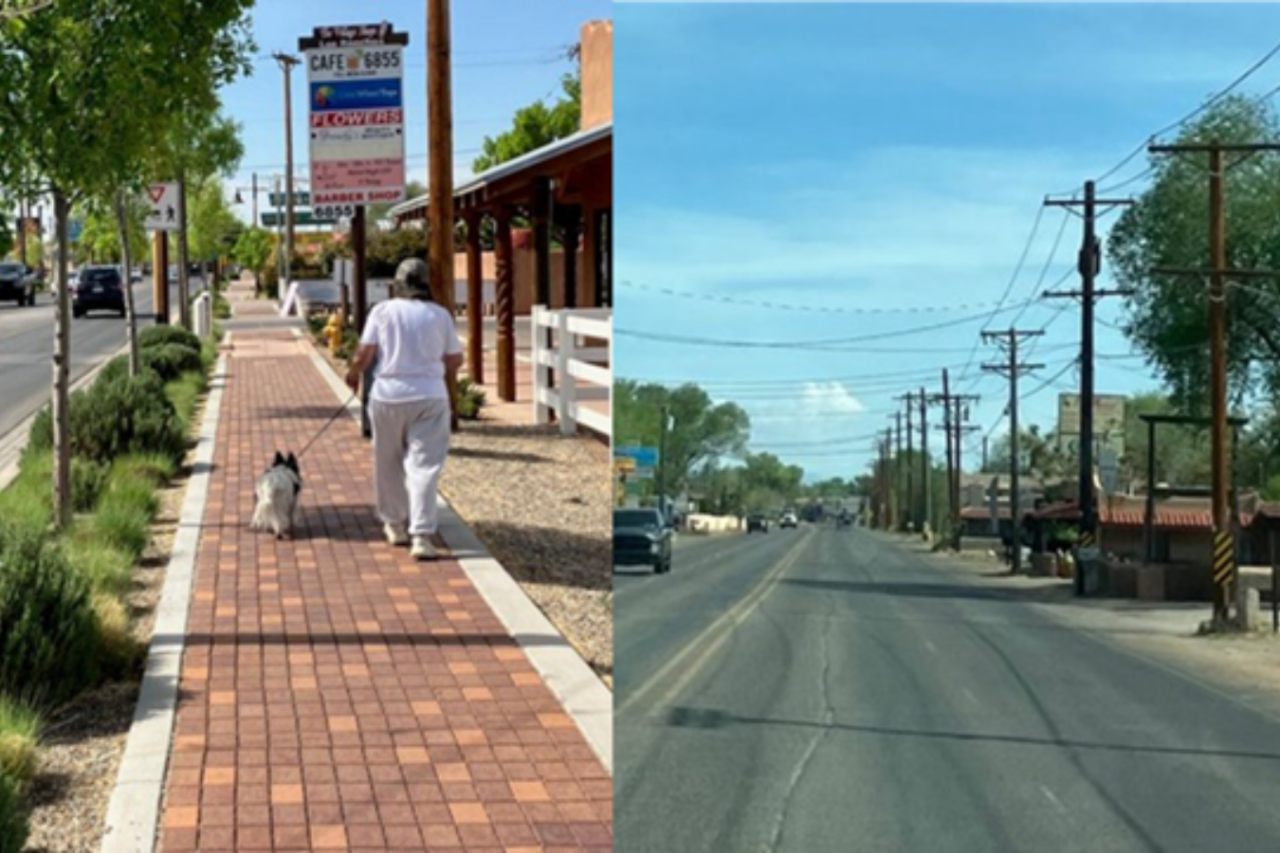 This multi-phase transportation project creates a clear "before and after" of how a road project can transform the area for local businesses by creating walkable areas and a connected atheistic with lights and landscaping that also helps with water control during heavy rainfall. This transportation improvement also leads into a strategic downtown addition –the Village Center Project which is 13-acre site on Fourth Street that will combine higher density residential housing with commercial and retail development.
Through zoning and development, the Village envisions the Village Center as a destination for Village residents to gather such as in the open amphitheater and also shop bringing new convenient grocery options closer to residents. It will also only build to a max of three stories to naturally graduate from mixed use to neighborhood residential housing. The Village also will be used for public gatherings such as markets and special events which should further support local businesses. For example, the Village hosts an annual Matanza in February, a weekly Growers Market where local farmers sell produce, a weekly Arts Market where local artists sell traditional and cultural art, and an annual "Lavender in the Village" festival in July that brings thousands from across the region to Los Ranchos. These events create cohesion and community between residents of the village while also supporting local businesses.
Building Up Open Space to Stay Grounded
The role of open green space has become increasingly important to infrastructure planning in metropolitan areas. In Los Ranchos, their history is deeply rooted in agriculture, and they believe their future will be as well through education, research, and economic development. As the Village has grown, the community and elected officials have been actively investing in green spaces with one of the most significant being the Larry P. Abraham Agri-Nature Center.

The goal of the Larry P. Abraham Agri-Nature Center is to be a center of excellence in regenerative agriculture. The Center hosts farm camps, workshops and provides resources for farmers and gardeners at all skill levels. The Agri-Nature Center is also home to a soils lab that analyzes soil, water, and compost for landowners in the area. By engaging both students in farm camp and soil testing as well as retired master gardeners and New Mexico University, the Agri-Nature Center spurs continuous connections between the Village's agricultural past and its future.
Also, in 2007, the Village of Los Ranchos purchased 26 acres of prime farmland and adjacent open space north of Paseo del Norte, west of 4th Street. The lands are contiguous with parcels owned by the New Mexico Department of Transportation along Paseo del Norte, and Bernalillo County which the Village manages through cooperative agreements. Collectively, this creates approximately 40 acres as part of the del Norte open space to retain the green space of the Village for generations to come.
Village of Los Ranchos' Vision
The work of a village is never done. The land for the Agri-Nature Center, the del Norte property, and their Edgewood Park, are all examples of the Village seeking out and purchasing significant green space parcels. Now, the Village has voted to create a fund to begin saving for future land as well as continuing their Fourth Street updates and Village Center addition. It's clear that Los Ranchos de Alburquerque will continue to work very hard to protect the unique lifestyle of their beautiful village. They hope you'll come visit them soon!
Co-authored by Mira Schwadron, Federal Advocacy Intern at the National League of Cities