A few things come to mind when people think about Louisville, Kentucky: the Greatest of All Time Muhammad Ali, the Kentucky Derby, and of course, bourbon. While lesser well-known, Louisville is also on the leading edge of rethinking public housing thanks to the U.S. Department of Housing and Urban Development's (HUD) Choice Neighborhoods program.
In January 2015, the Louisville Metro Housing Authority (LMHA) was awarded a $425,000 Planning Grant to develop a "Transformation Plan" focused on the redevelopment of the Beecher Terrace public housing community and investments in the surrounding Russell neighborhood. After a successful community driven engagement process, Louisville Metro Government and LMHA were jointly awarded a $29.5 million Implementation Grant to make the Vision Russell Transformation Plan a reality.   
Today, the Vision Russell transformation has resulted in more than 400 new high-quality, mixed-income apartments, stunning public art, an award-winning restaurant, high quality childcare opportunities, and new retail amenities. More improvements are on the way as the city continues to invest in Beecher Terrace and Russell.
"Beecher Terrace is an important part of the city's history. The Beecher Terrace redevelopment is revitalizing outdated public housing stock, helping to ensure that our lowest income residents have access to updated quality housing," said Louisville Mayor Craig Greenberg. "This mixed-income community provides the same amenities found in market-rate apartments and ensures residents have access to needed services close to home."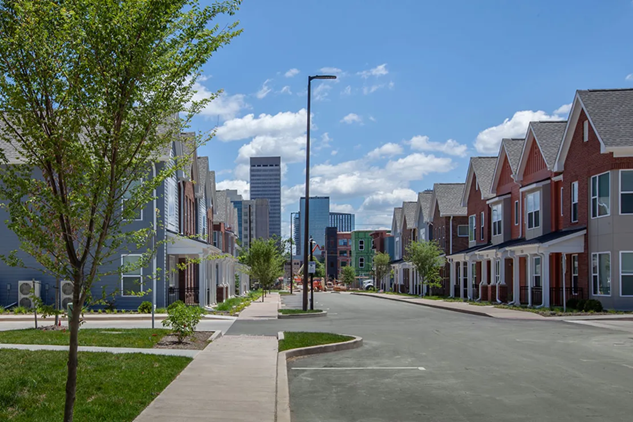 Originally built in 1939, Beecher Terrace became a severely distressed public housing development over time. The property was originally comprised of four "super" blocks on 31.4 acres, and with a total of 758 one-, two- and three-bedroom apartments and limited amenities, including the historic Baxter Community Center.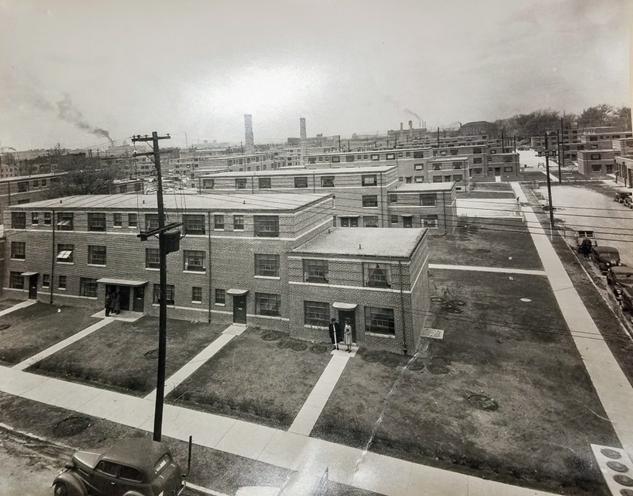 "I first moved to Beecher Terrace in 2008 into the Sober Living Facility, and it truly transformed my life. As I recovered, Beecher became my permanent home, and I began to take pride in my neighborhood. I got involved in programs and meetings to improve the neighborhood; that's where I met John Hawkins and Kathleen O'Neil, some people with the Housing Authority that were working with the community to revitalize the neighborhood," said Mechele Turner, a resident of the original Beecher Terrace who is living there once again following revitalization. "I participated in committees that helped plan Russell and Beecher Terrace's recreational amenities."
Original Beecher Terrace households began relocating from the site in 2017, and demolition and remediation began that Fall. To date, LMHA has completed work on two phases of rental housing, which are now fully occupied. A third phase is in the process of leasing. Construction on the remaining 210 units is expected to begin in 2023.
Phase I includes a four-story, 117-unit building for persons age 55+. The facility features the site's management offices, a community room and kitchen, exercise rooms, a visiting doctor's office, hair salon, bicycle repair station, billiards table and laundry rooms on each floor. Phase II and Phase III include 293 multi-family units, and feature a pool, along with play areas and green space on every block. Units in both phases included townhome and garden apartment designs. Phase IV will include 210 multi-family units, including five live-work units for entrepreneurs. The newly constructed Beecher Terrace community is being built to Enterprise Green Communities standards, demonstrating the design team's commitment to providing high-performance, healthy homes for low-income families. In addition, the site's infrastructure was updated thanks to Louisville Metro Government's investment of $15 million in Community Development Block Grant funds.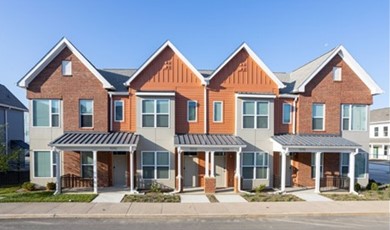 "Now that the first couple of phases of Beecher are done, I moved back in, almost into my same unit, with the same view, but not the same view," Turner said. "I have a brand-new apartment with my own washer and dryer. We have a swimming pool, and the Baxter Community Center is about to open back up. It's going to be a place for the kids to go, instead of hanging out in the streets. The Russell neighborhood has always had a bad reputation. This new Beecher has helped to fade the line people put between 8th and 9th streets. The new Beecher is fabulous, and I would encourage anyone looking for housing to come over and apply – it's easy!"
This transformative project goes beyond redeveloping the Beecher Terrace public housing community. The Choice Neighborhoods grant is helping to leverage over $200 million of additional public and private investment in the Russell neighborhood, including the renovation and expansion of the Art Deco-style Baxter Community Center and the creation of a new park at 13th Street and Muhammad Ali Boulevard, which will be funded in part through a $6 million American Rescue Plan grant from Louisville Metro Government. A LEED (Leadership in Energy and Environmental Design) for Neighborhoods designation will be sought for the revitalized site. Grant funds were also used to invest in public art, new retail, vacant lot improvements, and case management and other supportive services for residents. The city received a 2022 All-America City Award for its early school success and equitable learning work at Beecher Terrace.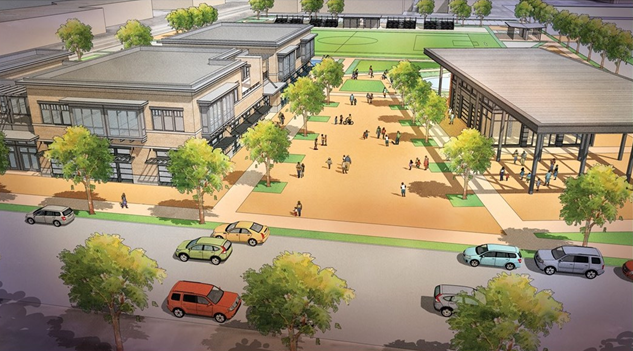 "I love my community; I love my neighborhood, and I am forever grateful for the revitalization of my neighborhood!"
Louisville's experience showcases the transformative effects of the Choice Neighborhoods program and how successful planning can lead to implementation. Many key successes of the program are highlighted in Louisville's experience — leveraging public and private dollars, investment in new, safe mixed-income housing, neighborhood amenities such as parks and commercial development, and most importantly a commitment to residents of HUD-assisted housing.

HUD will issue the funding announcement for Choice Neighborhoods Planning Grants this spring, and Implementation Grants later this year. Local governments of all sizes are encouraged to apply. For more information, visit www.hud.gov/cn.
About this Blog Series
Choice Neighborhoods is a HUD grant program that provides significant investment – grants of up to $50 million – to cites, public housing authorities, and tribal entities for comprehensive neighborhood revitalization. This is the third in a series of posts highlighting Choice Neighborhoods and why local governments should pursue these HUD grants.
About the Author
Jody Hamilton is a Communications Specialist for the City of Louisville, Kentucky.