January 17, 2023, marked the seventh consecutive year of the National Day of Racial Healing (NDoRH). This annual observance was launched by the W.K. Kellogg Foundation (WKKF) on January 17, 2017, as a time to contemplate our shared values and create the blueprint together for how we heal from the effects of racial inequities. WKKF launched this annual event to build on the foundation's work and learnings of the Truth, Racial Healing & Transformation (TRHT) community partners. Fundamental to this day is a clear understanding that racial healing is at the core of racial equity. This day is observed every year on the Tuesday following Martin Luther King, Jr. Day.
NLC's Race, Equity And Leadership (REAL) department has partnered with WKKF since 2017 in its groundbreaking work to establish Truth, Racial Healing & Transformation (TRHT) network. We encourage all local officials who have taken up the mantle in this journey to reflect on the work that has been done and the work that remains ahead for all. NDoRH is an opportunity to bring ALL people together in our common humanity and inspire collective action to create a more just and equitable world.
This year, NLC REAL hosted a special two-day convening for municipal leaders in Washington, D.C. The event, held at the National Museum of the American Indian, led participants to explore how to reconcile the past and proactively promote healing and justice for all.
Racial healing is both a tool and a process for celebrating our common humanity, acknowledging the truths from our shared history, and recognizing our collective potential. Through racial healing, we can forge deep, meaningful relationships, lay the groundwork to transform broken systems, and bridge the divides to transform communities for our children and future generations. Racial healing is not only important but essential—as healing is at the heart of racial equity.
The convening provided leaders with the NLC's 4 Principles for Truth and Racial Healing:
Understand the importance of acknowledging your city's racial history.
Apologize to those who have been directly impacted.
Atone for the harm done.
Enact policies that will improve outcomes for all members of your community moving forward.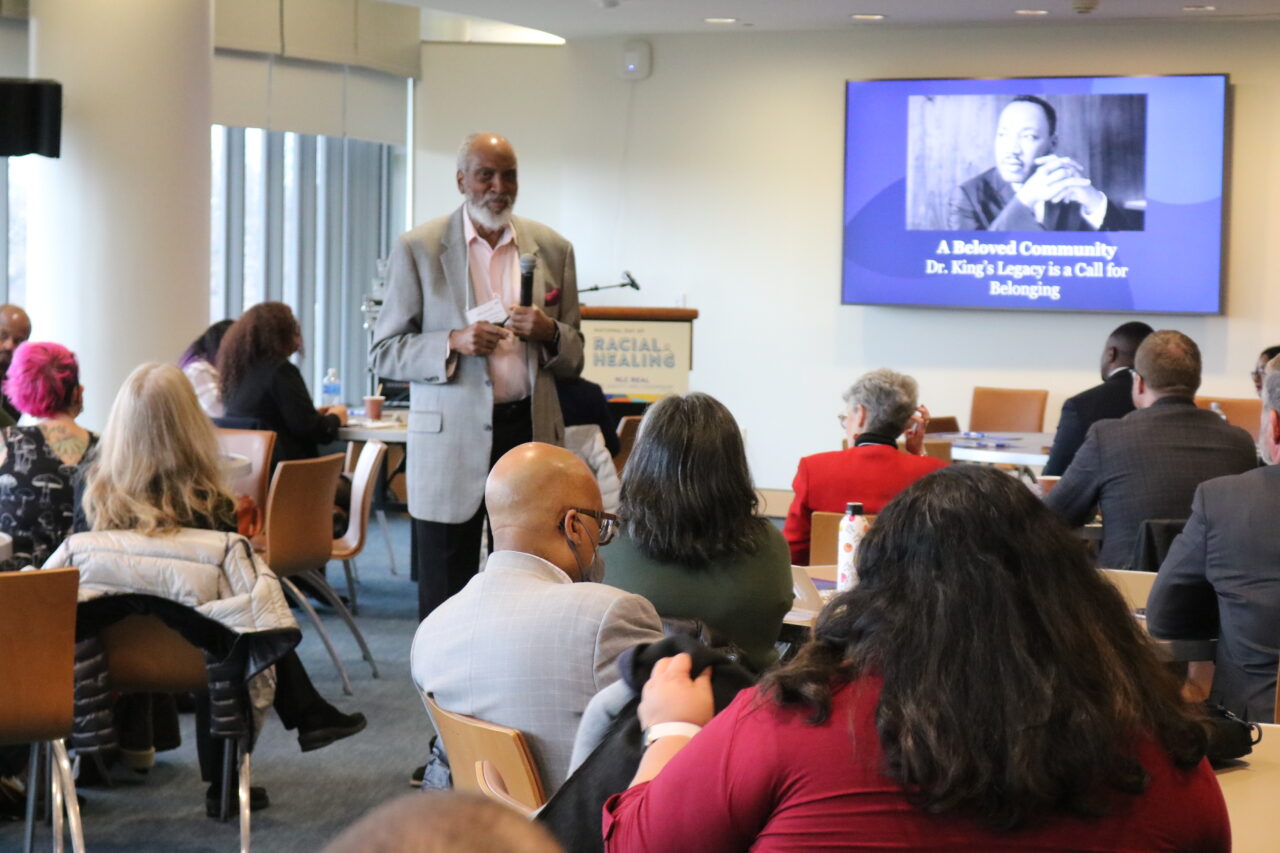 Keynote presentations were offered by dr. john powell (who intentionally spells his name in lowercase), Director of the Othering and Belonging Institute, University of California, Berkeley and Shantha Ready Alonso, Director of Intergovernmental and External Affairs, US Department of the Interior. Clarence Anthony, Executive Director of the National League of Cities, opened the two-day event affirming NLC's commitment to support local leaders in their work on racial equity and racial healing.
Additional speakers included:
Heather Sauyaq Jean Gordon, Founder, Kamagigikput Sivulliavut
Norma Lopez, Executive Director, Orange County Human Relations Commission
Gordon Goodwin, Government Alliance on Race and Equity Director, Race Forward
Cathy Albisa, Vice President of Institutional and Sectoral Change, Race Forward
Julie Nelson, Senior Vice President of Programs, Race Forward
In his keynote address, dr. powell shared a vision of "Equity 2.0," moving beyond inclusion and embracing a framework of belonging. "You can't heal if you don't belong," he shared, encouraging attendees to think about how their municipalities can become "belonging cities." At the heart of belonging is co-creation, building a world together with shared input across groups based on their situatedness. As dr. powell pointed out, it isn't simply identities that result in inequity but the situatedness of the identity within an overarching system of inequity. Addressing the situation via targeted universalism is important in moving forward. Perhaps most notably, dr. powell encouraged attendees to be "soft on people and hard on systems."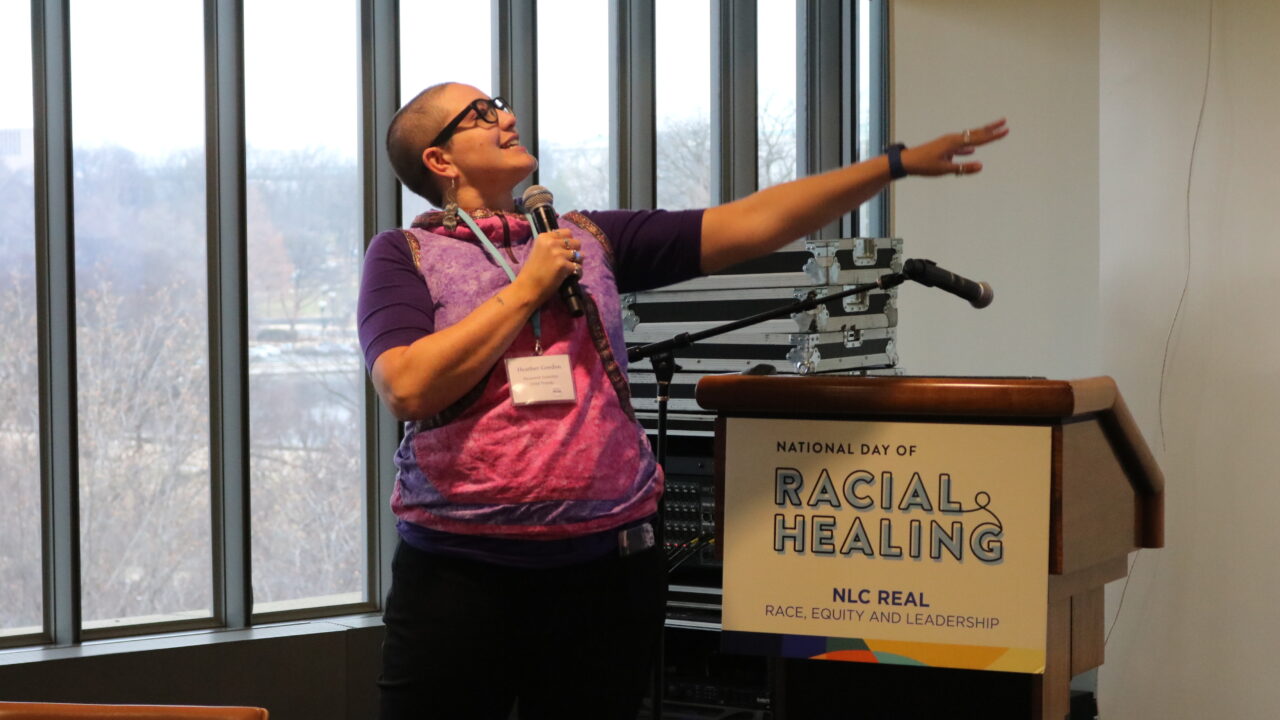 Director Alonso was eager to share the work being accomplished in the Interior Department (DOI) under Secretary Deb Haaland, the first Native American to serve as a cabinet secretary. DOI has set up several grant programs to help local governments develop and maintain parks and other shared public spaces necessary for community and individual well-being. Additionally, the Department has worked tirelessly to rename locations that are under their jurisdiction that contain offensive slurs or commemorate controversial historical figures.
A panel featuring Norma Lopez, Gordon Goodwin, and Cathy Albisa focused on Acknowledging Racial History and Apologizing for the Harm and was moderated by National Urban Fellow Nhi Nguyen. Similar themes arose in dr. powell's address, including the importance of systems in this work. "If we don't change the institutions to make them resilient enough to manage these changes, we're setting up a house of cards," Cathy Albisa shared. There must be a cross-cutting analysis of what is happening within municipalities, and the root of the problem must be addressed instead of just managing symptoms. "Share promising practices even if you won't get anything in return," encouraged Norma Lopez. This work is advanced through collaboration and honesty. Additionally, addressing damaging narratives about our history and values is increasingly important. "Be brave enough to own what happened, to meet the moment with vulnerability, and make our aspirational 'American values' real," stated Gordon Goodwin.
NLC's participation in the National Day of Racial Healing served as an opportunity for municipal leaders to think about their role in racial inequity and how to prioritize healing in their communities. It is important for local governments to tell the whole story of their municipality and its history because change cannot happen without acknowledgment.