Recognized as the nation's leading conference for local government officials and municipal staff, the National League of Cities (NLC) City Summit, after a three-year-long hiatus due to the Covid-19 pandemic, has gathered in Kansas City, MO.
At the press conference kicking off City Summit, Kansas City Mayor Quinton Lucas graciously welcomed NLC and the 3,000 local leaders from across the country to the heartland and Kansas City. Other speakers included NLC President Mayor Vince Williams of Union City, Georgia, NLC Second Vice President Victoria Woodards, Councilmember David Sander of Rancho Cordova, California; and NLC Immediate Past President Councilmember Kathy Maness of Lexington, South Carolina. 
In addition to more than 40 workshops focused on the most urgent issues facing local elected officials, local leaders attending City Summit shared with each other about the programs and strategies they have adopted successfully to deal with affordable housing, transportation, equity and so much more. Attendees also got first-hand information about how NLC has helped local leaders achieve positive changes for their cities, towns and villages. Four issues were also top of mind for local leaders.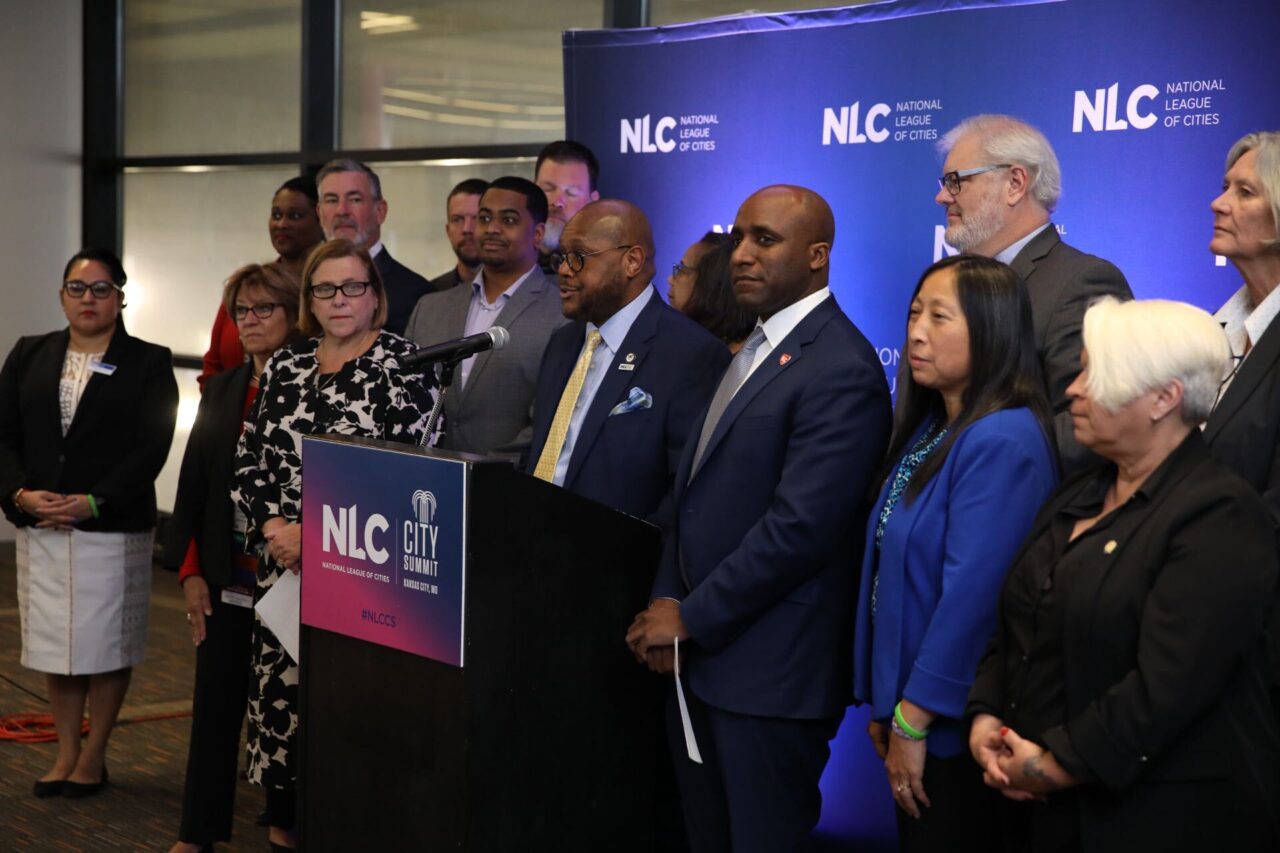 Bipartisan Infrastructure Law
NLC President Mayor Vince Williams of Union City, Georgia provided a recap of the organization's accomplishments including the one-year anniversary of the passage of the Bipartisan Infrastructure Law, an historic legislative achievement that NLC officers witnessed when they watched President Biden sign the $1.2 trillion law into law. Investment in the future of local communities has opened the door for America's cities, states, and counties to apply and plan for these historic funds for their communities. With this significant level of funding, local leaders were finally able to make the types of upgrades and repairs their communities desperately needed.
Mayor Williams acknowledged that for smaller cities and towns, submitting strong applications for federal infrastructure money can be a challenging endeavor because of the lack of specialized staff larger cities have. "With that in mind, the National League of Cities has teamed up with Bloomberg Philanthropies and other partners to launch the Local Infrastructure Hub. This initiative allows small and mid-sized cities to enroll in specialized boot camps designed to help city officials put together compelling grant applications to take advantage of all the funding opportunities available through the Bipartisan Infrastructure Law."
American Rescue Plan Act (ARPA)
Another transformative change for local communities came through the American Rescue Plan Act (ARPA). NLC First Vice President, Mayor Victoria Woodards of Tacoma, Washington spoke about how ARPA has been instrumental in helping many local governments recover from the pandemic. These critical funds have been used for important projects like housing stability, eviction prevention, and keeping basic municipal services. A unique aspect of ARPA was that the funds went directly to local governments. In the past, federal dollars went exclusively to the states or just a handful of large cities, making it inefficient, and taking too long for local governments to receive federal funds. As of this writing, ARPA dollars remain available to local governments through 2026, which will be critical given the effects of inflation. Mayor Woodards also addressed the issue of inflation and its repercussions on all demographics.
"Local leaders across the country are prioritizing ways to help these residents. ARPA funds have been and continue to be a lifeline to communities big and small throughout the country. Given the midterm elections—we have a critical message to the incoming congressional leadership: don't touch ARPA funds. Some may wish to scale back funding, but this would lead to hurting local communities–whether it's a big city in a blue state or a small town in a red state," said Mayor Woodards.
Labor Shortage in Local Governments
And one issue that local leaders have been able to use their ARPA funds for is incentivizing and supporting municipal staff. NLC's Second Vice President, Councilmember David Sander discussed the impact of the acute labor shortage local governments are currently facing. While the private sector has largely recovered the jobs lost since the start of the pandemic, the public sector – and local governments in particular – are challenged with a number of issues including competing with private-sector wages, offering the option of remote work, and facing a large wave of early retirements.
This impact has been particularly acute with public safety roles, especially policing, which have been among the hardest local government jobs to fill. Research indicates from 2020 to 2021, police hirings have declined by 5% while resignations (18%) and retirements (45%) have increased. Besides an aging workforce, pandemic-related work fatigue and negative perceptions about police related to inequitable criminal legal system outcomes have been driving these trends.
Municipal workers play a critical role in local government service delivery. Without them, services like trash pick-up and emergency responses would be delayed. Thanks to the federal dollars from ARPA many local governments have and will continue with their economic and workforce development initiatives to strengthen their municipal workforce and improve service delivery. Other solutions include cities offering nontraditional benefits, like flexible work hours, telework options, and help with student loans.
Attacks on Local Officials
A more concerning trend that was also discussed at City Summit was the rise in attacks on public servants. A recent NLC study showed that 87% of local officials reported observing an increase in attacks on public officials in recent years.
"Eighty-one percent reported having experienced harassment, threats, and violence themselves," said Councilmember Maness.
Beyond the obvious impact this harassment has on the government and the difficulties it creates in getting work done, it has a real human impact on local leaders. Local leaders have become easy targets, particularly in communities led by women, people of color and members of the LGBTQ+ community. As a result, more local government leaders are resigning and fewer are choosing to run for office, which has a negative impact on all communities in the long run.
"Public service is important, and good public servants are essential. Nobody ever said being elected mayor or councilmember was easy, but in today's environment, it's gotten even harder. So, I want to thank everyone who's here today for the work they do for their communities and urge everyone—whether you're an elected official or a citizen – to do your part to keep things civil and respectful. We can disagree without being disagreeable," said Councilmember Maness.
A Final Word
CEO and Executive Director closed the event thanking the speakers and Kansas City and its staff for the warm hospitality, adding, "From infrastructure to housing to crime to workforce development, we're talking about it all this week."
About the Author:
Rebecca Schiller is a Contract Web Content Manager for NLC.