The next 10 years will shape the next hundred. Cities will face great challenges in the next decade, but through bold vision and effective execution, entrepreneurial city leaders can build America's cities, towns and villages into more sustainable and inclusive centers of community and opportunity. In the tumult of the forces shaping this decade, city leaders have an unprecedented opportunity to reimagine and shape the future of work and in doing so realize the promise not only of their communities but of the country.
In September 2022 mayors, city leaders and experts from cities across the country gathered in Sundance, UT, for NLC's Future of Work Summit and the release of America Works: How Entrepreneurial City Leaders Can Shape the Future of Work Today. City leaders came away with new strategies for building a strong workforce and having expanded their thinking by talking and listening to peer cities and national experts.
Here are the top 5 insights from the summit:
1. Addressing multiple scales of development through beautiful, sustainable design invites communities into conversation, creates interactions through the built environment, and makes for a more vibrant public realm.
On the first day of the conference, Kai Uwe of the Bjarke Ingels Group shared the firm's innovative design work which focuses on varied scales and perspectives of development. Examples ranged from small birdhouses which transformed a Swedish city's seasonal tourism into a year-round industry, creating affordable housing and social spaces from containers on a disused section of waterfront in Copenhagen, to inclusive, neighborhood development in South Fort Worth, TX, centered around the Juneteenth museum, commemorative space and interpretative educational space. Kai Uwe's talk emphasized that, even on a small scale, innovative and targeted design can be transformative for the culture and economy of a community.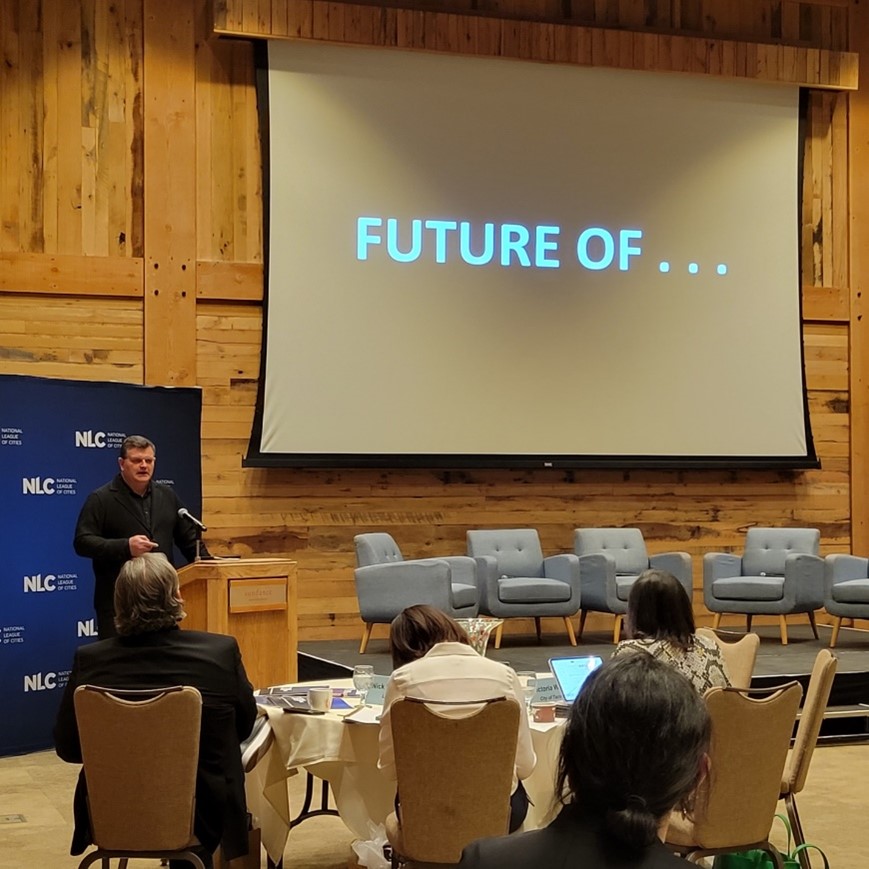 2. Cities can build public support for transformative projects and leverage funding options through innovative pilot projects.
During the "Lightning Talks" Session, four mayors shared their reflections on the America Works report's four pillars of action, and interventions their cities had taken to realize their workforce development goals.
Opportunity: Mayor Tim Kelly of Chattanooga, TN, spoke about the South Broad Revitalization Project centered on a new multi-use stadium funded through tax increment financing (TIF) which seeks to implement a community benefits agreement for local hiring and procurement, affordable housing, and funding for a local high school for technical training.
Talent: Easthampton, MA, Mayor Nicole LaChapelle shared Easthampton's experience working with NLC's City Innovation Ecosystem Program to build Easthampton's economy by supporting existing talent and issuing small business grants of $2,000 leading to the creation of 15 new minority and women-owned businesses.
Place: Tulsa, OK, Mayor G.T. Bynum reflected on his administration's partnership with philanthropies to focus on historically disadvantaged communities in economic development, demonstrate commitment to immigrant communities, and invest in public parks to create shared community experiences.
Social Infrastructure: Tacoma, WA, Mayor Victoria Woodards, shared poignant reflections on her city's Guaranteed Income Pilot. Still in its early days, the program has begun to see benefits through data and personal stories of its impact.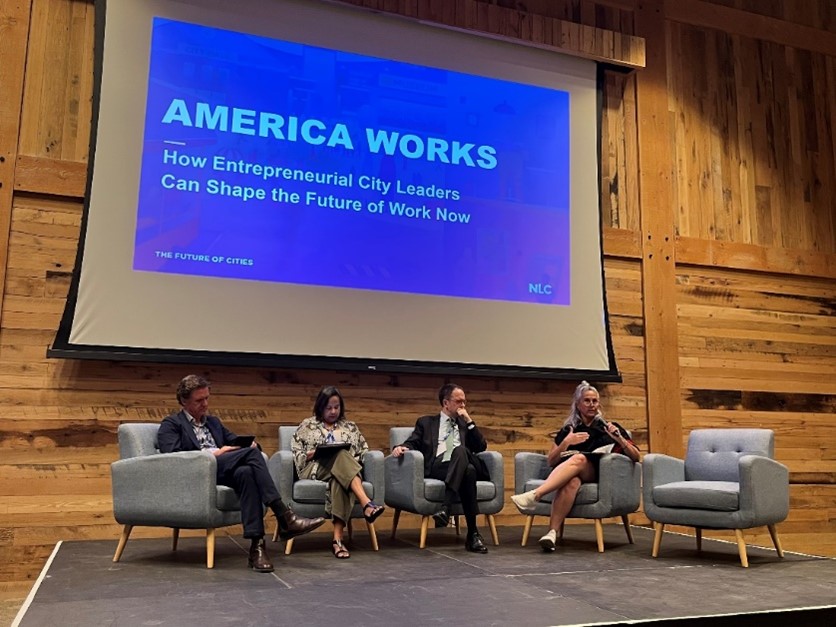 3. The current economic moment calls for redefining "good jobs" and worker's ability to participate in an inclusive economy.
During the session on Ensuring Opportunity, panelists discussed the challenge of defining "good jobs" and the importance of performance metrics that consider job quality and impact on individual job seekers' livelihoods, rather than just job placement
Natalie Foster, President of the Economic Security Project shared her vision for an inclusive, multiracial economic system that requires a challenging understanding of modern capitalism. She challenges whether the workforce is currently experiencing the "Great Resignation" or rather the "Great Renegotiation" where people are choosing to leave jobs that don't satisfy their personal and financial needs.
Chike Augh, Chief Innovation Officer at the Department of Labor, shared insights into the national workforce. Augh finds that employers face difficulty hiring skilled technical workers in the quantity they need, and attributes this to a mismatch between the skills workers possess, skills needed for a job, and the skills listed as hiring prerequisites. When employers cite a shortage of workers to fulfill their changing needs, they typically are looking in the same places they have always looked, without a strong understanding of the skills they require.

4. Creating inclusive workforce development initiatives requires collaboration among stakeholders ranging from job seekers, education providers, employers and cities themselves.
Both Billy Weber of Cincinnati, OH, and Chris Rivera of Greensboro, NC, noted over-reliance on large companies in their cities. Cincinnati has sought to prepare its workforce to capitalize on regional technology, engineering, and manufacturing growth and Greensboro has worked to build strategic partnerships with large firms, smaller businesses, and educational institutions to ensure training opportunities were available to more residents. Rebekah Rombom shared how the Flatiron School develops a digital bootcamp curriculum to fill gaps in technical training that are left unfilled by traditional education systems.
Pooja Tripathi spoke about how the Manufacturing Institute works to build coalitions among employers large and small, and ensure large incoming firms contribute to workforce training, which helps foster a sense of cooperation amongst actors to alleviate fears of poaching workers. Labor mobility is seen as a positive attribute of a collaborative workforce ecosystem rather than an existential threat to small firms.
5. Livable communities with affordable housing are vital for a thriving workforce.
Alan Matheson, Executive Director of The Point of Utah Authority, spoke about his involvement with the Envision Utah project which has generated strong evidence for participatory community engagement in land-use planning. Using values research, extensive workshopping, surveying, and outreach Envision Utah sought to "build trust in a process, the partners, the equipment and tools available for land use planning."
During the panel discussion on The Importance of Place, Matheson commented "in creating great places, similar things stand out: a sense of security, sense of belonging – feeling we are loved and accepted, convenience, and places that are fun."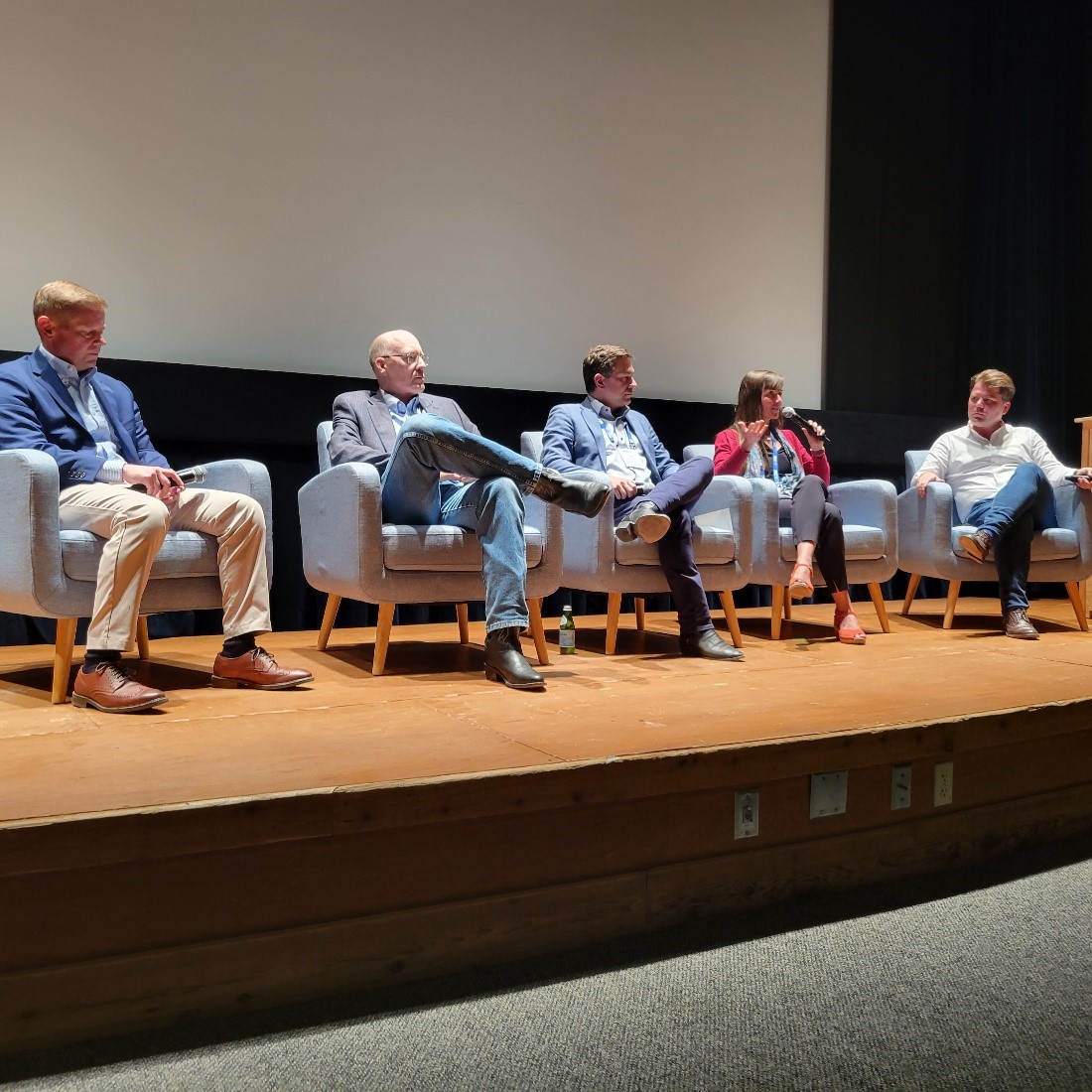 Colorado State Senator Jeff Bridges discussed the Colorado Middle Income Housing Authority, which will invest in workforce housing for individuals with between 80-120% average median income. In Jackson, WY, Mayor Morton Levinson has worked to use public land, or purchase parcels and negotiate with developers for workforce housing for city employees and requalifies the homes yearly.
The panelists came from different sectors and organizations but reiterated the longing felt in their communities for enhanced place-making strategies that meet the needs of residents for housing, employment, security, convenience and joy.
Written with Padden Murphy, a Senior Fellow on the Future of Work, and Kyra Kocis, a researcher on the Future of Work.