Connectivity is essential to creating a thriving community – whether through creating connections to equal opportunity or to services that could help save a life.
At the National League of Cities Summer Board and Leadership Meeting in July, government leaders from across the United States, including the Atlanta Police Foundation and AT&T convened at the Atlanta Police Foundation's Westside At-Promise Center to discuss the theme of connectivity.
Reliable and accessible broadband connectivity is essential in today's world. It improves equal access to education and economic opportunities, and it can help save lives in an emergency. Attendees witnessed firsthand the critical technology that provides enhanced connectivity to first responders so they can respond to incidents safely, effectively and efficiently. Attendees also learned about the importance of public-private partnerships to meet the needs of underserved communities holistically by addressing the challenges of accessibility, affordability and adoption that are the root causes of the digital divide.
Connecting Atlanta's Youth
Dave Wilkinson, President and CEO of the Atlanta Police Foundation, welcomed attendees to the At-Promise Center and shared the Foundation's vision for creating the Center – to provide a dedicated space for traditionally underserved youth, giving them a safe place to go, learn and grow. The At-Promise Center provides services to support young people in the community, including education assistance, career prep, digital skills training, recreational activities, therapy and arts instruction.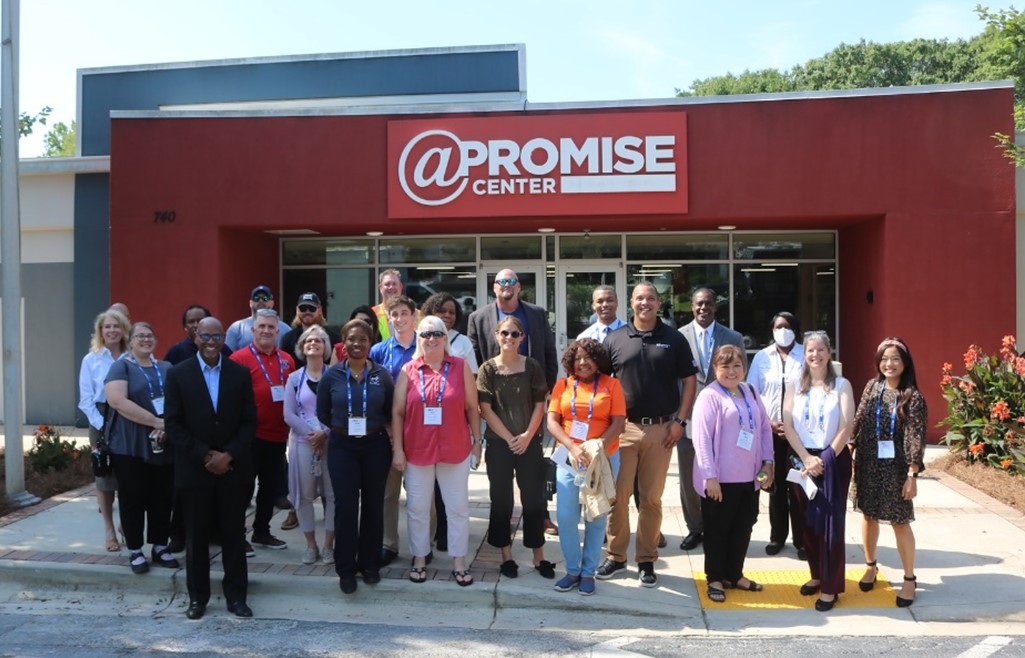 As part of our $2 billion commitment to help close the digital divide, AT&T opened a Connected Learning Center earlier this year at the Andrew and Walter Young Family At-Promise Center in Southwest Atlanta. In this space, youth and their families have free access to high-speed internet, computers and other resources to use for virtual learning, skills training and job applications, as well as other needs. Through this collaboration, AT&T, the City of Atlanta and the Atlanta Police Foundation are helping to close the digital divide and ensure equitable opportunities for all of Atlanta's youth.
"With the At-Promise Center, our goal is to provide wraparound services for our youth that enable them to have everything they need to be successful – whether that's in school, a job or life. AT&T is making an impact in Atlanta through the Connected Learning Center. Having access to technology and connectivity is truly changing the trajectory of our youth, giving them a better path to tomorrow." – Dave Wilkinson, President and CEO, Atlanta Police Foundation
"I'm grateful for the technology and connectivity at the At-Promise Center, and the opportunity to participate in the GED program. Because of the AT&T Connected Learning Center, I have the resources and support I need to prepare for my future." – Chloe Brown, an At-Promise Center GED program participant
Life-Saving Connectivity Through FirstNet
After hearing from Dave Wilkinson and Chloe Brown, an At-Promise Center GED program participant, attendees discussed how connectivity is helping save lives. FirstNet®, Built with AT&T, is the nation's only broadband network built specifically for and with America's first responders. FirstNet was born from the communications challenges public safety experienced during the Sept. 11, 2001 terrorist attacks when networks were jammed, and law enforcement, fire and EMS were not able to communicate. FirstNet provides public safety personnel with increased capabilities to communicate and deploys special communications-based assets to locations to enhance connectivity during disasters, major incidents and planned events. Going beyond the services of the broadband network, FirstNet also provides mental health and wellness support to first responders with therapy animals and counseling services.
"The way we approach problems and issues in the 21st century requires innovative, forward-thinking solutions. Connectivity is at the core of how we do this and how we build safer communities." – Dr. Cedric Alexander, FirstNet consultant at AT&T
Attendees interacted with the FirstNet team and got a firsthand look at the dedicated deployable network assets available to first responders including a Communication Vehicle, SatCOLT (Satellite Cells on Light Truck), Compact Rapid Deployable, Flying COW (Cell on Wheels), and other communications devices that are deployed to provide network connectivity. Each deployable asset can support different levels of connectivity depending on the need, and they are deployed at no cost to agencies on FirstNet.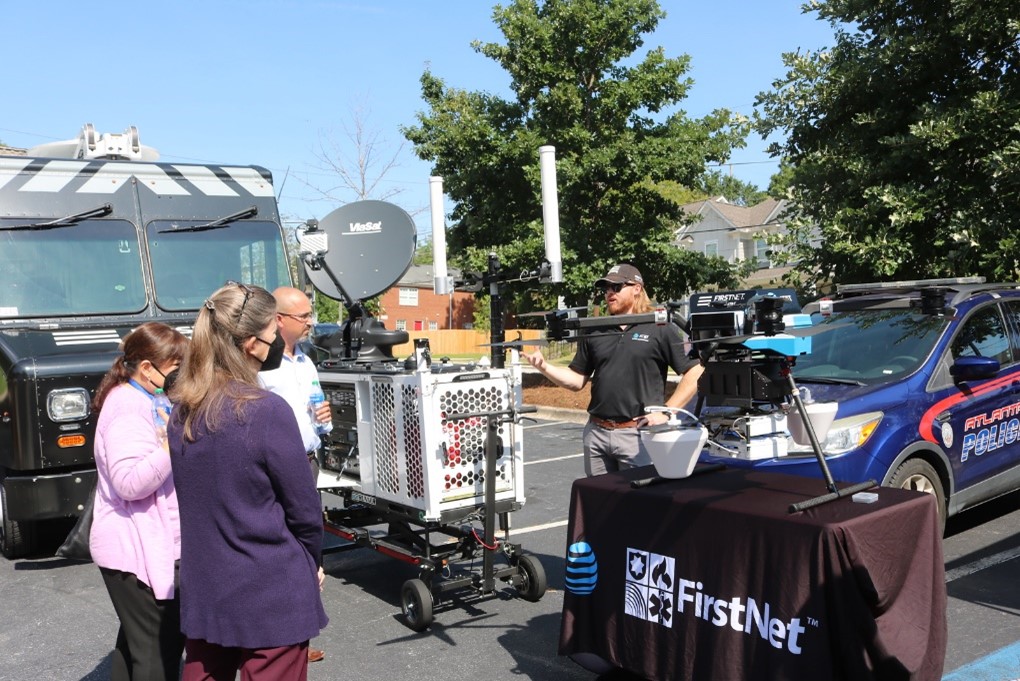 As NLC President Vince Williams, Mayor of Union City, GA, remarked at the event, "FirstNet is bringing new technology and capacity to our communities and our public safety agencies. This connectivity and the innovative technology that FirstNet can provide will help save lives."
Connectivity Relies on Collaboration
Connectivity is critical for all facets of life today – economic mobility, education, public safety, and so much more. Local governments often face challenges providing the connectivity that their residents need in a silo, which can be financially burdensome and inefficient. Innovative collaborations like that between AT&T, the City of Atlanta and the Atlanta Police Foundation have proven to deliver outcomes for city residents.
By working with the private sector, city leaders and community-based organizations, we can make progress towards a better – and safer – quality of life for our residents.
About the Author
Venessa Harrison serves as president of AT&T Southeast Coastal States