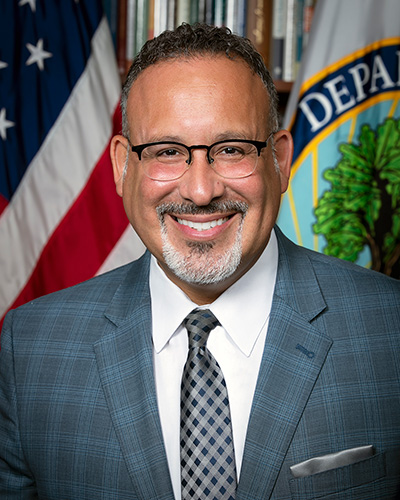 It's a New School Year in America's Cities: Back-to-school season is always an exciting time, including for city leaders and community members who are supporting all the learning, progress, and opportunities that students will experience in the new academic year. I appreciate everything that mayors, city councilmembers, and city managers are doing to help your young people, educators, and community-based organizations as students and schools continue to recover from the pandemic. Your leadership has never mattered more, and I'm confident that, working together, we'll emerge stronger from the pandemic than we entered it.
I'm proud of the intentional, collaborative work that the U.S. Department of Education has been doing with the National League of Cities (NLC) and other national organizations to ensure all students excel. In partnership with city governments, we hope school districts will inspire local, community-wide support that helps young people thrive. Municipalities can ensure that young people have access to the programs and services they need to succeed by leveraging the power of mayoral platforms and partnerships, continuing to use funds from President Biden's American Rescue Plan (ARP), and participating in Department of Education initiatives like Engage Every Student.
Here are a few important ways that municipalities can support young people:
1. Utilize Federal ARP Funds to Support Children and Families
With ARP's passage, historic amounts of vital federal funds are flowing into cities. These funds present a tremendous opportunity to support young people at every level – from pre-K through college and beyond. Throughout the pandemic, cities have used these funds to develop innovative programs and support services to address students' academic, social, emotional, and mental health needs. I encourage cities to continue to use these federal relief funds to create and invest in essential programs that we know work. We have already seen cities across the country use ARP funds to expand afterschool and summer learning programs, invest in recreational spaces for young people to play and socialize, provide college counseling, and develop mentoring programs for students. I'm heartened by NLC research that shows 80 cities collectively invested more than $1 Billion in ARP funds in afterschool and summer programs and youth infrastructure improvements. If you'd like to see ways in which cities across the country are putting ARP funds to use to support afterschool and summer learning, one helpful place to look is this interactive map, produced by NLC in partnership with the Afterschool Alliance.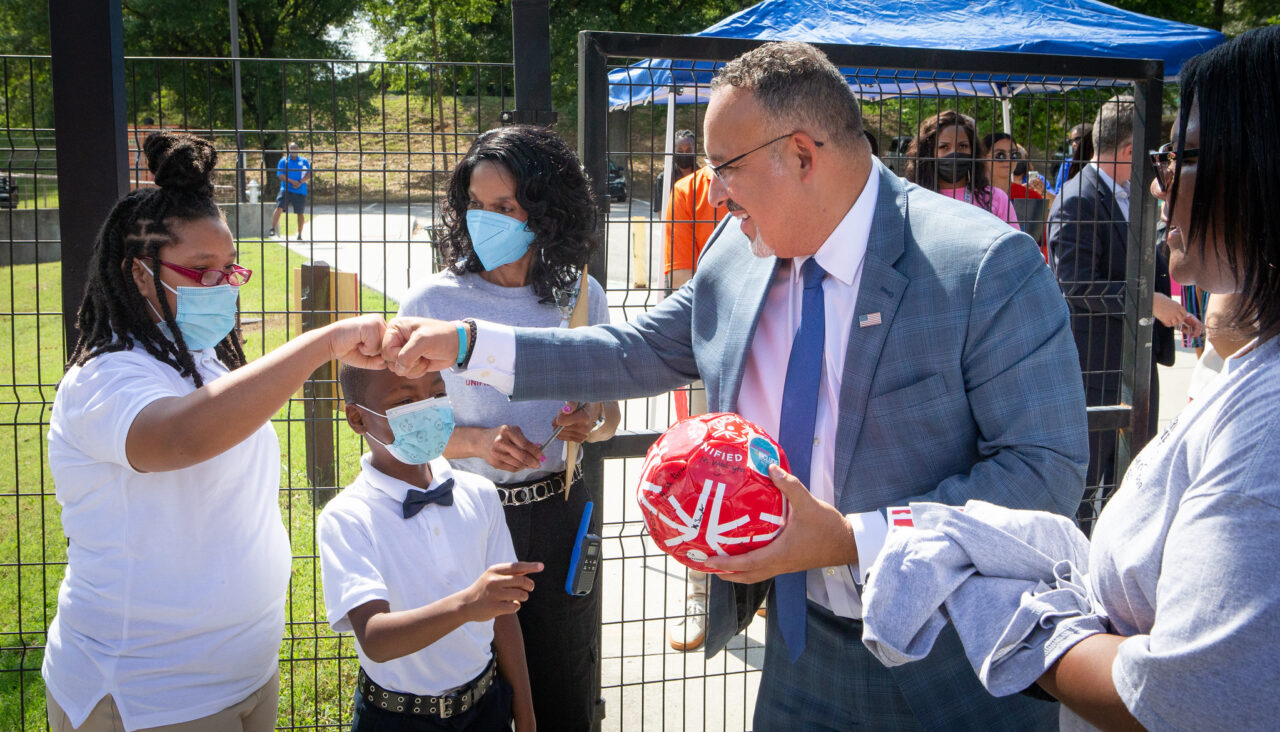 2. Leverage City Resources to Expand Afterschool and Summer Learning Opportunities
A young person's educational success is also determined by learning opportunities beyond the school day. Afterschool and summer learning programs are crucial, evidence-based strategies to support students' academic, social, and emotional health. And our students need quality programs more than ever. For every child in a program, there are two waiting to get in. In response, I established the Engage Every Student initiative, a call-to-action to provide high-quality out-of-school time programs to every child who wants to participate. I'm proud that NLC is a partner in this initiative. Now we are calling on you: join the effort to make high-quality out-of-school time learning available to every student, everywhere.
3. Build Partnerships with Leaders from Local Education and Youth-Serving Organizations
While the federal government has provided unprecedented funding to states, cities, and schools, it is vital that community leaders develop and maintain relationships with each other to maximize the impact of these dollars. Schools can't do this work alone; neither can cities. Bring your community-based organizations and school district leaders to the table. Mayors can serve as helpful catalysts to spark new partnerships.
And community schools are a powerful example of how many cities are already collaborating with their school districts and community-based organizations. Community schools engage partner organizations to provide holistic support services and programs for students and families, before, during, and after the school day. I'm proud that Congress doubled the Department of Education's funding for the Full-Service Community Schools Program in 2022. To learn how to become a community school, visit the Department's program site with information and helpful resources.
Cities also can collaborate with local higher education institutions and other community partners to address the needs of students pursuing their postsecondary pathways. By aligning resources – including federal relief funds – partnerships can help remove barriers to students' success: from investing in campus mental health; to providing financial relief; to meeting housing, transportation, and childcare needs. These investments enable students to stay on track with their work, complete their programs, and ultimately, build rewarding careers.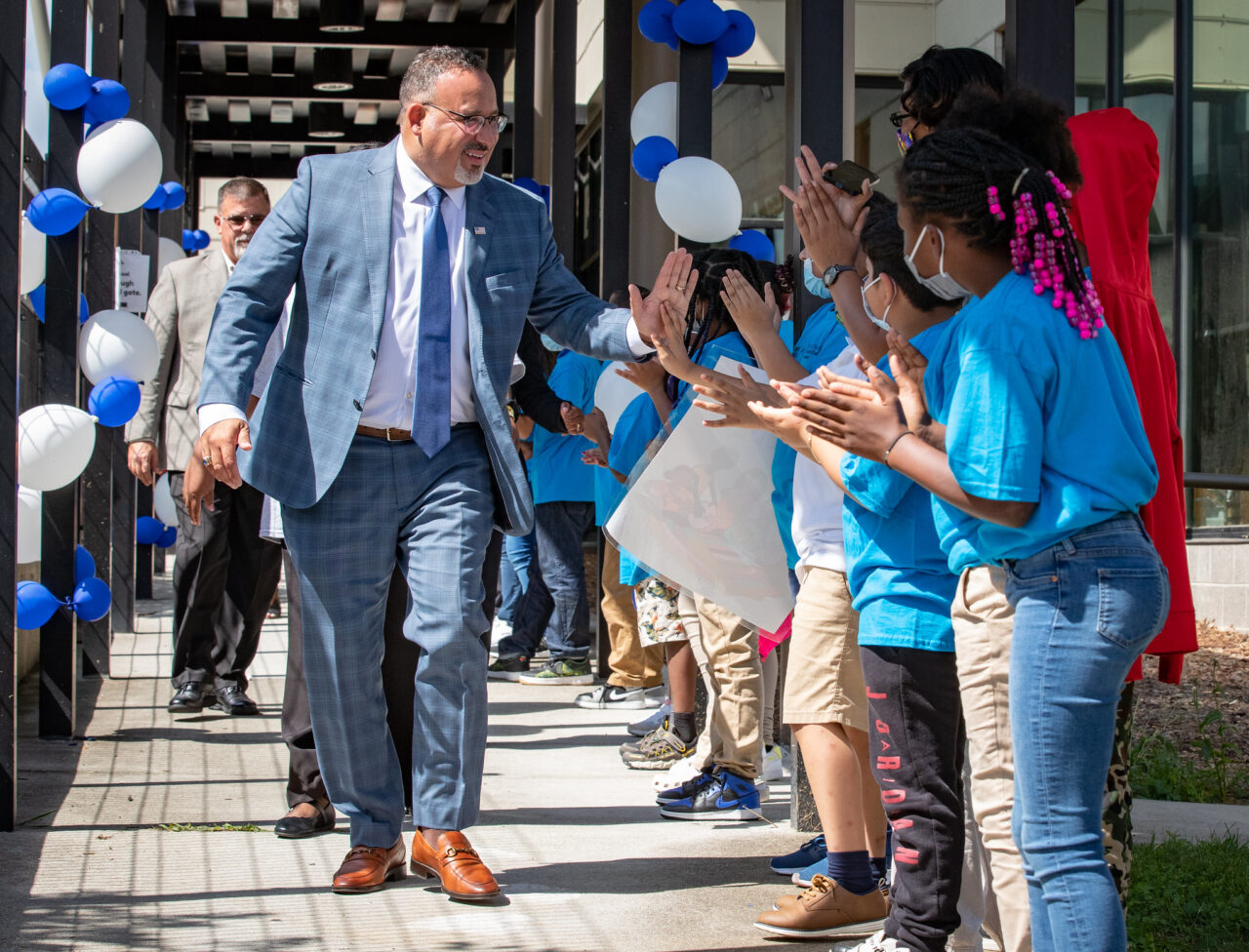 4. Leverage Municipal Leaders' Voices and Platforms to Celebrate Students
City leaders can play a key role in sparking and advancing conversations about the importance of high-quality youth programs and services, and their results for students. Cities, for example, can host community-wide celebrations at afterschool and summer program sites, schools, or colleges to excite young people and their families about learning and to recognize the teachers, program staff, and community members who support students throughout the year. 
City leaders also can coordinate with education leaders to host parent forums to explain how the school system is using federal ARP funds to address students' needs, in order to engage families and the community and ensure priorities both for their city and district are transparent and inclusive.
5. Stay Up to Date on Federal Guidance and Resources
The Department of Education is committed to providing guidance and resources to cities in support of your young people. Keep up to date on these opportunities through the Department's website and our Homeroom blog. You may also want to check out our presence on Twitter, via @usedgov.
Again, I encourage cities to join our #EngageEveryStudent initiative. The website has a wealth of resources, and cities can sign up to receive updates via email and register to be an Engage Every Student champion.
City Leaders: Advancing Our Students' Success and Our Nation's Future
City leaders across the country have an invaluable role to play in supporting the young people in your communities. Thank you for all you're doing, and all you will do, to create partnerships, leverage resources, and engage in intentional collaboration to ensure young people have a successful return to school.
Engage Every Student
Engage Every Student aims to ensure that every student who wants a spot in a high-quality out-of-school time program has one. Learn more about how to get involved.
About the Author:
U.S. Secretary of Education Miguel Cardona.