The National League of Cities and the Harvard Cyber Law Clinic released a joint case study report titled, Bus Innovation Playbook for City Leaders. This report describes how local governments are using technology to improve bus safety and efficiency. The changes local leaders are making to bus operations reduce congestion and provide equitable ridership opportunities for all users. Included are six key recommendations from six local governments (see figure 1), and a focus on how to balance equity with private companies and how to govern with data privacy and security in mind.
As the United States continues to face several challenges in its public transportation systems, it is important for local leaders to think about innovative ways to improve municipal bus systems. With ridership down from the COVID-19 pandemic and the increasing use of work from home by companies, public bus systems need more innovation than ever. The innovations highlighted in this report can increase ridership, improve frequency, and decrease wait times. More importantly, the long-term underdevelopment of the nation's public transportation system is an issue with important consequences for the climate.
By way of example, the City of Indianapolis is utilizing technology to improve its Bus Rapid Transit (BRT) by investing in dedicated bus lanes, transit signal priority, level-boarding, off-board fare payment, and real-time arrival information. One of the BRT lines now has 59 percent of its route covered by a dedicated bus lane which has reduced congestion and increased on-time service. This is helped by the transit signals coordinating together to ensure that the bus route can run on time and respond to real-time changes.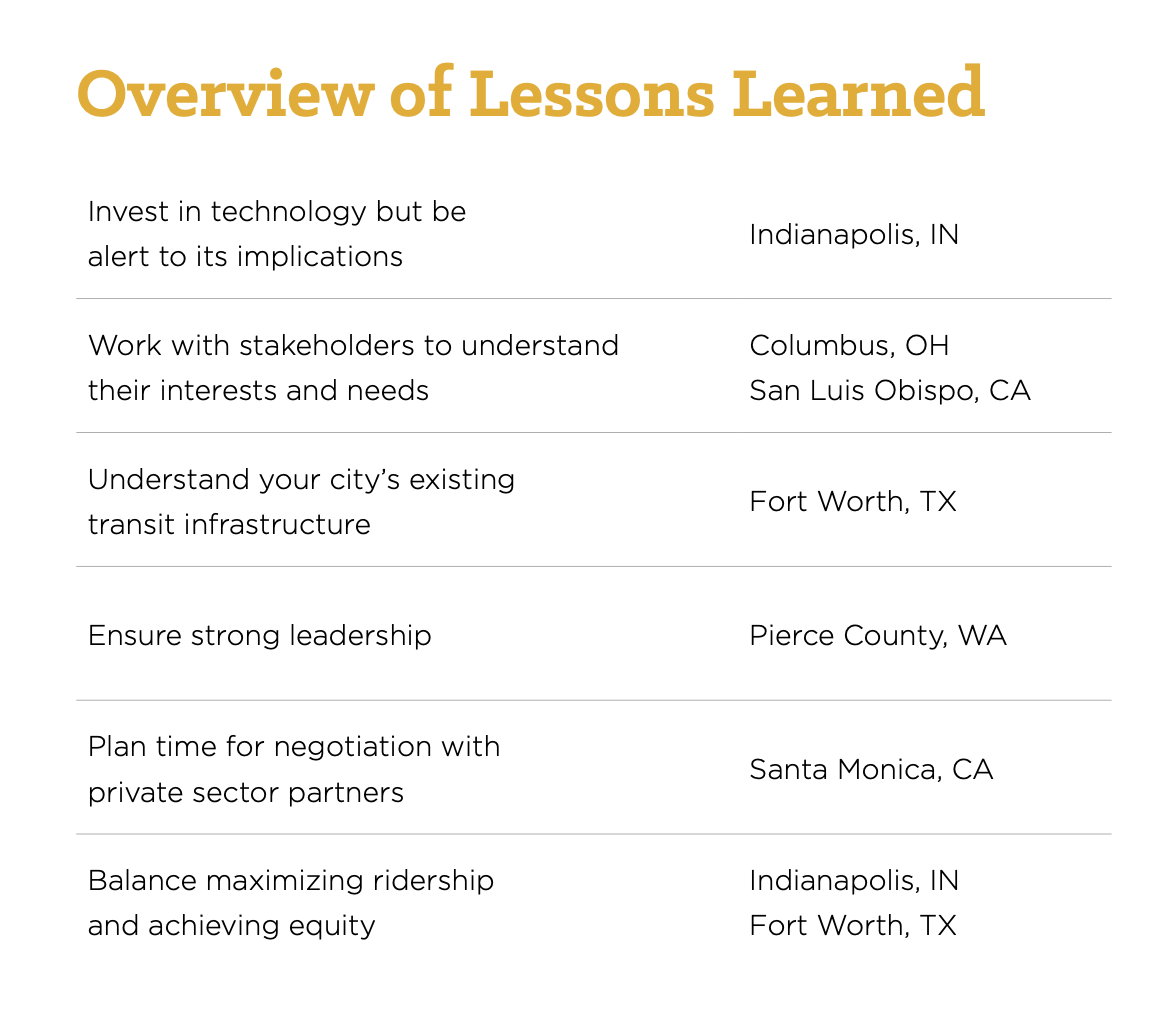 Columbus, OH continues to invest in its connected vehicle environment, a multimodal trip planning app, and a smart (adaptive) operating system. The connected vehicle environment ensures that, like the BRT system in Indianapolis, a bus can arrive on time as traffic conditions change from weather, emergency responses or congestion. The multimodal trip planning app helps to ensure users of public transportation can plan and pay for trips ahead of their departure. Lastly, the smart operating system collects data as the different smart systems operate, allowing for city leaders to use this transit data to improve different modal systems including buses.
With funding from the Bipartisan Infrastructure Law (BIL) and improvements in technology, it will be up to local leaders to utilize the grants available from the federal government to transform the nation's public bus system. Municipal leaders can get started by exploring this report.