With emergency rental assistance allocations dwindling and the future of long-term funding sources still unclear, the equitable distribution of rental assistance is perhaps more important than ever.
Traditional outreach and engagement strategies such as an ERA program website or flyers can increase general awareness of available assistance, but they often fall short and can easily miss people who are the most at risk of eviction and housing instability. Instead, cities and their partners should look to comprehensively understand the barriers that some residents face in applying for or receiving the ERA funds that can be so critical to remaining stably housed.
By centering lived experiences, taking a data-informed approach to targeting, and leveraging messages and tactics that specifically address these barriers to access, cities can develop a more tailored and effective strategy that assists with distributing remaining ERA funds to the residents who need it most.
Five tips for cities and program administrators looking to reach tenants and improve equitable outcomes for residents facing housing instability are included here, and are outlined in greater detail in the Emergency Rental Assistance Toolkit: "How-To" Resources for Equitable & Effective Programs.
1) Determine who is not accessing assistance – and seek to understand why
Cities, their ERA program staff and the broader network of local eviction prevention service providers should first explore who may have difficulty accessing or finding information about the local ERA program. Specific factors and the likelihood of not having adequate access will vary based on geography, population size, demographics, history, and more.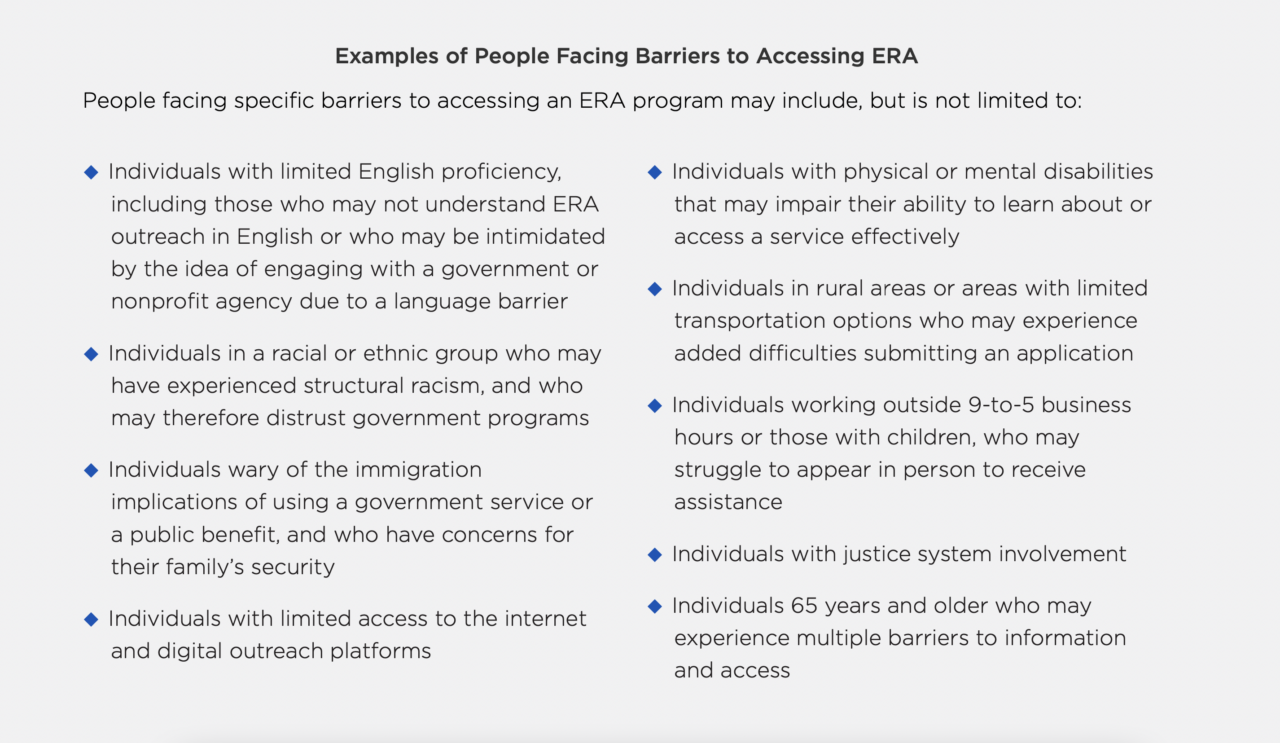 Disaggregating program data by race and ethnicity, age group, gender, household size, income (or area median income bracket), language spoken and citizenship status can offer a better understanding of who is currently applying for services, and who is not. This information can also be geographically mapped by census tract or zip code to visualize where applications are coming from — and where there are gaps. This will reveal factors that require a more targeted approach for building awareness and engagement among particular households or communities.
Advocates, navigators, service providers and community organizations can connect city and program staff directly with individuals who experience the type of barriers the program is looking to overcome. Interviews, focus groups and conversations with tenants — those who have successfully accessed ERA, as well as those who have not — can provide critical insights to inform outreach.
2) Use the right message – and engage the right messengers
Delivering the right message is key. Messaging can be developed, tested and tailored to resonate with target audience and populations. This includes using words that are consistent with lived experience and reflective of the people that cities are trying to reach. Materials and content should use plain English rather than jargon, and directly address any misinformation or concerns that community members have. It's also important that accompanying photos and imagery be representative of the age, race, gender, gender expression or disability of the target audience.
Community members and stakeholder groups are often well-positioned to vet messages and outreach materials, checking for any blind spots. But beyond that, it is recommended that cities forge deep and authentic relationships with trusted messengers such as principals, doctors, faith leaders, small business owners, community organizers, social media influencers, or neighborhood leaders. By engaging these individuals, or community-based organizations with direct ties to residents, cities can ensure that correct and impactful information about available assistance reaches residents that could benefit from assistance.
3) Deploy the right communication materials — and leverage them effectively
Having the right suite of communication materials and outreach strategies is essential to spreading the word about what assistance is available, how services can help residents, and how to apply.
Despite the ubiquity of digital communications, paper-based promotional and informational materials can help bridge the knowledge gap about ERA and eviction prevention services — especially for people with limited Internet access. This critical portfolio of resources can often be repurposed and adapted to different formats for outreach, and includes:
Community handout flyers
Simple posters or cards
Service referral sheets
Court summons flyers
These materials should follow basic visual design principles that amplify a simple, central message, ensure it is engaging and useable, and "brand" communications in a way that builds awareness and trust in the community. Straightforward design principles to observe, such as using white space effectively and being intentional with text hierarchy, are detailed in "Paper Outreach for ERA and Eviction Prevention Services," a resource from National League of Cities and the Stanford Legal Design Lab.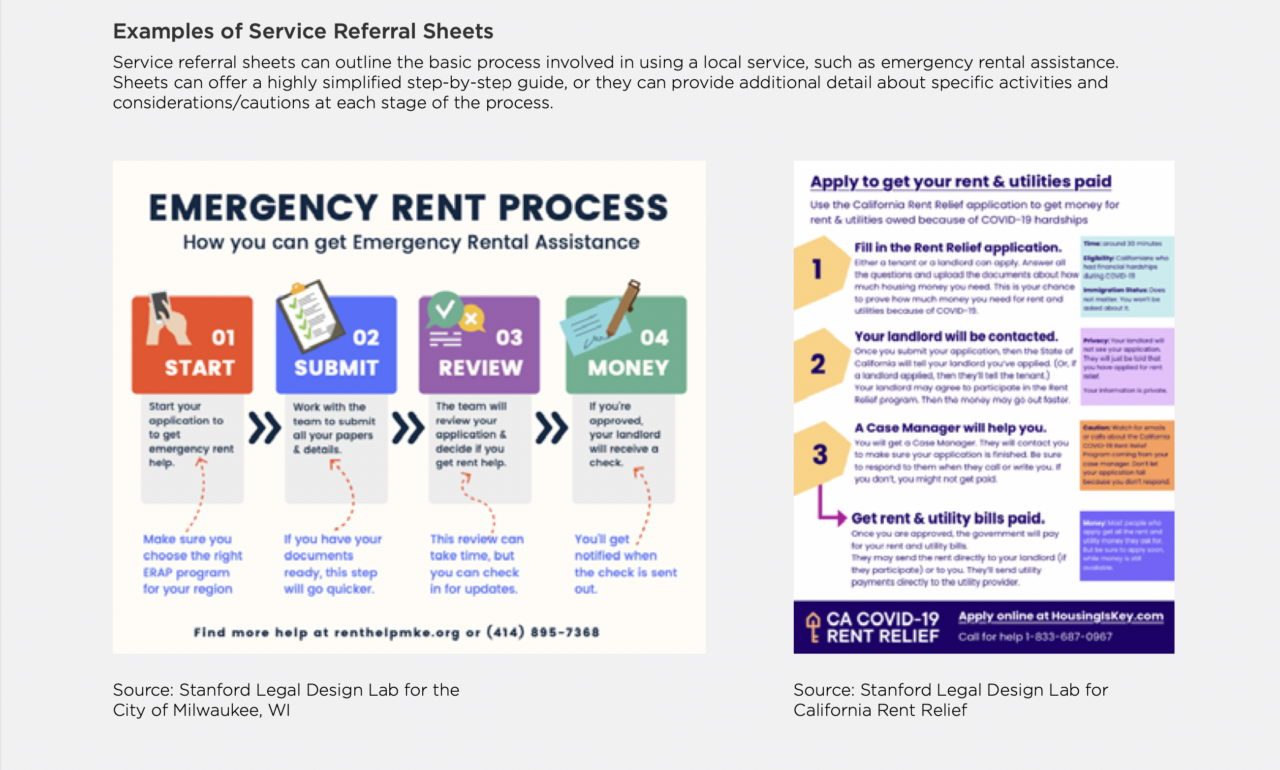 Targeted distribution in high-traffic areas will look different from community to community, but often includes court buildings, schools, churches, food banks, coffee shops, grocery stores, libraries, bus stations, banks, large employers, and community groups. The same materials can often also be leveraged on social media, in keeping with best practices for using social media to increase participation in ERA, and customizable templates for social media graphics and digital communication are newly available.
Additionally, partnerships with local courts, community-based organizations, community leaders, and individuals with lived experiences related to eviction are again key. Cities and ERA providers should look for guidance from organizations that have deep connections at the community-level and empower them to direct and target outreach. Meanwhile, individuals who have benefited from services and informal community leaders can be empowered as "influencers," engaged for peer-to-peer texting campaigns, or trained as navigators for eviction prevention programs.
4) Make the program itself more accessible
Of course, improving engagement is not solely about messaging and outreach strategies — it is also about improving the accessibility of the application process and the program as a whole.
ERA program materials, including the application, should be available in both paper and digital formats. Offering hands-on application assistance in multiple languages also better accommodates tenants with different abilities, preferences, and access challenges for applying. Eligibility criteria and application requirements can also often be streamlined to improve accessibility, such as by simplifying the necessary documentation.
5) Track and evaluate the success of outreach strategies
Program staff should regularly review application and program data to see who is engaging with the program, and who is not. Ongoing tracking will help determine if the city is succeeding in reaching individuals who may not otherwise be aware of or accessing the program.
This data can be supplemented by qualitative feedback collected through regular check-ins with eviction prevention stakeholders, partner organizations, community leaders and applicants. Continually tracking and documenting program data along with on-the-ground insights can lead to improving outreach efforts, as well as the accessibility of the program as a whole.
Bonus Tip: Use available resources and templates
As cities have stood up new assistance programs and practices, the U.S. Department of the Treasury and organizations like National League of Cities have just as rapidly rolled out guidance and resources in support of local efforts.
One such resource is the newly released Eviction Prevention Outreach Material Templates: Customizable Digital and "Offline" Communication Collateral, a worksheet that provides program administrators with editable templates for digital and offline outreach to local landlords and tenants. These templates are a new addition to the Emergency Rental Assistance Toolkit, a series of worksheets and resources developed for city leaders and program administrators looking to build or refine equitable and effective ERA programs.
Learn More
Download the complete set of resources, Emergency Rental Assistance Toolkit: "How-to" Resources for Equitable & Effective Programs, including the new customizable material templates.
Acknowledgement: This research was funded by The Annie E. Casey Foundation, Inc., and we thank them for their support; however, the findings and conclusions presented in this report are those of the author(s) alone, and do not necessarily reflect the opinions of the Foundation.