Active participation at all community levels and relationships with crucial neighborhood stakeholders create sustainable, long-term transformation.
June is National Homeownership Month, but the dream of owning a home remains distant for millions. One of the biggest challenges is an absence of affordable housing, especially when declining neighborhoods lead to gentrification, with housing prices driving residents out—all too often, in communities of color. Neighborhood revitalization disrupts this cycle. Many believe this can only happen if a prominent developer or city government funds all-encompassing change.
"Money alone is not the solution," Jim Griffin, co-founder of the nonprofit HomeFree-USA, counters. "It's a tool, but you have to get the right parties to the table." Active participation at all levels and relationships with crucial neighborhood stakeholders create sustainable, long-term transformation. As a real estate developer, Griffin saw the effect of discriminatory policies, particularly against people of color. In response, he established the largest Black-led mortgage servicer in the country. 
Griffin witnessed firsthand discriminatory mortgage lending policies after establishing the largest African-American owned and managed non-bank mortgage company in the country. The discrimination in lending not only impacted Black homeownership rates but also their communities. Griffin decided to leverage the lessons learned from efforts to level the playing field in the lending space to the need to revitalize the underserved neighborhoods that have also suffered from discriminatory practices.
Through HomeFree-USA, Jim now drives neighborhood revitalization, renovating abandoned properties and getting them on the market.
In Baltimore, Change Started with One Family
On Fayette Street, schoolteacher Yvonne Gunn and her husband lived in a home that had been in her family for over 70 years since her grandparents moved from North Carolina in 1921. Generations came and went—but holding this beloved refuge became harder as Yvonne watched drug deals go down in broad daylight. 40% of her neighbors abandoned their properties. Approaching retirement, the Gunns were dismayed to see their home valued at only $50,000. 
That's when they met Jim Griffin.
Winning the Support of Community Pillars Makes All the Difference
Crime can incapacitate a neighborhood revitalization project. One morning, a man backed his truck up to a renovation site, planning to steal building materials. It wasn't the police or security who told him: "You might as well keep on driving." It was Yvonne and her husband. They were keeping watch. Without the same support, a thief blatantly walked a refrigerator out of another site as neighbors looked on. The first homes barely broke even—but began to tip valuations in the right direction.
Twelve blocks from the Gunns, two hospitals boosted progress by subsidizing employees to move closer to work and purchase local homes. Thanks to partners like these and a focus on quality to attract long-term homeowners, a property recently sold for $370,000. With values up, the Gunns' retirement is now within reach.
Griffin says relationships are the key: nonprofit organizations liaising with community members, major employers, and officials. "It's not just about knowing the mayor or housing commissioner. It's how they link you to people you'll work with day-to-day."
"There is a strategy to bring about change," he concludes. "It's not easy, but there is a way you can get people on board to make a difference for their community. There are many pillars, and everyone matters. Develop those partnerships, and you have a replicable model for change."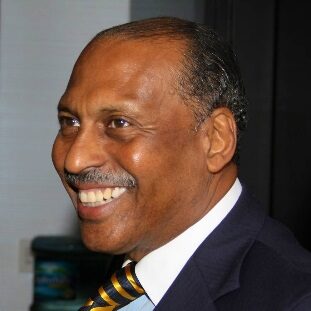 About the Author:
James (Jim) Griffin is currently the Chief Government Relations and Housing Development Officer of HomeFree-USA, a national nonprofit public benefit corporation designed to improve access to homeownership for underserved individuals and communities.