When it comes to preventing evictions, keeping families housed, and supporting landlords, many cities have more options than ever in their "policy toolbox." Yet the municipal response to evictions, which was exacerbated by the COVID-19 pandemic, has clearly shown the significance of one tool in particular: emergency rental assistance programs.
While not a one-size-fits-all solution, emergency rental assistance (ERA) is, in many cases, a critical cornerstone of a broader eviction prevention and diversion strategy.
When effectively aligned with a local eviction mediation program, ERA can provide the financial incentive that many landlords need to engage in out-of-court resolutions. When ERA programs are integrated with court processes through data sharing agreements or procedural changes, cities can get necessary funds directly to tenants and landlords. And when legal aid, social service providers and community partners are all actively engaged in the distribution of ERA, cities and their partners can better meet the pressing needs of their communities.
But designing, launching, implementing and refining an emergency rental assistance program is no small task, especially during a public health emergency, as city leaders and ERA program administrators know. To support cities' implementation of emergency rental assistance, the National League of Cities and the Stanford Legal Design Lab have developed the Emergency Rental Assistance Toolkit: "How-to" Resources for Equitable & Effective Programs.
Serving as a toolkit for city leaders and program administrators, this compilation of worksheets and resources can assist cities as they build and refine equitable and effective ERA programs in their communities. The toolkit's resources offer a step-by-step approach to the important phases and critical elements of implementing local assistance for both tenants and landlords. The Emergency Rental Assistance Toolkit: "How-to" Resources for Equitable & Effective Programs draws from common themes that surfaced among the five cities that participated in the National League of Cities and Stanford Legal Design Lab's Emergency Rental Assistance Technical Assistance Program. These themes included communication and outreach, program design, mapping process and services, data analysis and visualization, program alignment and system coordination, and engaging courts and landlords. The resources were developed as actionable guides based on these real-world examples.
What's included in the ERA Toolkit?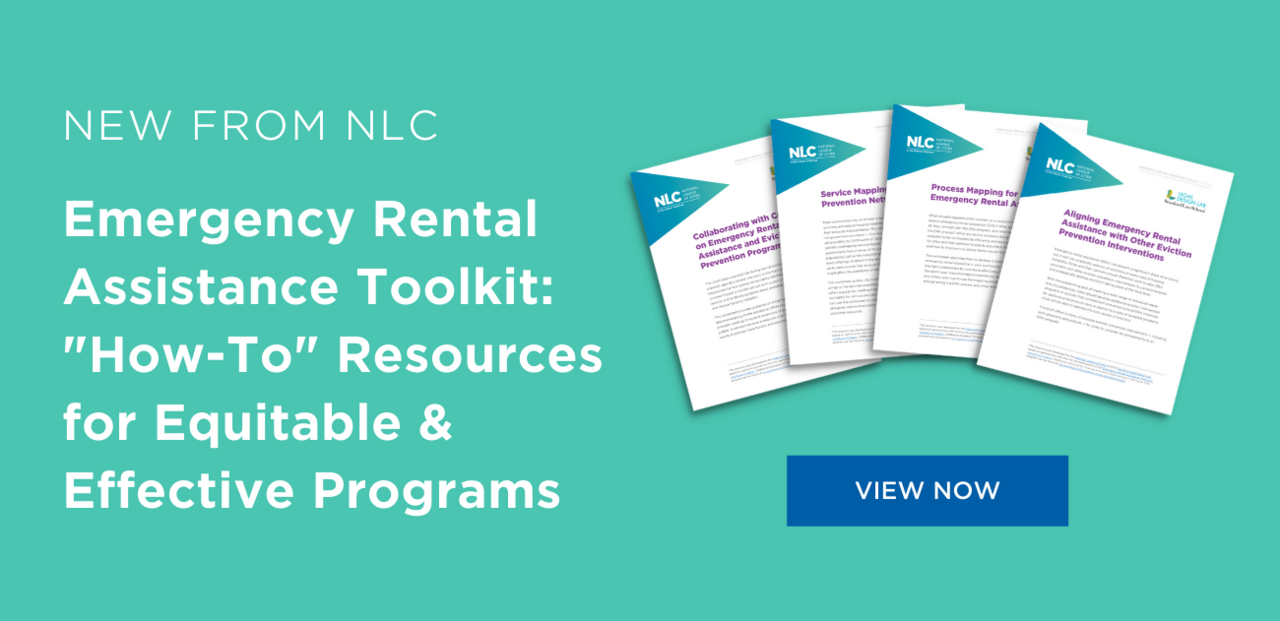 The toolkit helps cities consider these key topics as they implement successful ERA programs:
Program design: A functional checklist city leaders can use as they design and implement an ERA program from start to finish
Communication and outreach: Best practices for communication, outreach and engagement with communities, including paper-based and digital approaches, strategies to tailor outreach to tenants who are eligible but are not accessing the ERA program, and an interactive website audit worksheet
Engaging courts and landlords: Tips for effectively partnering with relevant courts and a step-by-step guide for creating a landlord engagement strategy
Mapping process and services: Guides for mapping the ERA process and eviction prevention services available through the local network of service providers and community-based organizations
Program alignment and system coordination: Recommendations for how cities can align their ERA programs with other eviction prevention efforts and coordinate implementation across internal and external systems
Data visualization: Tips for visualizing, mapping and analyzing ERA program data to inform program design and implementation
The toolkit offers step-by-step guidance, tips and tricks, and interactive worksheets that can inform and be scaled for cities nationwide. These are practical resources city teams can use to build successful rental assistance programs.
Using the ERA Toolkit
Successful emergency rental assistance programs require extensive planning and coordination with stakeholders, often including city, county or state governments; court systems; community organizations; and the tenants and landlords these programs serve. This toolkit can also help regional networks develop collaborative strategies and implement successful programs.
City leaders and ERA program administrators should come back to these resources time and time again, accessing those that are most relevant to the stage of program development that they are in. This may mean using the mapping resources to facilitate brainstorms with cross-departmental teams, or circulating the interactive website audit worksheet with partners to collect feedback before a website redesign. Other resources offer longer-term recommendations that will be relevant as cities pursue partnerships with court systems, or as they look to develop a landlord engagement strategy.
By leveraging these resources, cities will be able to learn from and implement promising practices that have been refined by other municipalities and practitioners over the course of the COVID-19 pandemic and emergency response effort. However, these approaches will help to bring about more robust, inclusive and efficient ERA programs and eviction prevention services in the long term, going well beyond just meeting immediate community needs during a crisis.
Whether your city is exploring launching an emergency rental assistance program for the first time, or you are looking to build on an existing initiative, use the ERA Toolkit to design, implement and refine programs that keep families housed, while improving housing stability moving forward.
Acknowledgment: This research was funded by The Annie E. Casey Foundation, Inc., and we thank them for their support; however, the findings and conclusions presented in this report are those of the author(s) alone, and do not necessarily reflect the opinions of the Foundation.
Download the complete Emergency Rental Assistance Toolkit: "How-To" Resources for Equitable & Effective Programs, or access the individual worksheets.