The rapid growth of short-term rentals in cities, towns and villages across the U.S. has caused much debate. From contentious city hall meetings where residents advocate for more stringent or more relaxed regulations to lengthy and expensive legal battles between cities and short-term rental platforms, cities can easily get caught in the crosshairs of a complicated policy issue.
The Issue
As short-term rentals have become more accessible to both hosts and users, the prevalence of short-term rentals in cities has skyrocketed over a short period. But the meteoric success of short-term rental platforms has not always been welcomed enthusiastically by everyone.
Common complaints are that short-term rentals can drive up local rents, limit the availability of long-term residential rentals, attract an influx of tourists and create excessive noise. Because of this, local leaders must respond to many competing priorities – housing affordability and availability, local tourism and economic development, neighborhood wellbeing and health and safety – which makes passing regulations and balancing those priorities difficult.
Cities also find it difficult to enforce the regulations they do manage to pass. Some ordinances are difficult for hosts and residents to understand and difficult for cities to enforce because they are overly complicated or poorly publicized. In other instances, cities have no systematic way to identify hosts who are not in compliance with regulations or identify what properties are being used for short-term rentals and when.
Despite the limitations and challenges that city leaders face, local leaders can pass regulations that effectively balance competing priorities, fit community needs and are enforceable. Doing so will help cities and their residents enjoy the benefits of short-term rentals, such as enhanced tourism and supplemental income for residents, while limiting their negative impacts.
What Can Cities Do?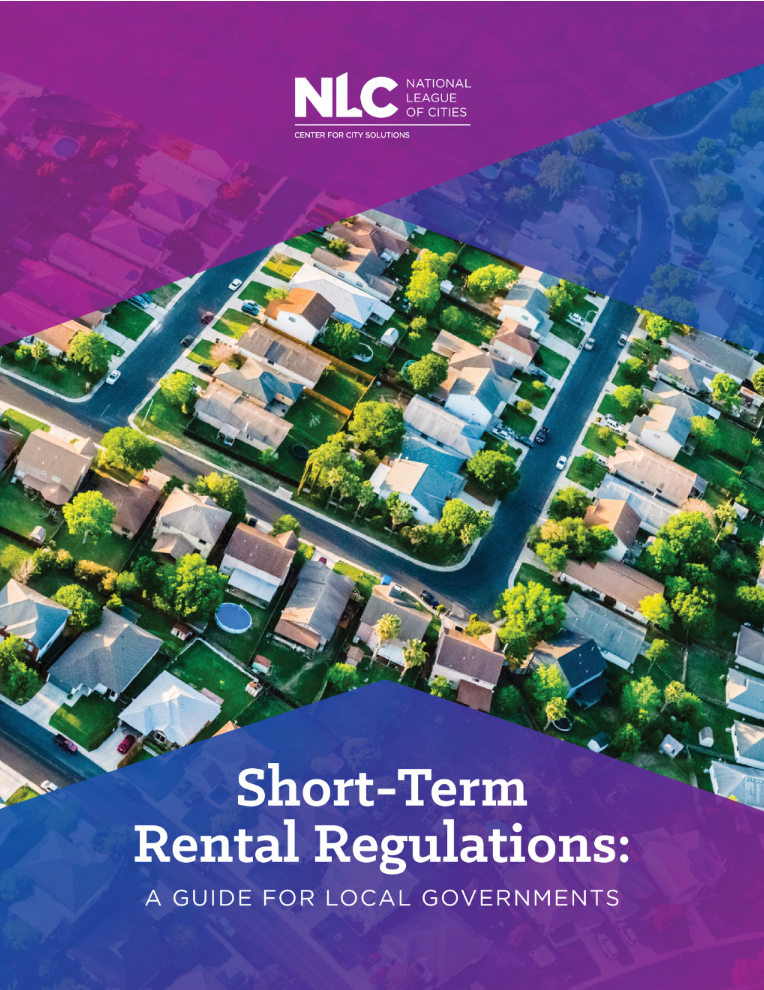 The National League of Cities released a new report, Short-Term Rental Regulations: A Guide for Local Leaders, alongside a Short-Term Rental Ordinance dashboard, to help local leaders break down the process of developing a short-term rental ordinance. These resources are informed by an extensive analysis of 60 short-term rental ordinances from across the country, focused on the legal definition of short-term rentals, regulations, enforcement and permit.  
The guide highlights instances in which cities have navigated complicated short-term rental challenges, such as:
Moving platforms online: Henderson, NV developed an easily navigable webpage that serves as a one-stop-shop on all things short-term rentals for hosts, residents and staff.
Gathering data: Fayetteville, AR worked with a local university to inform city discussions on short-term rental regulations.
Engaging a diverse group of stakeholders: San Diego, CA spent a year engaging many different stakeholder groups such as a motel/lodge union, neighborhood groups, hotel stakeholders, realtor groups and associations, restaurant associations, the city council, local planning boards and organizations, pre-existing short-term rental operators, Expedia and Airbnb, to inform its ordinance.
Determining fines and fees: Lake Placid, NY collaborated with its justice court to define a short-term rental fine structure based on other successful cases.
What's Next?
When regulated with care and the proper safeguards in place, they can be successfully integrated into the fabric of a community. With proper regulation, cities can enjoy the benefits of short-term rentals and limit their negative impacts.
Regulating short-term rentals is not about limiting their potential, but about enacting the appropriate mechanisms to keep competing priorities and interests balanced. As cities consider regulations to address short-term rentals in their communities, it is important that they act promptly, remain focused on a clear policy objective, consider racial equity, actively engage with relevant stakeholders, develop and enforce clear regulations, and provide continuous review of ordinances. The resources in this guide can help cities find the proper balance to effectively support and regulate this growing industry.
Interested in learning more?
Read our new resource, Short-Term Rental Regulations: A Guide for Local Governments.