Today on Earth Day, we celebrate by providing cities with tangible ways they can achieve multiple city goals aligned with nature access, particularly for young children, ages 0 – 5. These first years of life are some of the most crucial for healthy development. Research shows that connecting young children to nature during the early years of life has many long-term benefits, such as improving physical and mental health, promoting connectedness with nature, and preparing children for school. And, it can help cities achieve other goals including parks expansion, early childcare enhancements, equity and more. It's a win-win.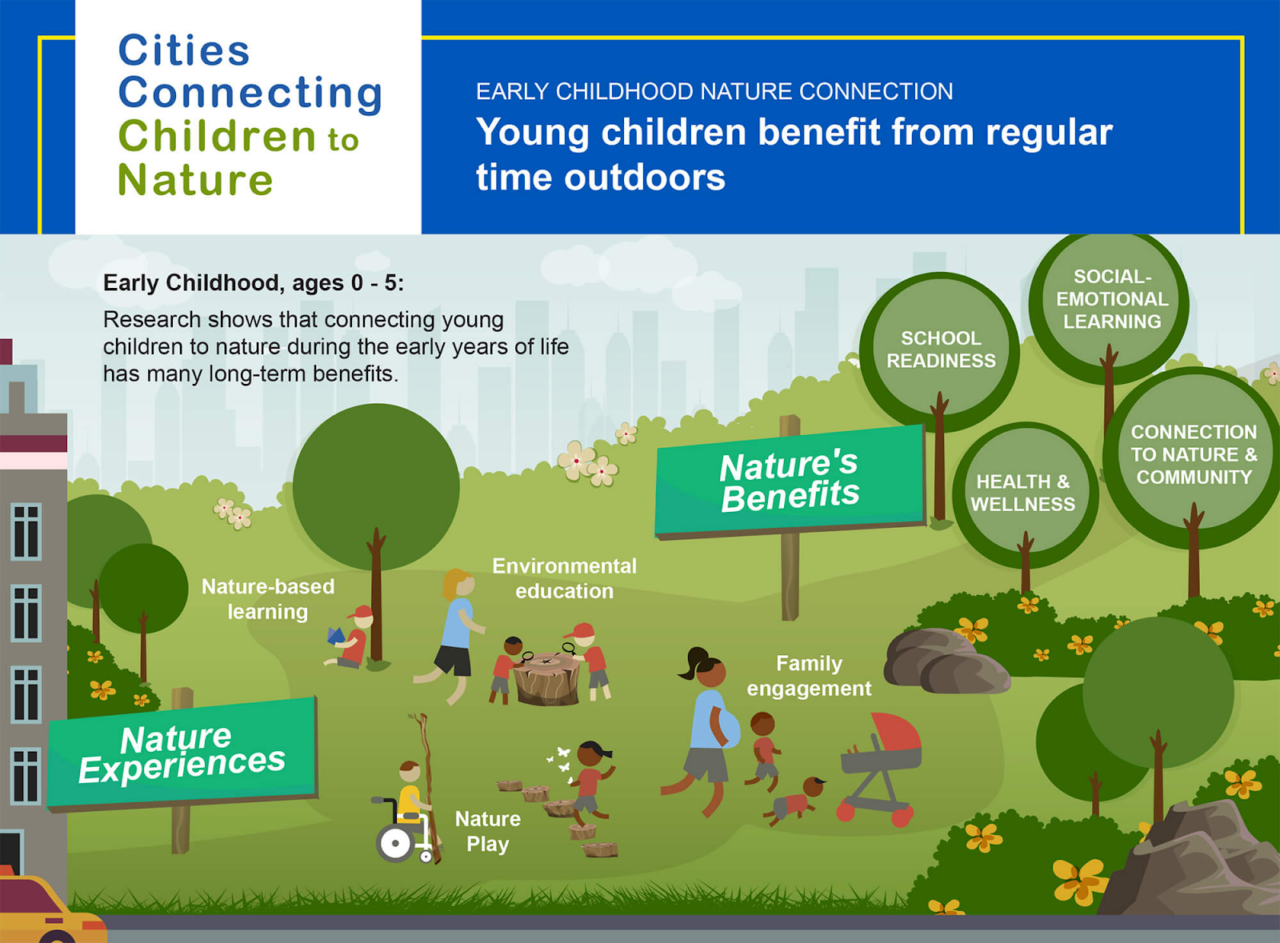 The new toolkit published by the Cities Connecting Children to Nature (CCCN) initiative, a joint partnership between the National League of Cities and Children & Nature Network, includes a wide range of resources from peer-reviewed research to a state policy brief to various strategies, deemed "pathways" that cities can take to incorporate nature into young children's daily lives. It also provides city leaders tools to implement citywide efforts to regularly connect young children, ages 0 – 5, to nature where they live, play and learn, all with a focus on equity. CCCN gathered these resources via a national listening tour that looked at ways cities currently connect young children to nature. 
The four main pathways that cities can use to support more equitable early childhood nature connections include:
Each pathway document provides an overview of what it looks like to execute the pathway, steps for implementation, ideas for local partnerships, and examples from cities across the country that have implemented that particular pathway.
In May 2022, up to 15 city teams will participate in an Early Childhood Nature Connection Learning Lab at the 2022 Children & Nature Network's Inside-Out International Conference. At the Learning Lab, cities will learn about CCCN's vision for citywide equitable early childhood nature connection efforts and receive a deep introduction to the toolkit resources.
Stay tuned for an update in mid-May 2022 when CCCN will announce cities that will participate in an in-depth technical assistance cohort, as well as a Community of Practice. Both these support networks will focus on planning and partnership building with the goal of creating citywide, equity-based, early childhood nature connection initiatives, using the toolkit as a critical resource.
Thank you to the representatives of the nine cities, three early childhood programs, three local organizations, and 20 national organizations who provided information and feedback to the CCCN team this past year during the landscape scan! With their guidance, the toolkit is grounded in research, city examples, and decades of field expertise. These resources are free and available to any city interested in making sure young children grow up with nature's benefits in their daily life. Now that is something to celebrate on this Earth Day!