Cities across the country experienced a rise in weather and climate related disasters in 2021. Severe storms, droughts, flooding, wildfires and more cost billions of dollars in damages, and lead to migration out of cities. This Earth month, as city officials grapple with ways to mitigate these disasters, it seems appropriate to look at how many are turning to our planet Earth and to nature for solutions.
Most of us learned the basics in high school. We tested the permeability of different materials: gravel, sand, soil, clay. The lesson on ecosystems showed how trees affect cooling and air quality. The concepts are certainly more complicated than this, but they help set the foundation for understanding why city officials are turning to these lessons to address issues of climate change while also expanding nearby nature. Doing so adds trees and permeable ground, captures rainwater and improves water quality, decreases urban heat and improves air quality. All this can happen right where children are everyday: schools.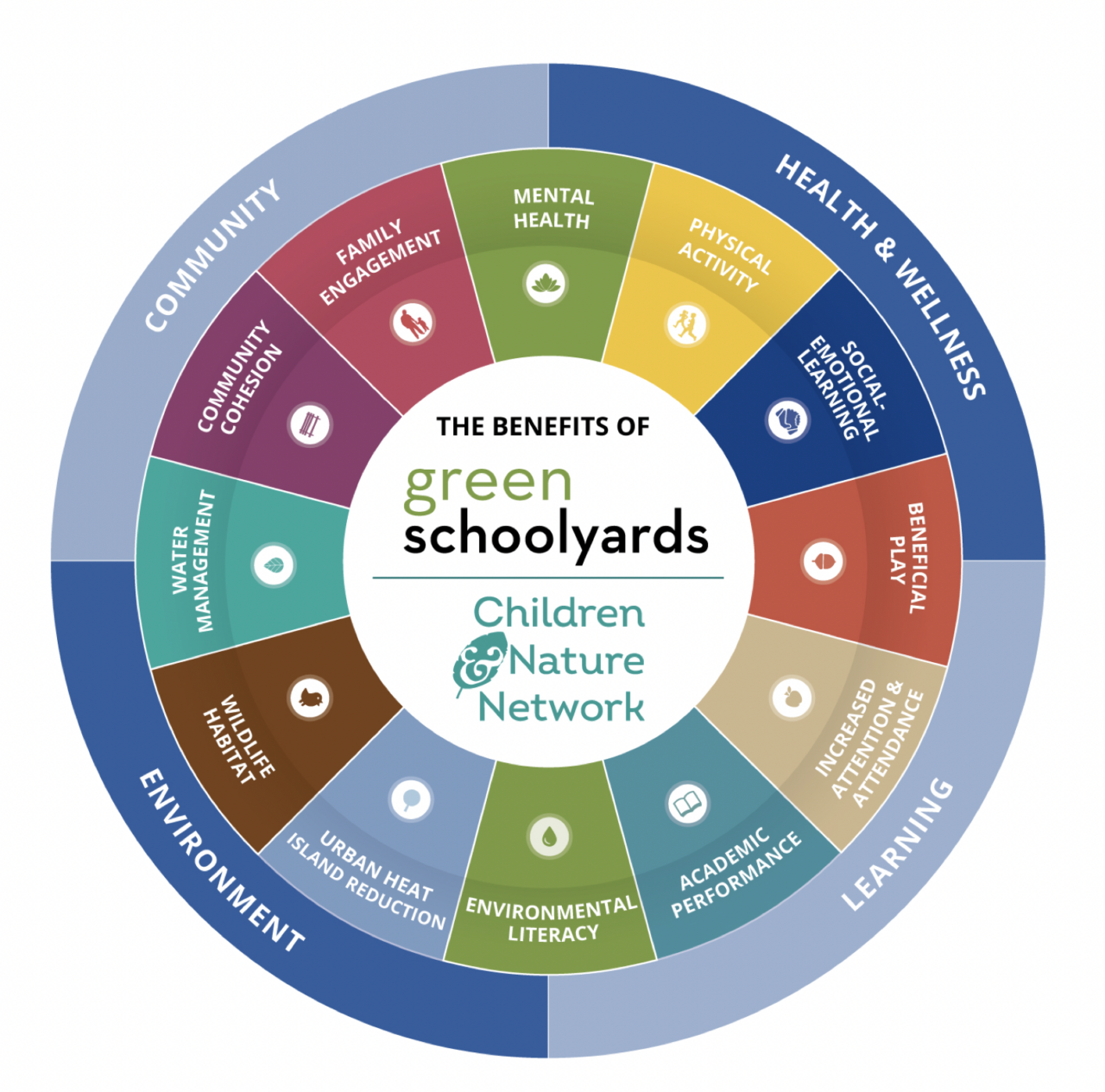 That's why the Cities Connecting Children to Nature (CCCN) Initiative, a national partnership between the Children & Nature Network (C&NN) and NLC's Institute for Youth, Education and Families, supports cities and school districts in their partnerships with sustainability offices and stormwater agencies to develop citywide, open-access green schoolyards.
Mayor Sylvester Turner of Houston, TX summed it up best when he spoke at a CCCN stakeholder's meeting a few years ago: "We can connect children to nature, we can mitigate the risk of flooding, we can reduce greenhouse gas emissions. By doing all of these things, at the same time, we are enhancing the community's quality of life."
Green schoolyards can provide green stormwater infrastructure, mitigate urban heat islands, and help keep local water sources clean. They can also help lower carbon emissions, increase tree canopy and provide access to safe, outdoor learning.
According to The Trust for Public Land, almost 20 million people can walk to a public school. This makes local school districts, who are often one of the largest landowners in a city, an ideal candidate for bringing nature's benefits to children while also creating stormwater management sites to help mitigate climate change.
Several CCCN cities show promise as examples of these efforts:
Milwaukee, WI had success with a handful of sites and is looking to scale its efforts at a district level through sustainable funding. A strong partnership between Milwaukee Metropolitan Sewerage District's (MMSD), a local nonprofit, Reflo, and the school district led to the revamping of five green schoolyards with green stormwater infrastructure. And, they have plans and visions for more – which is why they joined the 2021 CCCN Green Schoolyard cohort. The partners also created a green infrastructure guide for local schools. Green schoolyards are part of Milwaukee's 2035 vision of zero basement backup, zero overflows, and improved water quality.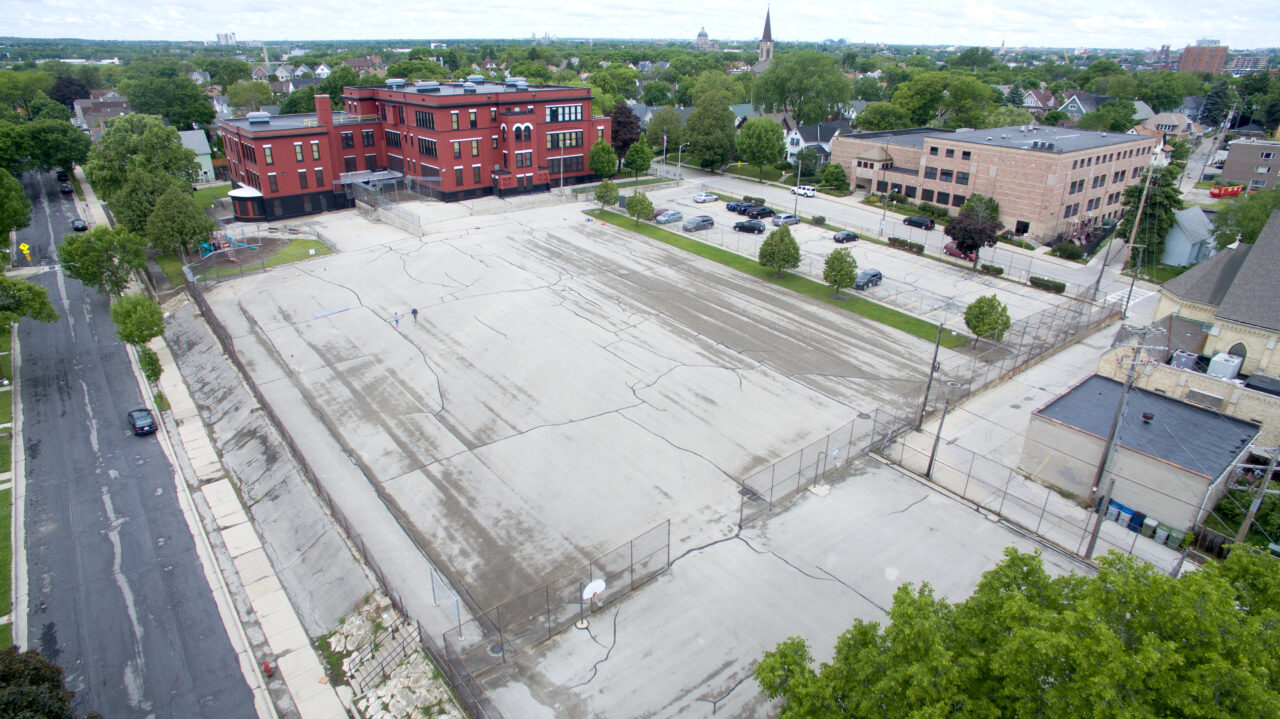 San Francisco, CA first started its work in 2009 to capture stormwater on schoolyards. Since then the partnership between San Francisco Public Utilities Commission and the San Francisco Unified School District has completed over 20 rainwater collection systems in San Francisco public schools and common spaces. The school district secured a $14 million city bond to fund the design and construction of 84 green schoolyards in public schools – one of the largest programs of its kind.
Austin, Texas recently won a National Green Infrastructure Award from the National Association of Flood & Stormwater Management Agencies for a rain-catching landscape at one of its three pilot Green School Parks. The system helps reduce erosion and flooding and improve water quality. The city partners closely with the Watershed Department, who funds a CCCN coordinator, and the Austin Independent School District who share a vision to expand the pilots to 26 schools with joint-use agreements in place.
Other cities hope to follow suit for very distinct reasons. Last year, several city/school district teams joined the CCCN Green Schoolyards cohort with specific aims of mitigating climate-related flooding issues. Flagstaff, Arizona has issues of drought and forest fires that lead to significant flooding. The Virgin Islands may not be a traditional city, but it is perhaps one of the most frontline communities in regards to climate issues. The island continuously grapples with hurricane related disasters. Dearborn, Michigan is a FEMA flood designation area after last year's devastating rainfall led to massive flooding. With the technical support of CCCN, they all hope to find creative ways to achieve a number of city goals: addressing climate resiliency, increasing park access, and enhancing outdoor learning.
We encourage other cities to celebrate Earth month by keeping in mind the foundation of what we learned in high school: our planet can go a long way in helping cities find creative ways to address climate change.
Below are a few resources to help get city officials started: