Eviction data is critical to cities' eviction prevention efforts. In a best-case scenario, cities will receive daily eviction data from their local court to target direct outreach to at-risk households and use data to advocate for policy change, new programs and additional funding. But the reality is that many municipalities face significant challenges in gaining access to timely, accurate data. For example, some courts never digitize their data, making it extremely time-consuming and difficult for cities to convert this information into a readily usable format. In other cases, privacy laws mean courts are hesitant to share data at a level granular enough to be useful for policymakers looking to understand neighborhood or city-level tends. While access to eviction data is a thorny issue, it is useful for cities to consider adopting an open data framework to access eviction data and help other advocates like non-profits and researchers use eviction data too.
What is Open Data?
Eviction data often exists in silos across court systems, city departments and non-profit organizations. Even when cities can access eviction data, it is often unstandardized, hard to integrate into existing data systems and difficult to share. Open data can help alleviate those challenges.
Open data refers to pathways to access information. Most of the time, a lack of access to eviction data is due to institutional and cultural barriers. An institutional barrier can be that a court administrator or clerk has set up a cumbersome protocol by which cities gain access to data. A cultural barrier can be an adversarial relationship between a local government and its court that makes accessing data difficult.
Getting access to data is not just about asking for the numbers or files. Most pathways to accessing data involve consistent conversation, collaboration and relationship building. If people are not good at communicating, systems and data will not be good at communicating.
In the spirit of openness, what have other cities accomplished and what open data and tools are available to cities?
Using Open-Source Data and Tools
Many cities have successfully leveraged open data and tools to inform their eviction prevention efforts. The City of Milwaukee, fortunately, has no problem getting access to eviction data and has improved access for its partners through an open data framework. The city's eviction prevention team receives it directly through an API of Wisconsin Circuit Court records. Partners including the Medical College of Wisconsin, Legal Action of Wisconsin, the Milwaukee City Attorney's Office and the Milwaukee Department of Neighborhood Services launched a public eviction tracker to help support Milwaukee policymakers, researchers and community partners access eviction data to inform prevention strategies, identify and monitor trends and conduct eviction related research. From this open data access, research partners have been able to examine serial eviction filings more deeply and the City of Milwaukee instituted a tenant right to counsel program.
At the national level, New America and Data Kind developed the Foreclosure and Eviction Analysis Tool (FEAT), an open-source tool that helps local leaders understand where housing loss is most acute, when during the year housing loss is occurring, and who is most impacted. Twelve cities from the Eviction Prevention Learning Lab, operated by the National League of Cities and the Stanford Legal Design Lab, took part in New America and Data Kind's pilot program to develop and refine this tool with city users in mind.
One such city is Fort Wayne, IN, which is one of several Indiana cities involved in testing FEAT. Through persistence and collaboration across these cities, they managed to access bulk data from the state-level court. Previously, the cities had to comb through an online portal, which required users to have a case number or person's name. While Fort Wayne only recently finished its analysis, the city is hoping to use the insights from the data to start moving its eviction prevention interventions further upstream.
Another such city is Tucson, AZ. Using the FEAT tool enabled Tucson to establish an eviction baseline using historical eviction data and demographic data from sources such as the U.S. Census Bureau's American Community Survey. The baseline enabled the city to identify eviction hotspots and conduct strategic apartment complex-based resource fairs around eviction prevention and related services.
The New Open-Source Data and Tool Repository
While some cities actively leverage open data or tools to inform their eviction prevention work, others struggle to access any data related to their local eviction landscape — let alone share that data openly. Further, many cities are not aware of the open-source tools available to conduct analysis.
In response to this need, the National League of Cities and Stanford Legal Design Lab compiled a list of open-source data and tools that cities can leverage to inform their eviction prevention efforts. The resource includes eviction-specific analysis tools such as the Foreclosure and Eviction Analysis Tool and city-specific examples such as the Atlanta Region Eviction Tracker. This resource is an ongoing and crowdsourced effort and will be kept up to date as more resources, tools, data sources and examples become available.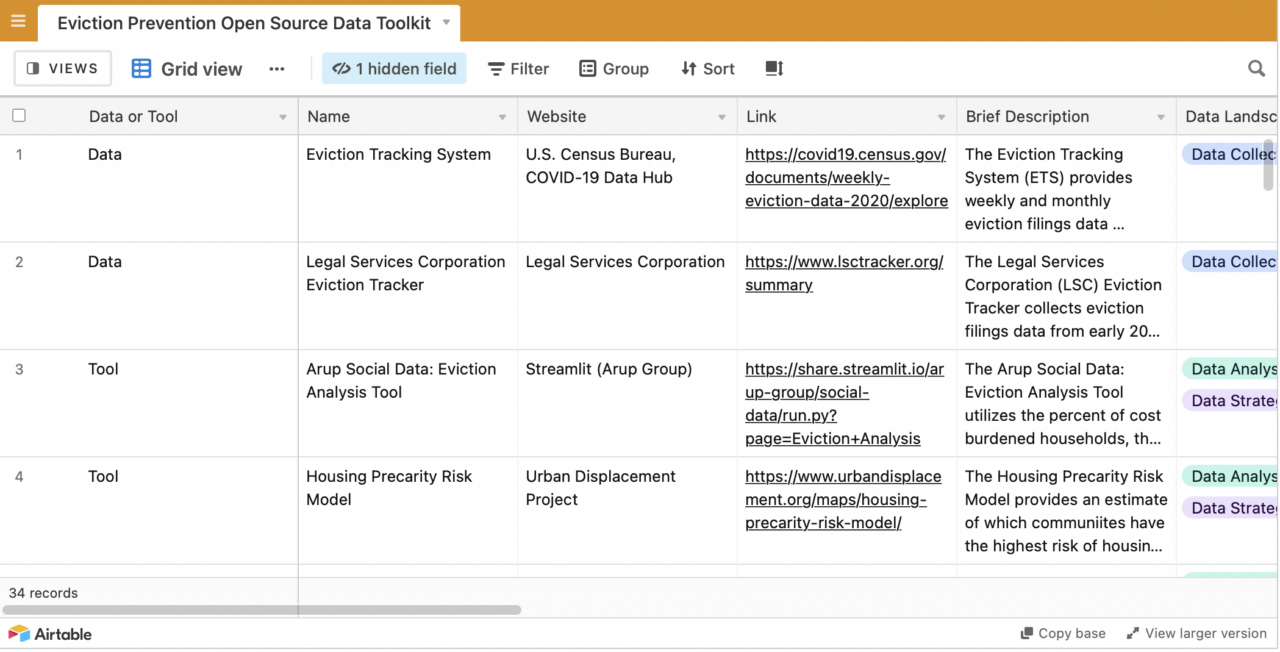 The extent of the current housing crisis has made it increasingly clear that many cities have critical gaps in their eviction data landscape. Regardless, cities will benefit from adopting an open data mindset to help make eviction data more accessible, reusable and sharable. This is a first step toward improving the flow of information across teams, departments and institutions to support better eviction prevention programs and policies — and ultimately, ensure housing stability for at-risk tenants.
How Can Your City Prevent Evictions?
The National League of Cities and Stanford Legal Design Lab's  Eviction Prevention Learning Lab is a nationwide, peer-to-peer network for cities and their partners to gain exposure to best practices, policies and tools to prevent evictions.