Understanding the economic engines of local communities is particularly important at this time, as cities across the country continue to rebuild in the wake of the COVID-19 pandemic. Travel stands out as an industry that is often a critical economic driver for communities – and one that was particularly impacted by the pandemic. For many areas, travel was understandably restricted or slowed due to the public health situation unfolding. Now, as case rates drop and vaccinations increase, rebuilding the travel, tourism, and outdoor recreation economy will be necessary for a full economic recovery for many communities across the country that depend on tourism dollars to generate revenue and support local jobs.
Support of this component of the economy requires frequent communication and collaboration between city officials and other stakeholders, particularly in regard to short-term rentals. Discussions around short-term rentals are popping up in neighborhoods across America. The pandemic made these properties even more appealing for travelers due to the social distancing they provided, isolation from other guests, and comfort provided to families. Communities served by these short-term rentals benefited, with guests ordering takeout from local restaurants, shopping at small businesses, and local companies keeping busy as they provided landscaping, cleaning, and other services to maintain the properties.
While issues can arise that benefit from new policy solutions, it's critical to support a healthy travel ecosystem while protecting the rights of local communities. Building trust among elected officials, neighbors, and short-term rental owners is key to the development of tailored, responsible policies, and Expedia Group's Vrbo has been diligently working with localities nationwide to develop policies tailored to the needs of individual communities.
Big Bear Lake Leverages Public-Private Partnerships to Address Community Complaints: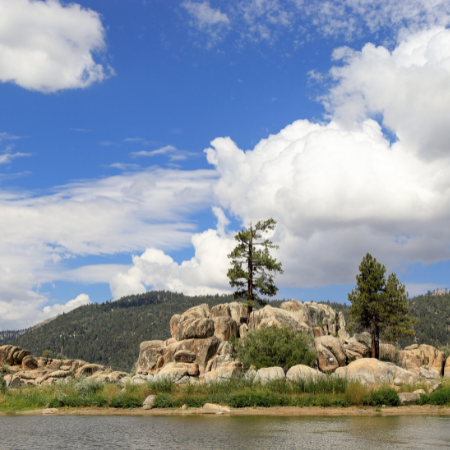 The City of Big Bear Lake recently demonstrated that public-private partnerships can yield immediate and effective results. Some residents expressed concerns with noise from those using short-term rentals in their neighborhoods, and the city worked to find a solution that would address these needs while enabling responsible short-term rental operators to continue contributing to the community. To add new solutions to its arsenal, the City partnered with Vrbo and NoiseAware, which offers privacy-safe technologies to protect communities from nuisance issues.
This partnership allowed the city to offer its short-term rental owners a NoiseAware sound monitoring system free of charge for one year, as the City Council authorized a credit toward the vacation rental licensing fee for those who use an approved sound monitoring system.
"Vacation rentals play a pivotal role in our tourism-dependent community, but we knew something needed to be done to effectively address our residents' concerns," said Larry Vaupel, Big Bear Lake's director of tourism management. "We are incredibly proud of the solution we were able to find and implement with the help of Vrbo and NoiseAware. This partnership enabled us to incentivize appropriate noise monitoring by vacation rental owners. This is truly a win-win, ensuring that our neighborhoods remain peaceful while supporting critical tourism operations."
Andrew Schulz, NoiseAware co-founder and CEO, noted that NoiseAware users are able to mitigate more than 75 percent of disturbances with a single automated text, at any hour of the day or night, and a full 90 percent of excessive noise issues in under 30 minutes. The technology has protected more than 2 million short-term rental stays nationwide. "NoiseAware was founded with a simple goal of preventing incidents at rental properties through privacy-safe technology, so homeowners and their neighbors never need to worry about the potential for nuisance issues. But it's become clear that the core of NoiseAware isn't just our product, rather it's what we can give back to our communities. We are grateful for the opportunity to come together with the City of Big Bear Lake and collaborate on a solution that will deliver meaningful results for the community."
This public-private partnership with Big Bear Lake and NoiseAware is a strong example of exploring technology solutions to address constituent needs as a precursor to policy change. In this situation, the technology helped address public safety and nuisance concerns—encouraging harmony among diverse stakeholders.