With winter in full swing and the Omicron variant raging in many parts of the country, cities have the opportunity to adapt their public spaces to ensure their communities can continue to utilize outdoor spaces during the colder months. Cities can take similar measures from their warmer weather operations to adapt public spaces for the cold and ensure that residents enjoy the benefits of being outdoors. Outdoor spaces offer not only physical and mental health benefits for those who use them, but can also boost local economic activity. When reimagined to account for winter weather operations, these areas offer space for residents to enjoy and encourage tourism during off-season months, which can increase foot traffic for local businesses.
As the COVID-19 virus spread across the country, U.S. cities, towns and villages swiftly reconfigured underutilized outdoor spaces as assets, to help keep people safe while allowing their businesses to stay open. NLC's recently-released Future of Cities: Reimagining Public Space to Support Main Street Retail municipal action guide provides local leaders with recommendations on how they can reimagine public space in ways that meet the needs and expectations of all residents while supporting equitable economic development. Reimagining public spaces for winter can help cities achieve the four core values of successful public spaces:
1. Accessible to Destination Visitors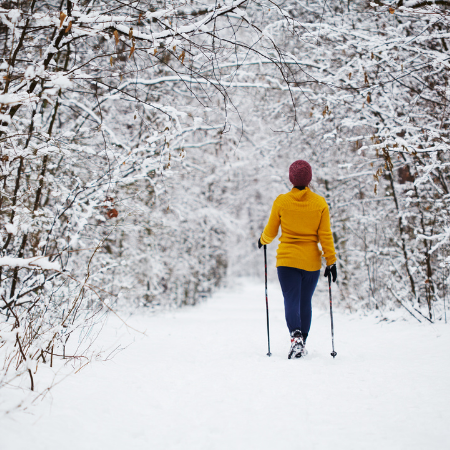 Maintaining accessibility for all people is vital, especially in the winter months. Ice and snow can create access barriers for people with physical disabilities and families with children. It can make moving around space difficult and dangerous for the elderly or those with physical disabilities. Proper winter maintenance of sidewalks, roads and alleys can ensure continued opportunities to host retail and dining in those spaces safely and year-round, instead of only in warm seasonal conditions.
The City of Eau Claire, WI, is ensuring accessibility to its four-mile walking trail by making sure that having it plowed after every snow is a high priority. This way, people can enjoy the local restaurants, sculptures and parks along the trail safely.
Winter seasons can also make accessing public transportation more difficult, with severe weather causing route reductions or suspensions. Route disruptions can lengthen trips, especially for residents who live far away from a particular destination. Bus shelters and real-time transit information will help make sure these reimagined winter spaces are accessible to all.
2. Interactive Destination to Explore & Enjoy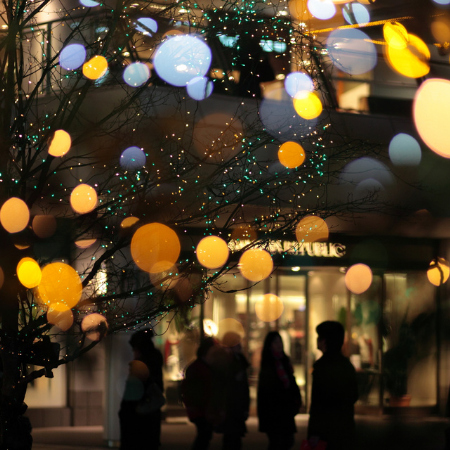 Providing a variety of reasons to go outside is vital to encourage people to bundle up and brave the cold. Art, music and activities can all facilitate a welcoming outdoor environment.
Outdoor art exhibits are one tool to provide an interactive element for visitors to enjoy. Art that incorporates light is especially valuable in the winter months when early sunsets can discourage people from staying out. Washington, D.C. hosted Georgetown Glow, a series of public light art exhibitions spread throughout the Georgetown neighborhood, allowing visitors to walk the streets and experience work by a variety of local artists. While the event was previously only held during the holidays, this past year Georgetown expanded the exhibit to include light installations through the summer and early winter, allowing visitors to enjoy the lights throughout the year. This event is a partnership with the local Business Improvement District, which works with other local businesses to provide food and photography tours of the art. Attractions such as Georgetown Glow draw visitors into the neighborhood, where they are then more likely to explore local businesses and restaurants.
3. Adaptable to Various Community Uses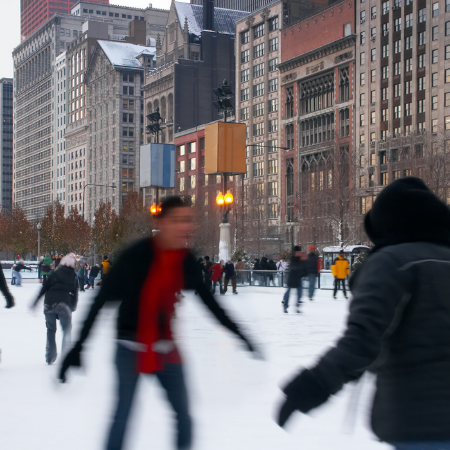 Seasonal changes require flexibility to make places comfortable in the colder months. While some public space infrastructure (such as outdoor firepits) can be enjoyed in hot and cold weather, others need to be adaptable or removable to allow for alternate uses in the summer. Maggie Daley Park in Chicago, IL, for example, has an ice-skating ribbon that converts into a roller-skating rink during the summer months. Other cities can make similar shifts and consider other options, such as replacing ice-skating rinks with outdoor seating, gaming tables or other activities in warm seasons.
To ensure that public spaces can flex with changing needs, cities can consider temporary or adaptable structures. OpBox, a company based in Southern Maine, has created easily transportable structures that can be used for pop-up shops, hospitality uses and more. These boxes can be used for temporary needs, like ice skate rentals or covered outdoor seating, and adapted or removed during the warmer months.
4. Sociable to Foster Social Cohesion and Nurture Wellbeing
A reimagined public space can improve residents' quality of life and increase social engagement. While some may want to go sledding or play in the snow, others may enjoy sitting with hot cocoa by an outdoor fire or shopping at a holiday market. Hosting charettes, or community listening sessions can give city leaders the information they need to better understand how to encourage the use of the public space and make visitors feel connected to it.
Providing warmth can help residents enjoy these public spaces all winter long and be able to stay outside long enough to reap their social benefits. Portable heaters can make previously unusable outdoor space comfortable for visitors, and covered areas can also protect patrons from the wind and snow. Restaurants can provide blankets and warm food and drinks as well to create a warm and welcoming atmosphere. The City of Fairfax, VA, used its CARES Act funding to improve outdoor dining experiences during the winter. The city provided free blankets to restaurants that they could then resell to customers for additional revenue. Customers with blankets would receive a free hot drink at any participating restaurant.
Encouraging outdoor use and tourism is one method for cities to highlight local culture and traditions that encapsulate the community's identity. St. Paul, MN hosts an annual Winter Carnival that includes a variety of outdoor activities and attractions for tourists and residents to enjoy, such as drive-through ice and snow sculpture parks, parades, art installations and more. St. Paul celebrated the Winter Carnival's 136th anniversary this year, bringing in hundreds of thousands of visitors to the city.
Many cities, towns and villages will see longer winter seasons and colder temperatures due to climate change. Local leaders must envision a new future for public spaces to adapt to this kind of weather. While winter brings certain challenges in encouraging residents to get outdoors, it also brings unique opportunities. Providing a variety of warm, safe, accessible activities and destinations for visitors to engage with encourages people to want to go outside and boost the local economy.
Winterize Your Public Space
For more information on how to ready public spaces for winter, check out NLC's Future of Cities: Reimagining Public Space to Support Main Street Retail municipal action guide.