In the 1960s, the railroad connecting the Port of Wilmington with the national network ran almost entirely outside Wilmington's city limits. There are now more than 30 at-grade highway crossings through some of the region's busiest thoroughfares. The regional growth that brought about this change continues to accelerate and the Port of Wilmington is growing by leaps and bounds with more than $200 million in capacity enhancements in recent years.
NUMBERS AT A GLANCE
Population
120,194
Project Status
Environmental Review & PE
Total Spending to Date
$3 million
Estimated Benefits (2017 Benefit Cost Analysis)
$1.56 billion
Estimated Cost (2017 Benefit Cost Analysis)
$670 million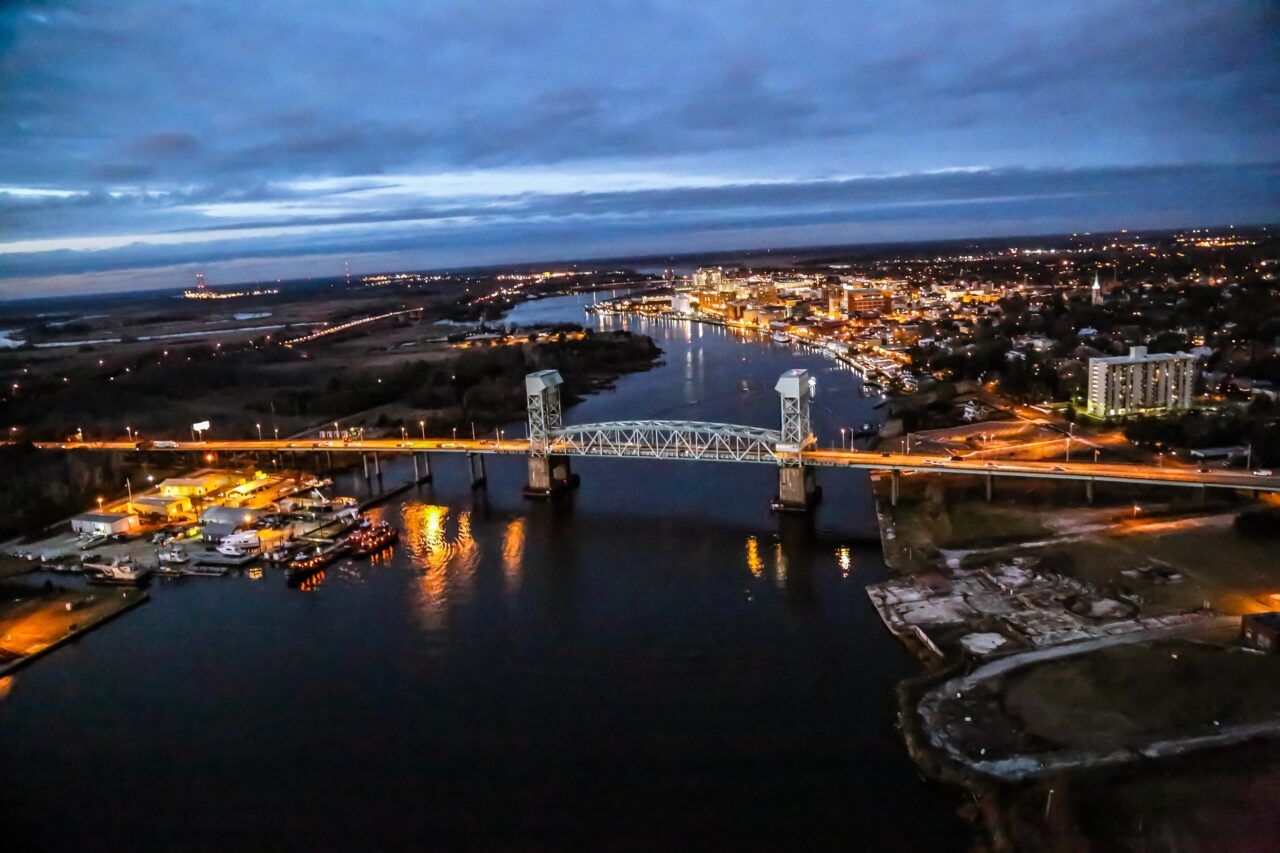 In an effort to accommodate and foster the region's multi-faceted growth, the City of Wilmington and its partners are pursuing the construction of a new bypass railroad route between Navassa, NC and the Port of Wilmington. The Wilmington Rail Realignment Project is a unique opportunity to create economic benefit; the regional vitality supported by the Project improves shipping, rural product development and trade through the Port of Wilmington to the betterment of the entire state of North Carolina. The new bypass route would enhance safety, economic development, regional mobility, and quality of life by enabling freight by rail and public mobility to grow seamlessly alongside one another well into the future.
The Rail Realignment Project will be transformative for Wilmington. The railroad has been a big part of the city's history, so it is exciting to see its future success working together with the city's future economic growth and quality of life.

MAYOR PRO TEM MARGARET HAYNES
Bringing Together the Benefits
Every day more than 250,000 vehicle trips cross the railroad tracks throughout the city. Realigning the freight rail line and repurposing the existing corridor for public transit use will provide several benefits, including reducing traffic congestion at train crossing intersection, improving air and water quality, eliminating hazmat transportation risks, and faster fire and emergency response times. The project carries significant quality of life improvements for over 1,500 properties – many of which are traditionally underserved portions of the community – by eliminating noise, vibration, and other nuisances. Furthermore, the project will enhance the competitiveness of North Carolina's largest port by delivering railroad operating efficiencies via a shorter, safer route with faster transit times.
Cities Are Ready to Rebuild with Congress' Help
Barrington's infrastructure story is one of the hundreds across the country. From the smallest to largest communities, every community has an infrastructure story to tell, and NLC's latest Ready to Rebuild report showcases a range of transportation, water, broadband, and workforce projects across the country from communities of all sizes that Congress could support with legislation. While projects are different, the message from local officials was the same: infrastructure is a job worth doing, but in most places, it's now beyond what the local government can handle on its own. Does that sound familiar?
Take Action: Highlight Your City and Why You're #ReadytoRebuild
Join NLC as we keep calling on Congress to directly invest in local infrastructure and prepare for a better future.
Congress is actively moving an infrastructure package so now is the time to share your infrastructure priorities with your Member of Congress' staffer in Washington, DC: Use NLC's pre-drafted letter here, or if you want a staffer's email from your Member of Congress' office, please just let us know at advocacy@nlc.org.